Dogs make Tahoe more fun.
Our favored four-legged companions love this beautiful place that offers so many smells, places to swim and many like-minded canines to play with. Of the many adventures that await your dog in Lake Tahoe, enjoying time at the dog park and dog-friendly beaches are two experiences that can make a pup wag its tail with glee. 
Keep reading to learn about the various places to take your dog, knowing that they are allowed and free to be the happy puppy that they are (no matter what the age). Please be sure to clean up after your dog and to take the waste yourself to a garbage can. It is common to see bagged poop on the side of the trail. Without anyone in charge of cleaning up other people's pet poo, a discarded poop bag will never go away.
Photo: The sandy playground of Chimney Beach makes for fun for all. Photo by Shanie Matthews
Bijou Dog Park
South Lake Tahoe
The Bijou Community Park is a large park that encompasses many amenities including a basketball court, a bike park and a skateboard park as well as volleyball courts, a beautiful meadow for walking and relaxing and one of the top-rated disc golf courses in the country. But its real star attraction is its fenced-in dog park. One of only three in the basin, Bijou's dog park is a fantastic mixture of grass areas, serene sitting benches and shady options, with the benefit of pet sanitary stations and water. The true highlight within the 38,000 square feet of leash-free roaming space is a full-fledged agility park. In partnership with the Tahoe Police Canine Association, 2013 brought the installation of serval high-quality custom dog agility equipment. The agility park is open to the public, except when the South Lake Tahoe Police K9 Unit is in training.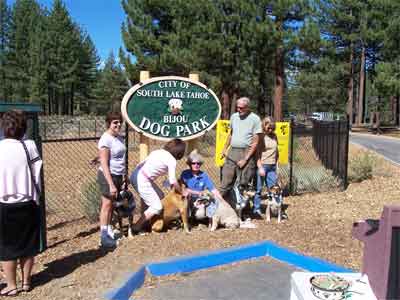 Furry friends gather at Bijou Dog Park. Photo courtesy of City of South Lake Tahoe
Tahoe City Dog Park
Tahoe City
The second option for a legitimate dog park in the basin is the Tahoe City Dog Park. Located behind Fat Cat Bar & Grill and next to the Tahoe City Golf Course and Conners Field, off of Grove Street, this small offering gives enough off-leash playground area to play ball or tug-of-war. It also offers a water spigot, cleanup bags and a bench for relaxing. 
North Tahoe Regional Park
Tahoe Vista
A lovely park that encompasses 124 acres, stunning lake views and year-round outdoor activities, North Tahoe Regional Park is an excellent choice for enjoying time outside with the entire family. Dogs are allowed throughout the park, including the single-track trails, as long as they are on leash. The Tahoe Unleashed Dog Park, set within the park, is an enclosed area that allows your pooch to roam freely. Within the dog park there are two spaces: one for small dogs, the other for large. There is also a 1-acre field called The Outback that is designated as a play area for dogs of all sizes. The park offers an agility section that was created in 2017 with features like an "up and over" bridge walk, crawl tube, adjustable jumps, fire hydrants and ring jump.
Skylandia State Park
Tahoe City
Not a dog park, officially, Skylandia State Park is a nice option for meandering in the forested area parallel to the beach. Dogs are allowed to play on leash, but are not allowed on the shoreline. There are bathrooms and picnic benches to enhance your experience.
Tahoe East Shore Trail
Incline Village
A paved trail that opened in 2019, this 3-mile-long, 10-foot wide path is not only great for your furry friend, but also for anyone walking, rolling, running or riding. The trail can be quite busy and filled with beach goers as it accesses 11 different beach access points. All dogs must be leashed while cruising the trail. Please be mindful that if the weather is hot, this is not a great option for pups, as there is little to no shade on the paved portions of the excursion.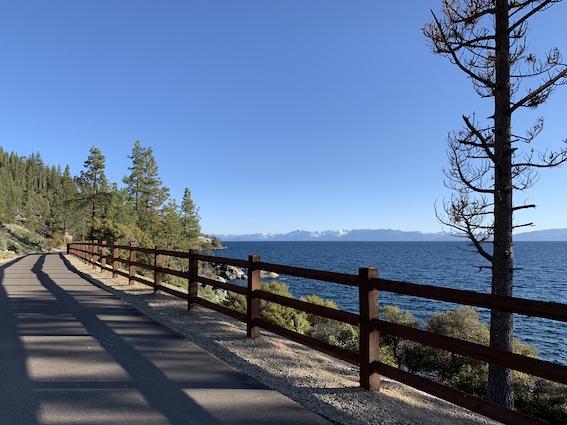 The beauty of the East Shore of Lake Tahoe makes any day special. Photo courtesy of Tahoe Fund
Chimney Beach
East Shore
One of the favorite beaches for the majority of locals, Chimney Beach is a fun excursion located on the northeastern Nevada portion of Lake Tahoe. Situated approximately 13 miles from the southern state line or 6 miles south of Incline Village, this steep but short hike brings you to an open, sandy beach that offers great views of the west shore of the lake.
Kiva Beach
South Lake Tahoe
Kiva Beach is a leash-only strip of beachfront that offers shoreline walking. Located near the mouth of Taylor Creek, it is a simple public use area, without amenities like grills, free-standing barbecues or fire pits. The beach can shift a bit depending on the winter weather, with some years offering a more sandy beach than others. Parking is free, but this area is known to be busy in the summer months. 
Raccoon Street Beach
Kings Beach
A rocky beach that is perfect for walking your dog or launching a boat, Raccoon Street Dog Beach is nice option for a mellow day. When enjoying the shoreline, be sure to stay to the left of the boat ramp, where dogs are allowed. There are picnic tables and public bathrooms as well as parking for both cars with boat trailers and without, with parking costing $10. Pay for parking at the automated machine located between the restrooms and the boat launch.
Carnelian West Beach
Carnelian Bay
A bustling zone that shares a parking lot with Gar Woods Restaurant, Carnelian West Beach is a pebbly beach that is a great place to enjoy a long walk along the shoreline. Dogs are welcome on leash. This area of the lake offers group facilities, picnic tables, public bathrooms and is located a hop, skip and jump away from public transportation.
Hurricane Bay
Tahoe City
Situated right on Highway 28 on the west shore of the lake, Hurricane Bay Beach may be one of the easiest dog areas to access. This is the case for those using the bike path as well, as the two parallel each other. The entire public beach is around a half-mile in length, with about 50 feet of the beach being designated as a dog-friendly area. The beach consists of medium-size, smooth rocks, making lounge chairs a nice addition to bring. This is one of my favorite places to stop when I don't have a ton of time and I want to enjoy a leisure play excursion while watching the sunset.
Waterman's Landing at Patton Landing
Carnelian Bay
Waterman's Landing is more than just a beach. It also offers a gourmet coffeehouse as well as paddleboard and kayak rentals. Consisting of a 3-acre parcel of pebbled beach that has meandering pathways, scenic benches, picnic tables and a small parking lot that offers simple access, the area welcomes dogs on leash on the eastern portion of the beach and on the deck of the coffeehouse. 
Lake Forest Beach
Tahoe City
A reasonably quiet beach that is close to Tahoe City, Lake Forest Beach offers dogs and their families shaded picnic benches along with barbecues and great views of the lake. The west end of the public beach is designated for dogs, with the ability to be off-leash. Lake Forest Beach is at the south end of Bristlecone Street.
Tallac Historic Site
South Lake Tahoe
The Tallac Historic Site is a treasure of the Tahoe area. Offering an interpretive center, exhibits, living-history programs and demonstrations as well as outdoor concerts, the Great Gatsby Festivals and the impressive Valhalla Summer Arts Festival, Tallac Historic Site is a place that everyone should visit at least once. This historical area welcomes dogs with open arms, as long as the leashed pup and master stick to the grounds, paths and waterfront of the Tallac Historic Site. Located adjacent to the Kiva picnic area and Taylor Creek Visitor Center, this makes for a great starting point to access other enjoyable hiking and bike paths. This also applies in the winter, with the paths changing to cross-country skiing and snowshoeing with the coming of snow.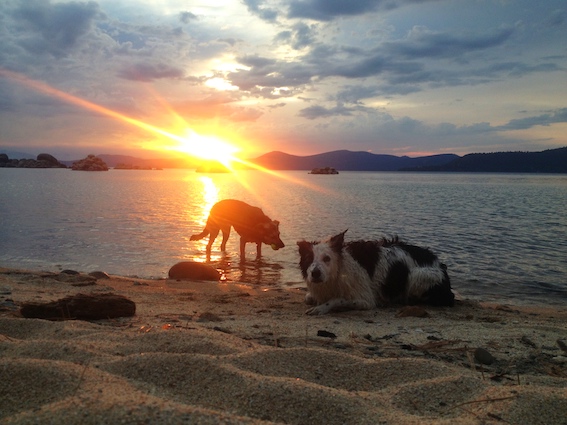 Dog in their happy place thanks to Lake Tahoe. Photo by Shanie Matthews
North Beach at Zephyr Cove
Zephyr Cove
Although dogs are not allowed on the sandy beach of the Zephyr Cove Resort, dogs are welcome to enjoy the rocky shore that is at the far north end of Zephyr Cove. A good tip for making this walk more enjoyable is to wear shoes that are clingy to rocks and able to get wet, as negotiating rocks and boulders can be tricky. There is a fee for parking in the summer; winter parking is free. On a side note, the cabins at the Zephyr Cove Resort allow dogs, making it the easiest way to access this rocky playground.
64 Acres Beach
Tahoe City
Situated at the intersection of Highway 28 and Tahoe City is the popular 64 Acres Beach. A prime jumping-off point for rafters and tubers enjoying a Truckee River float, this leisurely hike is great for watching the floating party on river. There is a paved path that hugs the waterway, with the pavement eventually turning to dirt. You can also access trails from this point that will eventually bring you to Paige Meadows. If walking toward the lake from the free parking lot, you will find picnic tables, public bathrooms and eventually Lake Tahoe and beach access at the William B Layton Park, where dogs are also welcome. 
Kaspian Picnic Area
Across from Blackwood Canyon, West Shore
A beach that tends to get skipped by the masses, the Kaspian Picnic Area is a nice half-mile stretch of shoreline that sits at the base of Blackwood Canyon. Paralleling the bike path, the Kaspian Picnic Area offers easy access to its pebbled shoreline and expansive views. 
After enjoying a day with your four-legged best friend, enjoy one of the many events happening around the lake. Learn more at either our Daytime or Nightlife sections.