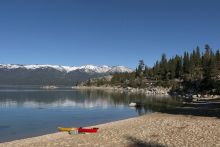 As we move into June, the Tahoe region will see more and more businesses reopening to serve their customer base. The fact that the lake, the basin and the neighboring communities fall under several different regulatory jurisdictions means that this reopening will not be uniform throughout the area. As in much of the West, a lot of the land here is managed by federal entities. As for what is covered by state rules and regulations, we have California and Nevada, with the state line running north-south through the middle. Within these two states, there are a handful of different county-level parties involved. Photo at left: Pixabay.
Nevada is entering Phase 2, which allows for nearly all businesses – with the exception of nightclubs and adult entertainment – to reopen with specific restrictions. Nevada State Park campgrounds were reopened as of 8 a.m. on May 29. They are limited to 50% capacity.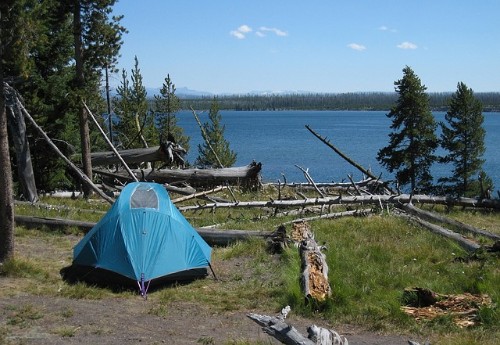 In California, El Dorado County to the south has lifted the non-essential travel ban (even though the statewide restriction on non-essential travel is still in place) and also joins Nevada County, which includes Truckee, as being among the state's counties moving into the next step of Stage 2, which allows for the reopening of hair salons, barbershops and places of worship, at the lower of 25% of capacity or 100 people. Officials in Placer County, which includes Tahoe City and Olympic Valley, have voted to move into Stage 3 of reopening. The California State Park system currently has closed all campgrounds, as well as indoor facilities such as visitor centers. Photo at right: Pixabay.
The U.S. Forest Service reports that all National Forest trails, trailheads and lands in the Tahoe Basin are open but notes that most developed recreational facilities are not yet fully open.
Crystal Bay and Incline Village, Washoe County, Nevada
The Incline Village corner of the lake is part of Washoe County, Nevada, and as such, has rules that differ a bit from the rest of the North Shore. At this point, the main difference is in the regulations governing the lodging industry, since Nevada has announced a phased-in process for casino hotels to reopen. The Incline Village beaches are currently restricted to picture pass holders and punch card holders only, as is the Ski Beach boat ramp and social distancing is required. Snack bars at Burnt Cedar Beach and Incline Beach are projected to open June 19. IVGID's Championship Golf Course and Mountain Course are back in operation, with Walk-up Grab-n-Go orders available at the snack bars. The IVGID Tennis Center is open, the Incline Skate Park is open and the Robert & Robin Holman Family Bike Park is open, all subject to social distancing guidelines.
The Tahoe Biltmore started accepting reservations on June 5. 
Sand Harbor is open for day use, and the Sand Harbor boat ramp is open, with restrictions. The visitor center is closed, as is the parking lot at Memorial Point and the Tahoe East Shore Trail between Memorial Point and Sand Harbor.
Zephyr Cove and Stateline, Douglas County, Nevada
The Cave Rock boat ramp is open, with restrictions. The Zephyr Cove Resort and Marina is scheduled to remain closed through June 4. Restaurants, salons and retail businesses are ramping up again at Round Hill and on Kingsbury Grade. The anchors of commerce on the Nevada side of the South Shore, the hotel casino resorts clustered at the state line, began phased-in reopening June 4. Kahle Community Center has not yet announced an anticipated reopening date, but the Edgewood facilities are up and running. On a sad note, after some 35 years in business, the Lakeside Inn and Casino, set just a little bit apart from the state-line casino corridor on Highway 50 between Kingsbury Grade and Kahle Drive, won't be reopening. 

South Lake Tahoe, El Dorado County, California
El Dorado County rescinded its travel ban to the basin on May 27, but the State of California travel ban is still in effect. On May 28, however, the City of South Lake Tahoe directed staff to pause the policy of issuing fines for non-essential travelers. Heavenly Village opened the summer season with a weekend celebration. Early Stage 2 businesses that have been able to reopen, such as dine-in restaurants, outdoor museums, shopping centers and services such as laundries, car repair and pet grooming, can now be joined by Later Stage 2 businesses such as salons, barbershops and houses of worship. Photo at right: Facebook, Camp Richardson Historic Resort & Marina.
The U.S. Forest Service notes that portable restrooms will be available at Pope, Kiva and Baldwin Beaches. The Eagle Falls trailhead is open and will have a restroom facility available. 
The news from Camp Richardson is that the Beacon, the General Store, the Mountain Sports shop are opened May 28, with the Ice Cream Parlor followed on May 29. There are several new rules and procedures in place designed to help keep everyone safe and healthy, both at the businesses and on the beach. 
Emerald Bay State Park is open to locals with very limited parking. 
Alpine County, California
This year was slated to be the 40th Anniversary edition of Alpine County's notorious Death Ride, recognized as one of the most challenging cycling rides you'll ever find. Due to the COVID-19 pandemic, the event will be postponed from July 11, 2020, to next year, July 17, 2021.
Fishing in the area has been placed on a slightly less-delayed schedule, and the season for streams and rivers in Alpine County opened June 1.

West Shore and North Shore, Placer County, California
On the West Shore, Meeks Bay Resort has updated plans for reopening and is currently slated for July 1. D.L. Bliss State Park is open for day use, with parking available, trail systems and active recreation permitted and outdoor restrooms available. Sugar Pine Point State Park is reported as open, with very limited parking. The Tahoe State Recreation Area reports no parking available and the Kings Beach State Recreation Area is listed as having very limited parking. Photo at right: Facebook, Meeks Bay Resort and Marina.
Golf is up and running at the courses in the Tahoe City area. 
But the real news for this county is that officials have voted to seek Stage 3 approval, which would allow more businesses to reopen, such as gyms and movie theaters. The county is also trying to reopen the entire lodging industry, from hotels and motels to short-term and vacation rentals. 

Truckee, Nevada County, California
Truckee, located in Nevada County, California, is at the expanded Stage 2 of reopening, which allows for dine-in restaurants, outdoor museums, shopping centers and services such as laundries, car repair, pet grooming, salons, barbershops and limited attendance at houses of worship. Given that the state's stay-at-home order is still in effect, leisure travel and lodging are not yet back to business, and property owners have been requested to block reservations until June 15 at the earliest. The Truckee Thursdays and the town's Concerts in the Park events are currently canceled but may possibly make a return in August. The West End Beach is closed, but it, too, might open later in the summer. For the most part, the Truckee Donner parks, including the Skate Park and the Bike Park, are open, except for the playgrounds and picnic areas.
Independence Day Update
All Tahoe-area Fourth of July fireworks displays – from Truckee, Donner and Tahoe City, Kings Beach and Incline Village all the way down to the South Shore – have been cancelled for 2020. Photo at left: Facebook, Incline Village Crystal Bay Fireworks Coalition.