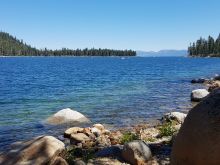 There is, as the old saying goes, bad news and good news. The bad news is that the Forest Service has had to shut down a number of recreation areas on the South Shore. The good news is that our Tahoe community continues to rally and come together to help one another in these trying times. Photo at left: Pixabay.
First up, the USDA Forest Service Lake Tahoe Basin Management Unit has announced the temporary closure of the following sites: Pope-Baldwin National Recreation Bike Path, Pope Beach, Camp Richardson Resort, Camp Richardson Corral, Fallen Leaf Campground/Beach, Tallac Historic Site/Beach, Kiva Picnic Area/Beach, Kiva Beach/Tallac Point, Taylor Creek Visitor Center and Baldwin Beach. The closure notice is in place through the end of April, and violations can result in hefty fines or even jail time, so please abide by the regulations so that we can all move past this health crisis earlier rather than later. And, now, on to some more positive news.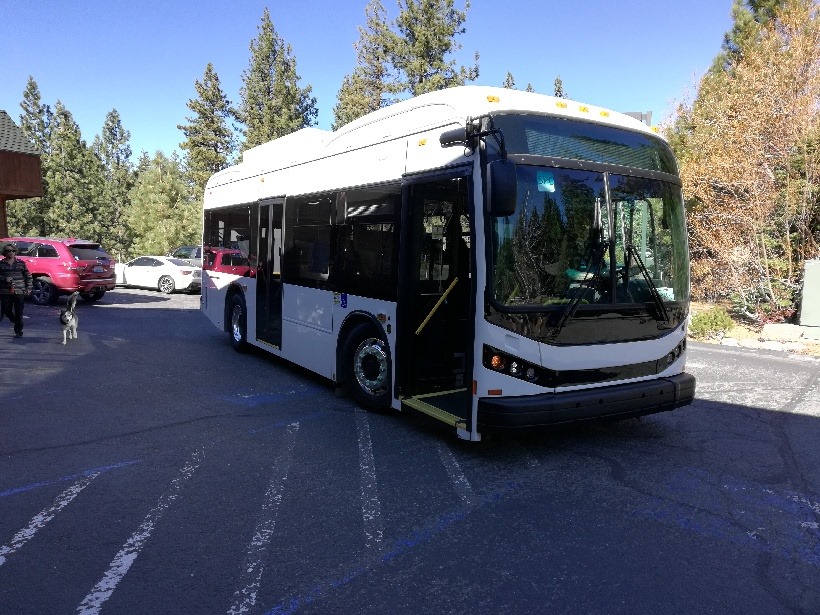 We don't have subways or commuter rails, but here in the Tahoe area we're blessed with access to public transit that is still head and shoulders above what you'll find in many other parts of the country. And in order to keep the system as user-friendly as possible in the face of the current health pandemic, the Tahoe Transportation District is implementing fare-free service. One driving reason for the move is to reduce contact between riders and transit staff and in turn reduce the potential for further spread of the virus. Tahoe Transportation District Manager Carl Hasty also notes that the zero-fare program is a way to help those in the community who have been particularly impacted economically by the pandemic. Certain guidelines are in place for riders during the current health situation, including the request that only essential travel take place during shelter-in-place orders, that you observe social distancing on and while waiting for buses and that you use the hand sanitizer that is available on all of the buses. Visit the TTD website for information about routes and schedules. Photo at right: Facebook, Tahoe Transportation District.
Hard times can bring out the best in people, as evidenced by a project being undertaken by three college seniors currently living at Tahoe Donner. They've joined up with other students to form an organization designed to match people such as the elderly or those who are immunocompromised with low-risk volunteers who can help them out by doing things like delivering their groceries or picking up their prescriptions. More information about the project is available at the Tahoe Helping Hands website, which also includes links to forms where people can sign up either to be a volunteer or to be a recipient of the assistance.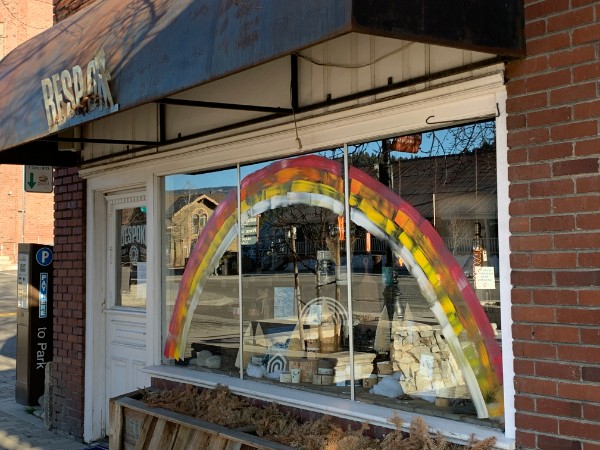 And in these days that have such a sense of gray gloom about them, some of the business owners in Truckee have decided to interject a dash of color. In the spirit of an international trend, many local merchants displayed rainbows on their windows. Heather River, business owner and president of the Truckee Downtown Merchants Association, painted the symbols to express both unity in the community and hope for the future. The rainbow movement is thought to have begun in Italy, and in Canada the design is often accompanied by a phrase that translates into "Everything is going to be OK," which coincidentally happens to be the slogan of River's local giftshop, Bespoke. "The Truckee Rainbows represent our community's ability to endure, transform and create what is needed to stay Truckee Strong; they are a sign of gratitude to all in our community," said Cassie Hebel, Executive Director of the Truckee Downtown Merchants Association. Photo at left, courtesy Bespoke.
Check back regularly for more news about Tahoe community resources in the face of the COVID-19 pandemic. And if you have information about assistance or aid projects that you want to share with us to get the word out, email the news to me at krugg@tahoe.com.