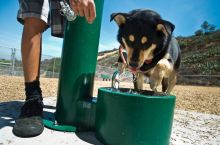 Could a day on the trail with your dog get any better? The Sierra Mountains, kissed with a touch of snow on their peaks, frame the turquoise water of Lake Tahoe. The sun shines down in a spectacular way, making it seem as if diamonds are dancing on the water's surface. With a light breeze perfectly touching the needles of the sugar pines, the towering trees seem to be speaking to you. Your beloved four-legged best friend runs by, high on life. All is perfect. Until you realize, you are out of water.
If you and your dog enjoy spending time in South Lake Tahoe's beautiful forests, then there is a cause that deserves your attention.
A Stateline couple, Liz and Doug Lawton, have taken the initiative to create a community water station that acts as a mid-station watering hole for pups as well as a refill station for human beings.
Having a love for the area through their daily runs and walks with their dogs, the Lawtons saw the need for such a watering station. Initially seeing a similar watering station on an excursion in North Lake Tahoe at Tahoe Vista, the couple decided to research the need further. After investing hours, they realized that this could be a huge benefit for the entire community and decided to launch a GoFundMe page. 
The idea is to create a water-bottle refill station and dog drinking fountain at Nevada Beach by the Kahle Drive bathrooms at the Rabe Meadows Trailhead. The station would not only help people stay out on the trails longer, but also cut down on single-use water bottles, an initiative that is important for many who call Lake Tahoe home. A watering station of the highest standards, it will have freeze-resistant valves and will also meet ADA requirements.
The Lawtons have set a funding goal of $6,000, a number they are getting close to already. The hope is that they will reach fruition with the fundraising by mid-February, and the station will be finished by summer 2021, with the fountain needing up to four months for delivery.
To help inspire people to get involved, they have set up different tiers of financial involvement. Each sponsorship level has its own perk. For example, those who donate $500 or more will get their name inscribed on a plaque that will be displayed on the fountain. Local businesses like Harumi Sushi, Shoreline of Tahoe and Tahoe Paddle Sports have already pledged their involvement, giving $1,000 in some cases. 
To learn more, please visit their GoFundMe page.
If you are looking for events, activities or community happenings, be sure to check out our Daytime and Nightlife sections for everything happening in Lake Tahoe.
Pictures courtesy of Shanie Matthews and Pinterest