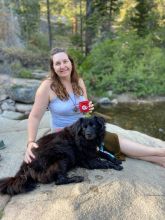 One of the greatest aspects to Lake Tahoe is our natural landscape. A robust array of flora and fauna surrounded by clean streams, healthy trees and nurturing weather – the combination creates a true paradise. 
Replicating Mother Nature's masterpieces in landscaping is a true art form. It takes years of study, hand-dirtying work and a deep love for our natural setting to truly be able to create an integration of Lake Tahoe's intrinsic beauty into a home's outdoor living space.
But this is exactly what local Heather Adams is known for. A gifted landscape artisan, she is now taking her skills to an even broader landscape, per se. She is offering her gifts in the form of Tahoe Integrated Landscape Consulting, a one-stop-shop for making your garden the eye-catching envy of the neighborhood.
Heather is a longtime friend and fellow yogi, so I was excited to sit down with her and discuss her new offering to the Lake Tahoe community. Continue on to learn why she is your new gardening best friend, how she can help and what makes her love this work so much. May your garden grow ...
How did you come to creating Tahoe Integrated Landscape Consulting?
With a degree in soil science and a passion for all things growing, I've been growing things in Tahoe for two decades. I've helped many friends and neighbors with advice and techniques to help their gardens grow. Last year I got my Master Gardener's certification, and I realized how deep my knowledge of the area is when it comes to growing things. With the pandemic I realized I had the skills that people in our area needed. I think we all got nervous when the shelves got cleared of produce and suddenly the access to fresh food was threatened. Growing our own food and useful plants in and around our homes suddenly feels like a lot more of a necessity than it did in pre-pandemic times. I realized that there was no one out there offering what I'm offering. A bridge between DIY and paying for a professional landscaper, I'm a gardening and landscape coach. I can collect data from your yard and give you specific advice on what will grow and work best there given your specific micro-climate. I recognized there was a need for this, and Tahoe Integrated Landscape Consulting was born.
What do you love most about landscaping? 
Growing things connects us to the earth and her cycles while providing food, medicine and mental well-being. My mission is to integrate our clients into the landscape and the landscape into our ecosystem using sustainable and organic gardening and landscape practices. As a species our population is growing exponentially. We need to start using the arable land around our homes not only for our own uses but also to the benefits of our local ecosystem. Planting natives, bee-friendly, lake-friendly and wild-life friendly landscapes will help to benefit us all in the long run. Gardening and landscaping can add to the value of your home not just monetarily but emotionally as well. Having a beautiful space that you can relax in at the end of the day, providing food for yourself or having a flock of migrating birds visit your yard are all so rewarding. Being in my garden and interacting with my plants always brings me joy no matter how hard my day has been. The ability to create a connection with nature where we call home is my favorite part of landscaping.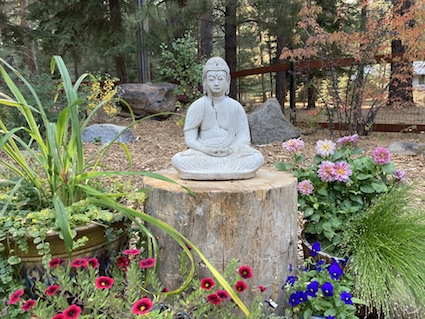 What are the positive and negatives to landscaping in Lake Tahoe?
The positives are that it is possible. Our warm summers allow us a growing season. With the right tools, techniques and plant choices, you can actually grow a lot here. I spend more time out the garden than I do inside my house in the summer. Our temperate climate allows for that. The biggest negative is that it's difficult. Our short frost free window makes growing certain fruits and vegetables near impossible. Blistering hot days and cold nights can make growing anything a challenge. Our lack of rain during the summer makes irrigation a near necessity. The Tahoe gardener has a lot more challenges to overcome than a gardener down the hill. Through a lot of personal trial and error I've figured out a lot of tricks to get things growing in our area.
What do you love most about living in Lake Tahoe?
I moved here for a winter season 20 years ago. I came for the winter and stayed for the summers. I love our climate. From skiing up high in the winter to sailing Tahoe's blue water in the summer. I love the mountains and all the activities that come with it. Backpacking in summer across massive wildflower meadows filled with rare species. The plant nerd in me lives for this every summer. Skiing big lines in the Eastern Sierra come spring is always exhilarating. Our community here is so caring, I'm honored to be a part of it. I also love that it's relatively close to many great places ... San Francisco, the Eastern Sierra, Death Valley, The Pacific Coast, Redwood forests ... all of these things are a day's drive away.
What is your biggest piece of advice for people visiting the area?
My biggest piece of advice for people visiting here is to help clean up the litter. The influx of tourism into our area has really seen a huge increase in littering. If you come to visit us in our beautiful scenery, help us keep it that way by packing out what you packed in and then some. If we all help to pick up the trash, then we'll have a cleaner environment for us all to enjoy. And always bring a jacket. When the sun is out it's warm. When night falls it's cold, and an extra layer is always a necessity.  
Photos courtesy of Tahoe Integrated Landscaping Consulting