One of the amazing aspects of Lake Tahoe is the level of inspiration that lies within its nooks and crannies. From entrepreneurs to artists, adventure athletes to scholars, the area is filled with people who create greatness for their own lives as well as the lives of others. From time to time I'd like to give you a closer look at these incredible people who call Tahoe home.
This week I'd like you to meet longtime locals Steven Siig (known by the community as just Siig) and his lovely wife, Melissa. Interestingly enough Siig and I began our friendship more than 20 years ago with him behind the camera and me as a fledgling ski star creating an Alaska ski movie called Heart and Soul. Today it is wonderful to see how the Siigs' passions are growing into a community business that brings fun, education and the enjoyment of a great flick to the basin. Through their business, Tahoe Art Haus & Cinema, they are bringing cultural sparkle to Tahoe.
Photo below: Melissa and Steven Siig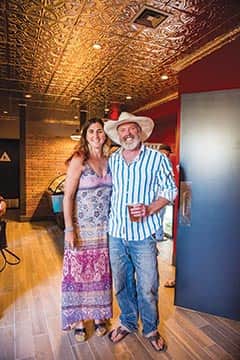 How did the dream for creating Tahoe Art Haus & Cinema begin? 
Steven has been involved in the film business for years. He made his own ski movies and was a cinematographer for Warren Miller, TGR, Standard Films and others, as well as for a few documentaries. He always had a dream of opening a movie theater. In 2013, when we were visiting my mom in Port Townsend, WA, we sat down with the owner of the Rose Theater, which we love, and asked him to tell us everything he knew about the movie theater business. Two months later, we found out the Cobblestone Cinema lost its lease, and we jumped on the opportunity.
Tahoe Art Haus is much more than just movies, can you explain to us the array of artistic culture that you are bringing to the community? 
In the off seasons we try to mix things up. We have live music, including local bands and DJs as well as speakers and dance performances, and we've even had a comedy show. Basically, if the community brings an event or idea to us, we try to make it happen.
The seating for the theater is super plush and comfortable. Who came up with that idea? Is there a story behind the interior design? 
I have to give all credit in the design to Steven and our interior designer, Shannon Barter of ID3 designs in Tahoe City. At first we were going to keep the old seats to save money, but at the last minute we said screw it and invested in leather rocking seats plus the couches, which are super popular. It was a good call. The idea behind the design of the theater and lobby is mountain industrial with a tinge of the Old West. My favorite is the tin ceiling.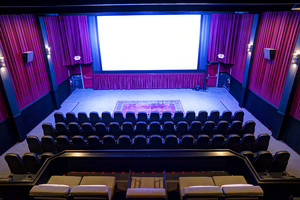 With all of the fun flavor that you bring to the community, do you have a performance that stands out, for you, as a favorite? 
Well, we love opening night of Star Wars. It's all locals and people are so excited. The DJ nights are a lot of fun too, especially events put on by Rambo Party Productions and when the Tahoe Flow Arts girls perform; our ceiling is rigged for aerial silks. We also love JonBob's ski movies, when the theater is packed with locals and it's so social and fun. And any Alpenglow event is always a good time. We had Robert Redford's son, James, present his movie, Toxic Hot Seat, and that was really exciting.
What is on the event planner that people should definitely put on their calendar? 
The big movie of the year is Star Wars, The Last Jedi, which opens December 14. This is our most popular movie of the entire year. For the first week, all of the staff dress up as Star Wars characters. It's a lot of fun and the energy and excitement in the room is electric. We also have several ski movies coming up, including JonBob's An Atmospheric River Runs Through It, on November 1. This always sells out and is a great locals night. This Is Home, a benefit for the Squaw Valley Freestyle Freeride Team, is November 2, and Warp Wave will be showing short snowboard films on December 8. A night with Jeremy Jones is December 9, and MSP's Drop Theory is on December 13. Also look out for the Oscar-nominated films.