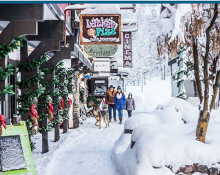 One of the greatest aspects of living in Lake Tahoe is that you get to live in a great outdoor recreational mecca – and you get the pleasure of having different towns to give flavor to life. Lake Tahoe is home to not only South Lake Tahoe, but also a whole host of other towns. From Incline Village to Carnelian Bay, from Truckee to Kings Beach, from Olympic Valley to Meyers, the various communities in this beautiful basin offer their own individual sparkle. Each town is known for its unique vibe and amenities.
One community that deserves special recognition for being a home base since the beginning of the lakeside settlements is Tahoe City. This bustling, adorable locale sits on the shores of Lake Tahoe and is the starting point for many incredible outdoor adventures. It's also home to fantastic dining opportunities, excellent locally owned stores and hopping bars that are a centerpiece in Lake Tahoe nightlife.
I recently had the opportunity to chat with Kylee Bigelow, executive director of the Tahoe City Downtown Association, to talk more in-depth about Tahoe City and what it has to offer. A Tahoe City local and advocate for all things Tahoe City, she has some valuable thoughts on this beloved community. Here's what she had to say.
Why is Tahoe City a special part of the Tahoe basin?
Tahoe City is a small but vibrant community in North Lake Tahoe. Maybe one of the reasons it is so special is because Tahoe City is walkable and bikeable downtown, with access to many recreation amenities right from the downtown core.
What amenities does Tahoe City provide that make it different from other Lake Tahoe towns?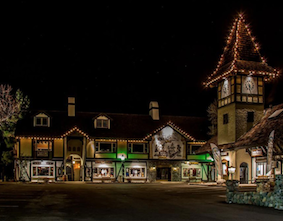 Tahoe City honors the best of all seasons – doubling as a ski town in the winter and a lake town in the summer. When the snow falls, Tahoe City is located a short driving distance from Lake Tahoe's top ski resorts. Visitors can also enjoy scenic Nordic skiing, sledding and snowshoeing within town limits at Tahoe XC and at the new Tahoe City Winter Sports Park.
In summer, Tahoe City offers the best that Lake Tahoe has to offer with beautiful beaches, a lakefront bike path and outfitters with stand-up paddleboards, kayaks, sailboats and Jet Skis to explore the lake. The Tahoe City Marina accommodates boaters with a full-service marina right downtown, and boats can put in or take out just down the road at the Lake Forest Boat Ramp. Golfers can enjoy a round at the Tahoe City Golf Course, and hikers delight at the many stunning hikes and backcountry meadows near town.
Please give readers an example of the sparkle that Tahoe City offers, maybe a favorite scenario shared by a tourist?
In Tahoe City, you can spend your day outdoors on the lake or hiking in the woods and then reward yourself and family with a fantastic meal after all your hard work. In a few short blocks, you'll find just about any type of food and drink your heart (and taste buds) desire. From upscale to grab-and-go and everything in between, Tahoe City delights culinary enthusiasts from near and far. Start off your day at one of our quaint coffee shops or cozy cafes right in the center of town. After a day on the slopes or a day on the lake, your appetite will be calling for some Tahoe City goodness. At the end of another day in paradise, wind down at one of our local watering holes. Many visitors love to dine while looking over Lake Tahoe or the Truckee River or picnicking at Commons Beach.
What are some of your favorite places for nightlife action?
A few that I recommend include the Tahoe Art Haus for their movies and shows, with beer and wine available; the Pioneer Cocktail Club for late-night happy hour; and Jake's on the Lake and Fat Cat for their live music.
What are your favorite things about living in Tahoe City?
Living in Tahoe City gives you quick access to recreation, relaxation and rejuvenation. Tahoe City has a plethora of activities to choose from, dining to enjoy and views to soak in. The best part about living in Tahoe City is you can do so much in one place, all in one day. You can ski in the morning and kayak or paddleboard in the afternoon and top it off with lakeside dining looking over a beautiful Tahoe sunset. It's the ultimate package.

Any lasting tidbits readers should know?
Make sure you go to the lake. Enjoy the views, and slow down. Tahoe City is a great place to walk and bike and take in the scenery around you with your loved ones. 
Thanks, Kylee, for sharing your knowledge about Tahoe City!
Be sure to visit Tahoe.com's Daytime and Nightlife event sections to learn about other fun events to accompany your Tahoe City vacation.
Photos by Tahoe City Downtown Association