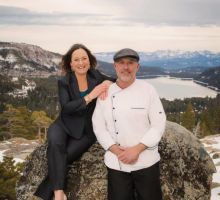 One of the best ways that we can proactively participate in our own well-being is by nourishing ourselves with wholesome meals that are made with love. Meals that are shared and appreciated with loved ones support not only our own vitality, but also the health of our relationships.
Sometimes, though, creating scrumptious meals can seem overwhelming. Thankfully for all of us in Lake Tahoe, there are locals who have created entrepreneurial enterprises that enhance access to delicious, health-conscious recipes. One of those businesses is Hey Chef!, a locally owned and operated catering company. Created by Holly Verbeck and her fantastically talented husband, Chef Grog, it is built on the foundation of empowerment. Knowing the immense amount of positivity that this small business brings to our community, I was excited when Holly had the time to chat with me. Our conversation took some fun twists in turns. We discussed topics such as why booking a private chef is the best way to keep you and your loved ones safe, what Hey Chef! is doing for our Lake Tahoe community and her suggestions on what you need to know for your next get together.
Here's what she had to say.
Share with readers how you started your catering business and helping people connect with the joys of food.
I've never cooked or worked in restaurants. So I got lucky when, on an Alaskan kayak trip, I met and married a private chef from New York. Since 1994 Truckee has been our base camp. We saw back then that Truckee was growing and changing. There were a lot of second homeowners wanting to create meaningful memories where it matters most – at your their own dinner tables, instead of going out to restaurants. Since creating Hey Chef! in 1997, we have grown our business and raised two children.
We consider ourselves true locals and created Hey Chef! because we truly believe that there are three sacred obligations that we have in life as human beings: One is to cook and clean for one another. We do that for our babies, and we do that for the people that we invite into our homes. It's a very intimate experience and very flattering if someone invites you into their home, so cooking is what we consider to be a sacred obligation. We also feel that serving is a sacred obligation and we do it in all areas of our lives. Whether we do it as a spouse or at work or in our volunteer efforts or for our children, we are all being of constant service to others, and we believe that is a sacred obligation. 
And the third obligation that we have to our children, to future generations, is to teach. I come from a teaching background. My husband is a chef, which is a teaching activity, so we started because it was a joy for us sharing with people what we know about food and what we understand with the joys of being served and receiving great service. In our opinion, there's nothing better than getting that in your own home.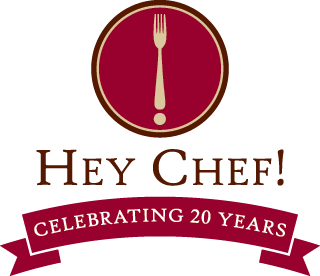 Do you have any favorite memories from experiences that your business created?
Probably one of the greatest things is getting to be a part of Best of Tahoe Chefs and contributing as a community member to make cancer services available to everyone. Secondary to that, for years we have had a charity relationship with the Truckee North Tahoe Emergency Warming Center. That means we share a portion of our profits with the Emergency Warming Center. It's a beautiful round robin. It makes sense that every time we go into a client's home and we put food on their plates that we work with a partner in town that is working to put a roof over the heads of those that are underserved in our community. When weather extremes trigger the ability to access food, this relationship allows us to help put food on the plates of the underserved as well. We have been working with Cathie Foley, who runs the Emergency Warming Center. We love her and have known her for 21 years now, and we have been a charity partner with them for three years. It's been a wonderful relationship. It feels wonderful to run a business that is more than running your own job, knowing that you have you grown the business to a place where you have a reputation, where people in the community depend on you and where you can give back to your community.
How are things different in this current climate with COVID?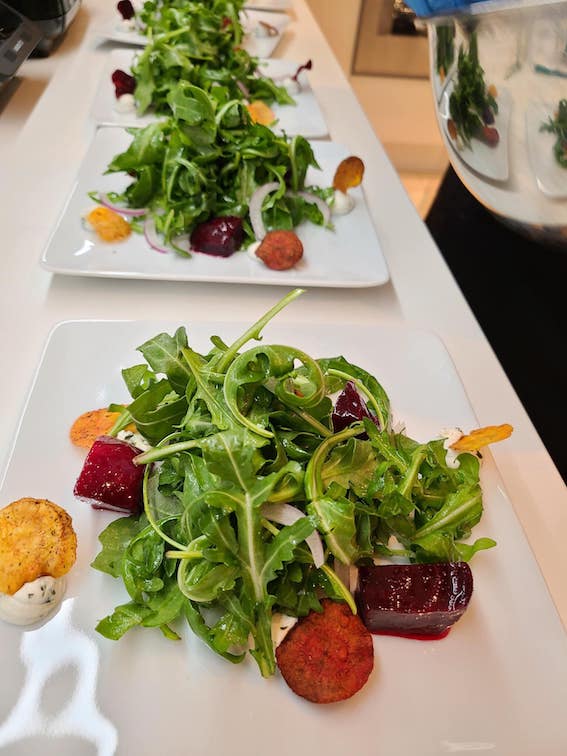 Things have definitely changed. Interestingly Hey Chef! is uniquely positioned to provide for people in their homes professionally made food that makes them feel comfortable, confident and safe. We have put into place COVID and socially distancing safe-practices for independent chefs working in homes for their clients. When we enter a client's home, we assess our entire staff that day to make sure they are not symptomatic and are prepared to go into someone's home. We also have best practices that we have put into place to further protect client and employee. We have adapted the same regulations adhered to by dentist offices and other restaurants, for example, so that when we go into someone's home we are sure that the health of all concerned is safeguarded.
On another note, this is a tremendous time to grow another branch of chefs who are working independently, who are doing the work of a private chef – I believe the new term is Independent Chef – but are working completely independently, making people happy with their food and paid what they are worth serving people in their homes. Whether that is doing packaged meals for the busy family or catering to a private party event in the privacy and safety of their own home. I just think it is a fantastic time for chefs and that we are going to see this industry change for the better because of COVID.
For us personally, COVID has affected us, as it has affected all other small businesses. Our business overall is down, but we are open and we are excited to be of service. We are still taking reservations. We are doing it safely and with best practices always in mind. We are ready to take reservations for the fall, Thanksgiving and Christmas. We are ready to get back up to speed whenever everyone else is ready and we are all feeling comfortable with this pandemic we are dealing with.
What suggestions do you have for visitors in the area interested in having gatherings?
I suggest that they do it with a personal, private chef. When a group of 20, or eight, wants to get together and create meaningful memories where it matters most, which is around the table, it can be cumbersome, especially with the current regulations. Try to find a restaurant that can accommodate a large gathering. It's difficult. Also getting everyone to a location has its own challenges as well. Not to mention the aspects of dealing with children's meltdowns or crowded places. Instead of taking everyone out into a public place, it's just so much easier to bring a chef and a server into your home where your children can be fed a meal and can go off and play while the adults get the privacy of intimate conversation at their own table without having to drink and drive. Everyone gets to enjoy the evening for as long as they would like to without having to be shuffled out because someone else is waiting for a table. For me, it's a no-brainer. I think the best way to gather, to have an intimate experience and to create meaningful memories, is to do it in a private home at a private table and to bring the restaurant to you so that you can be a guest at your own party.
Do you have any tips or advice for people coming up to Tahoe?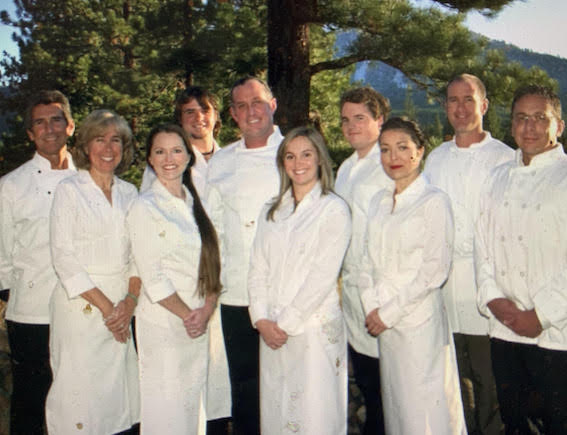 On our website we offer an 18-page guide especially for people who have second homes in Lake Tahoe or are renting homes. These are time-tested tips and checklists for flawless entertaining in a vacation home, whether or not you rent it or own it. There are a number of things within this gem of a booklet that will help you make the most of your time in Lake Tahoe, so that it feels like home, so that you can enjoy it like home and so you can make the most meaningful memories possible.
One other tip I would like to mention is to be sure to plan ahead. Lake Tahoe is a place is that is always fluxing, expanding and retracting because of it's seasonal and weather dependency. By planning ahead, we are able to give you options and the opportunities necessary to make your gathering the special event it deserves to be.
Do you have anything else you would like readers to know about?
Our services as a private chef extends much further. We also offer bartenders, baristas and shoppers as well as chefs in people's homes, either for a single event or for multiple days. We have customers that book us for a week for breakfast, lunch and dinner for their family reunion of 20 people on their rented house on the lake. We also do private dinner parties for holidays like Christmas and New Year's parties. As long as it is in a home, we can do it.
I think a lot of people associate food and beverage with the signs that they see driving down the road. They can see a restaurant's sign. When a person thinks about food they think about a grocery store or a restaurant. You aren't seeing a billboard for businesses like a private chef, but those businesses are not only vibrant, but essential for our community. They are also impacted by COVID. I feel it is important that we get the word out that these businesses are here. We are excited to work.
We would love for people to check out our gift certificates. Call us and make a reservation. It's in our hearts to give by way of our service and our food. 
Photos courtesy of Hey Chef!
Looking for fun events to do while in visiting Lake Tahoe? Please be sure to visit our Tahoe.com Daytime and Nightlife sections to learn more.