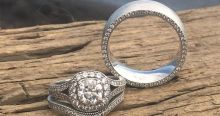 If giving your special someone a lovely piece of jewelry is in your near future, take the time to peruse Lake Tahoe's jewelry stores. Although the Tahoe area may be known for its stunning natural environment and outdoor adventure, the basin has its fair share of locally owned jewelry stores selling treasures that can't be found elsewhere.
Keep reading to learn about 11 shopping experiences that will bring sparkle to your life.
Photo: Bluestone Jewelry delivers when it comes to brilliant diamonds. Photo courtesy of Bluestone Jewelry
Tahoe City & Truckee
Bluestone Jewelry is so admired in Lake Tahoe that the locals support two locations. Their Tahoe City branch is where the goodness started. A place where locally designed, custom jewelry made a name for itself on the shores of Lake Tahoe, this welcoming shop is filled with items that make life better. From their stunning jewelry to fine art, the options are endless. They also offer incredible glasswork as well. The Truckee location adds a little more spice to the world of jewelry by involving the delightful taste of wine. The superb quality of both the wine and the jewelry is second to none. Be sure to stop by whether you're in the mood for shopping or just to peruse the splendor. You'll be glad you did.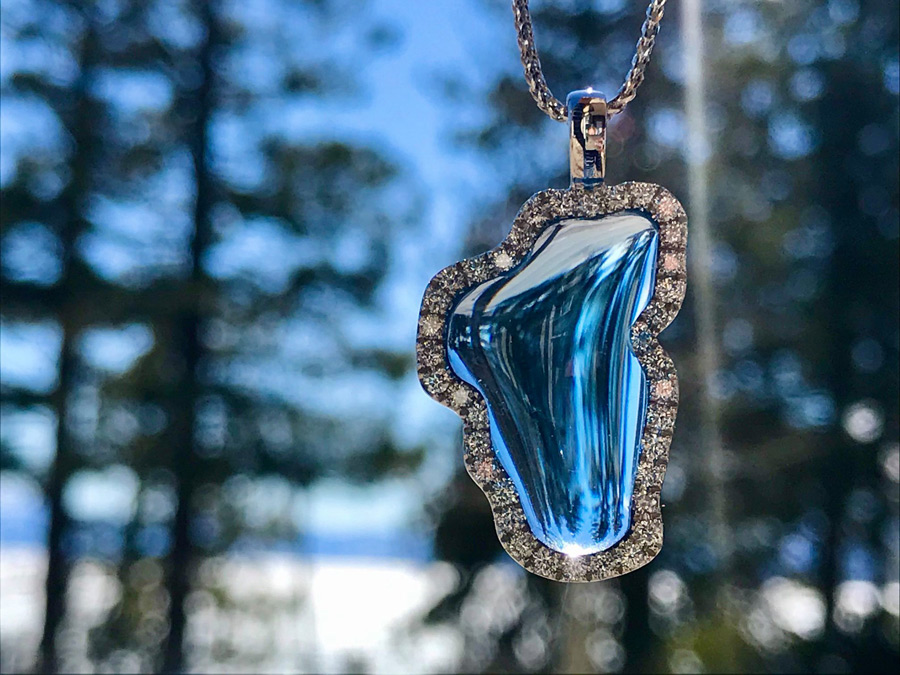 A signature piece offered by Bluestone Jewelry that is certain to be loved by anyone that adores Lake Tahoe. Photo courtesy of Bluestone Jewelry
Zephyr Cove
Nestled in the shopping district of Round Hill is a tiny jewelry store offering a one-on-one, caring atmosphere that is hard to find in this day and age. With a full spectrum of regalia, you can find unique and beautiful rings, necklaces and earrings for the entire family. Specializing in bridal, engagement and wedding jewelry, Round Hill offers stunning selections for that special day. The store also offers a repair center with same-day service.
Tahoe City
Tahoe local Lauren Bobowski-Salm's Lala Jewelry is the result of years of dedication to art, creativity and the tenacity to make dreams happen. Inspired by Big Blue and yoga, all the jewelry Lauren offers represents something with a special connection to her life. But it is her shimmery Lake Tahoe charm pendant with a dangling heart that has really made a name for her. The connection to the love for Lake Tahoe that many feel wearing the necklace has led Lala Jewelry down the path of being beloved by visitors and locals alike. 
Tahoe City
With stunning designs unique to Steve Schmier's Jewelry, the fine workmanship that can be found within this gallery is of the utmost quality. In this intimate, welcoming store, service is catered to the individual. Owner Michael Grant and his associates have a keen eye for finding that special piece that will be loved for eternity. The shop is able to create custom pieces that frame stunning diamonds and precious gems. They also offer a unique service that allows you to create new pieces of art from old jewelry.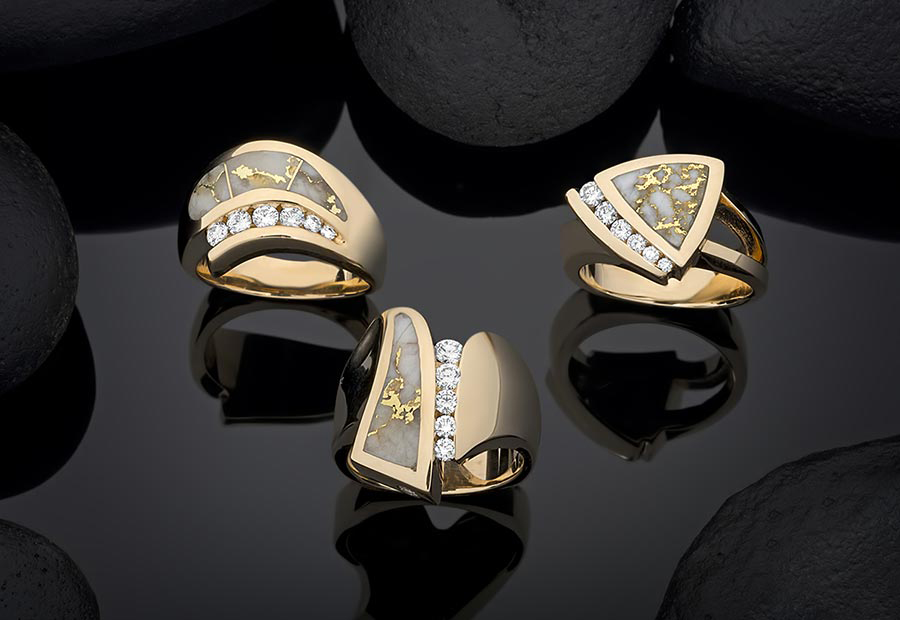 The designs offered at Steve Schmier's Jewelry are stunning. Photo courtesy of Steve Schmier's Jewelry
Tahoe Rock Shop
South Lake Tahoe
A different kind of jewelry store, Tahoe Rock Shop focuses on Mother Nature's treasures like gems, crystals and fossils. The trinkets that are offered in this special shop are all one-of-a-kind finds. All jewelry is handmade with many pieces coming from Tahoe artists. 
Epiphany Fine Jewelry & Design
Stateline
With nearly 30 years in the jewelry industry, Epiphany Fine Jewelry knows about gems and precious stones. Owner Pamela Crowell has spent her life dedicated to gems, graduating from Gemological Institute of America as a Graduate Gemologist with Accredited Jewelers Professional and Pearl Graduate credentials. This as well as her extensive education on the identification of gems gives her the impressive ability to accurately appraise and value jewelry. As a highly trusted source of quality jewelry, Epiphany Jewelry has made a name for itself in Tahoe as a trusted source for brilliant diamonds, beautifully crafted fine jewelry, elegant watches and custom-made pieces. Pamela also offers jewelry repairs.
Forever Rox Fine Jewelry
Incline Village
A family affair, Forever Rox Fine Jewelry was created by two brothers, Bill and John, who saw the worth in offering wholesale jewelry prices to the general public. In 2005 the duo opened Incline Village's Hub Brothers Jewelry which specialized in offering jewelry for any budget. This business endeavor grew with such vigor that Bill and John decided to partner with John and Rebecca Roxburgh to open up a storefront that offered a jewelry-buying experience that was not yet available in the area. This impressive hub for fine jewelry is known for its stone setting, custom jewelry and repair abilities. In fact, this is the place to go for designing into reality the jewelry of your dreams.
Kings Beach
Although The Robin's Nest is one of the best places to go for gifts of all sorts, it is also a wonderful place to find unique and beautifully crafted jewelry. It's a shop that looks tiny from the outside, but it's much bigger when you get inside. The spectrum of gifts available at The Robin's Nest is impressive, which is why it is my favorite place to find jewelry that has sentimental meaning. 
South Lake Tahoe
GaiaLicious Boutique is a shopping experience that can last for hours because of the extensive inventory. Filled with global goodies, GaiaLicious offers everything from clothing to books, candles to crystals, incense to essential oils, lotions to massage oils. But their jewelry is a reason to visit in its own right. All jewelry offered is fair trade and eco-friendly as well as handmade.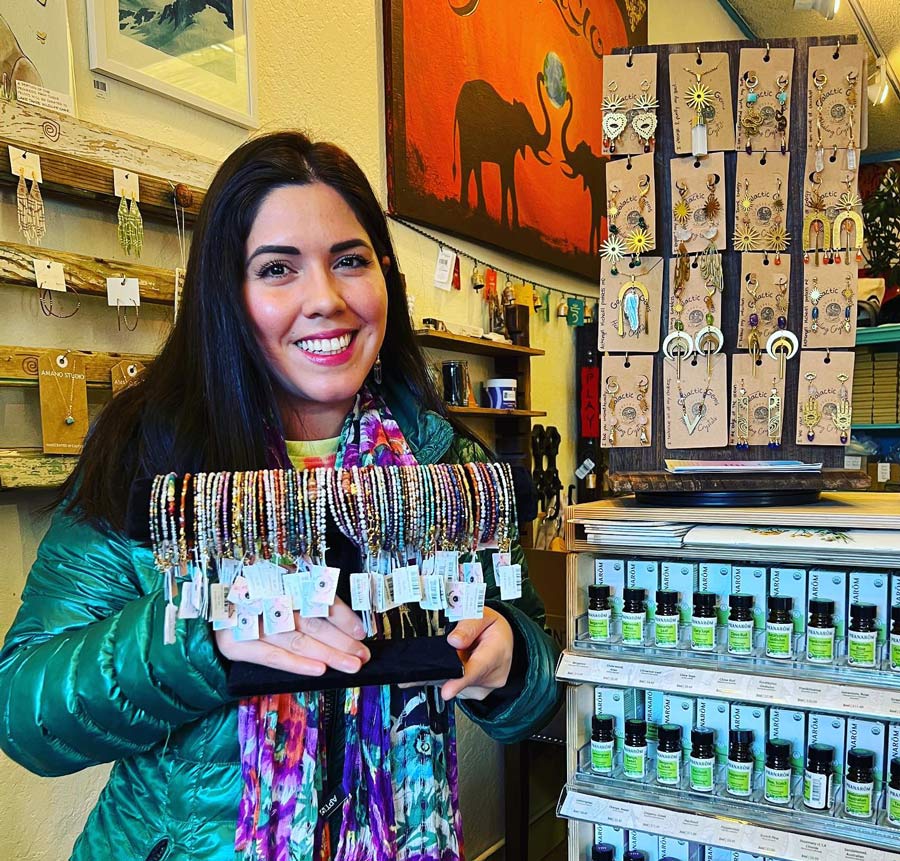 Gabi Starseed showing offer her beautiful jewelry at GaiaLicious Boutique. Photo courtesy of GaiaLicious Boutique
The Potlach
Incline Village
With more than 50 years under their belt, The Potlach is a favorite place for finding unique gifts. Specializing in turquoise jewelry, their trinket section is filled with gorgeous pieces that will be loved by anyone. The jewelry is authentically made by Northwestern Native American tribes, making the inventory especially rare to find in Lake Tahoe. The Potlach is also home to the Artie Yellowhorse Jewelry Show, a favorite weekend affair that pays homage to Native American jewelry.
Tahoe City
Another opportunity to find a gigantic assortment of treasures, Tahoe Trunk Show is focused on offering locally crafted gifts like ceramics and pottery, wallets, purses and bags, knitted wears and hand screen printed t-shirts, aromatherapy, all sorts of housewares as well as stunning jewelry. A locally owned and operated boutique, the store offers handcrafted jewelry by such artists as Bella Petunia, Wes Michaels Jewelry, Lala Jewelry and Snowfire Jewelry. All pieces are originals brought in on a rotating basis and can't be found elsewhere, making Tahoe Trunk Show a place to visit frequently so as not to miss out on that one-of-a-kind find that will be appreciated forever.
For all of the Lake Tahoe shopping opportunities, be sure to visit our Shopping section, which can be sorted by location or type of shopping.
---