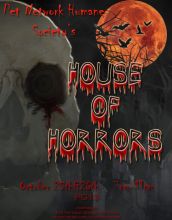 Fright night is nearly upon us.
Halloween is a favorite holiday in Lake Tahoe. All around the lake there are fun events to enjoy. From ghoulish activities for the kids to seductive parties that entertain adults into the wee hours, there are many opportunities to enjoy this favored way of letting our alter egos shine. 
Here are some fantastically frightening ways to enjoy this imaginative time of year. Happy, happy Halloween!
Pet Network Humane Society's House of Horrors: If you love the furry members of our society and want to give to a charity while you enjoy Halloween, check out the Pet Network Humane Society's House of Horrors. Happening on both Friday, October 25, and Saturday, October 26, from 7 to 11 p.m., this haunted house experience will leave you in terror. Not for the faint of heart, this eerie abode is sure to be a fun time for the entire family. There will be clowns, zombies, evil doctors, ghosts and witches waiting to entertain you in 11 Halloween-themed rooms. Can you handle their fright? Tickets are $20. All proceeds benefit the Pet Network Humane Society. The location is 401 Village Boulevard in Incline Village.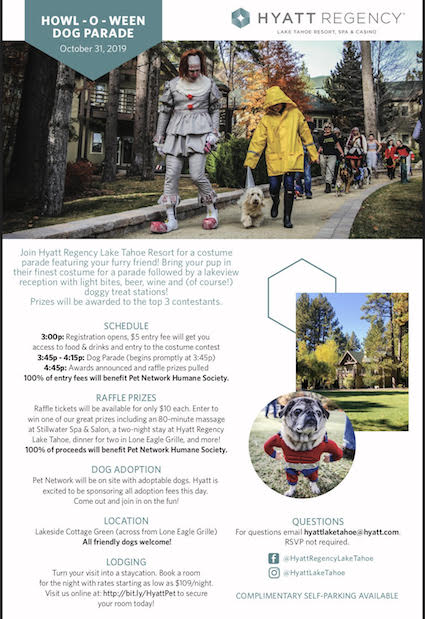 Howl-O-Ween Dog Parade: There may not be anything more fun than enjoying the people-watching while you cruise in a parade with your dog. Dress your canine companion up in a costume and join in on the second annual Howl-O-Ween Dog Parade created by the Hyatt Regency in Incline Village. It's another fabulous way to give back to the community, as all of the profits from this event also support the Pet Network Humane Society. It happens on Halloween proper, and registration begins at 3 p.m. A $5 entry fee gets you access to free food and drinks as well as the costume contest. The parade itself runs from 3:45 to 4:15 p.m., with awards for best costume given out at 4:45 p.m. There will be raffle prizes offering such goodies as massages, a two-night stay at the Hyatt and dinner at the Lone Eagle Grille. Puppies and doggies will be available for adoption, so get ready to have your heartstrings tugged.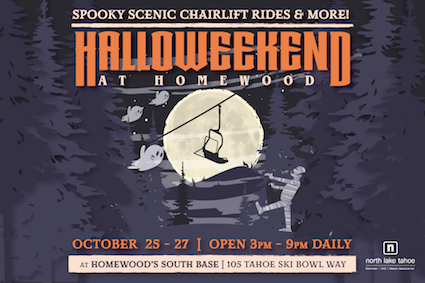 Halloweekend at Homewood: Enjoy a whole weekend of fun celebrating Halloween at Homewood. From October 25 to 27 (Friday through Sunday) enjoy a fright-fest like no other. Complete with goblins, ghosts and ghouls, this family-friendly event offers free scary movie showings, face painting, pumpkin decorating and a frightfully fun amount of local vendors giving out ghastly surprises. One of the exciting offerings from this event is the chilling chairlift ride, in which Quail Chair will lift you to lofty heights as you encounter one haunted scene after another. There will be two levels of fright, with the chairlift rides running from 3 to 6 p.m. for the younger, more easily frightened kiddos and rides for those who are ready for some real spookiness from 6 to 9 p.m. The entire festival is free (chairlift rides do require an additional fee) and open to all ages. The event runs from 3 to 9 p.m.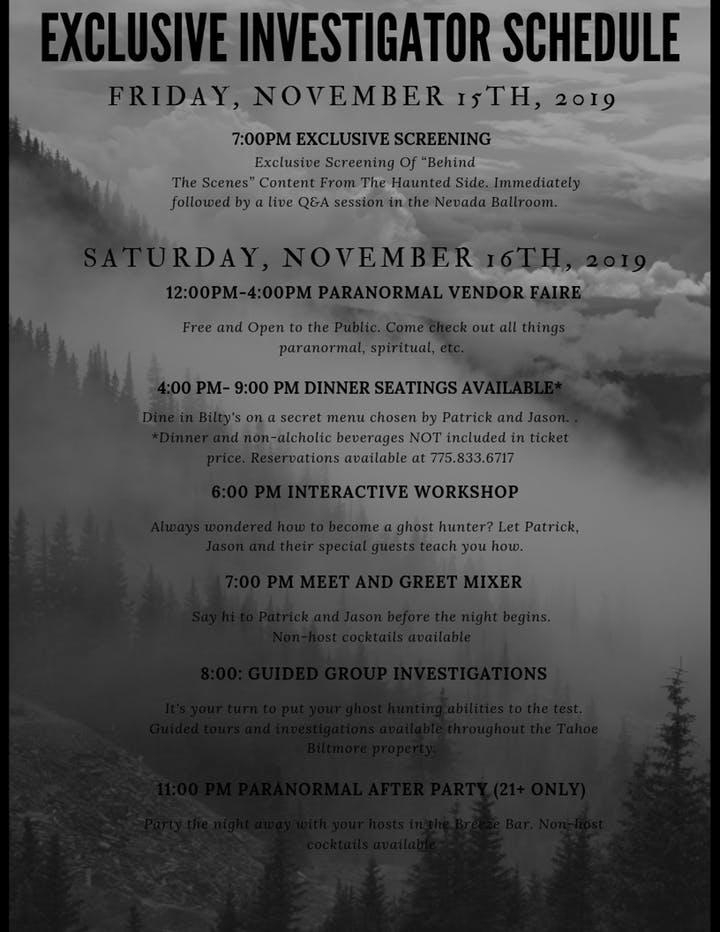 Tahoe Biltmore's Pop-Up Ghost Tour: Happening just after Halloween, this is an experience for all of those wanting to get up close and personal with paranormal activities. Meet with ghost investigators and learn their tricks as you discover behind-the-scenes action of an actual investigation in a truly haunted location. At the full weekend event there will be workshops as well as meet & greet mixers, behind-the-scenes episode premiers, an exclusive opportunity to dine with the investigators (there is a secret dinner accompanying menu) and a free Paranormal Vendor Faire on Saturday from 12 to 4 p.m. The entire event runs the weekend of November 15 and 16. Tickets range in price from $49 to $99. 
This is just a small sample of all of the wickedly entertaining ways to enjoy Halloween in Lake Tahoe. Please be sure to visit our Daytime and Nightlife sections to learn about other fantastically gruesome events.