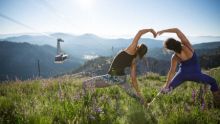 Have you ever wondered how you could enhance your health in a way that brightened all aspects of your life? Do you enjoy the artistic play of music and shadow? Or how about getting together with a bunch of like-minded outdoor enthusiasts while learning life-enhancing athletic endeavors?
If any of this entices you then you this is the week to visit Lake Tahoe. In the midst of summer splendor, the next seven days represent the variety of fun that can be had in the Tahoe Basin, especially in the summer.
Keep reading to learn exactly what I am talking about.
Wanderlust Squaw
Now in its eighth year, Wanderlust Squaw Valley is an amazing opportunity to practice with world-renowned yoga teachers up-close-and-personal, experience life-changing yoga and meditation classes, listen to thought-provoking lectures by global peace ambassadors and see excellent music acts all weekend long. This yoga festival now happens around the planet, but the Wanderlust Squaw Valley brings more than 10,000 people to the area. Tickets range in price, depending on whether you would like to enjoy the entire four-day experience of Thursday, July 20, to Sunday, July 23, or you would rather participate for shorter durations. There are also vendors offering handcrafted goods, food and drinks that are accessible without a ticket.
Luma: Art in Darkness
Montbleu Resort Casino & Spa is hosting a visually artistic experience with Luma: Art in Darkness. A production that intertwines dancers and lights, this is a spellbinding show. This choreographed event is enhanced by 3D illuminated illusions. This show is in its 21st year of running and is known to turn adults into excited children. It runs every Friday, Saturday and Sunday until the weekend of August 13. Tickets cost $25 or $20 for locals. The all-ages show starts at 8 p.m.
Free Stand up Paddle Board Demos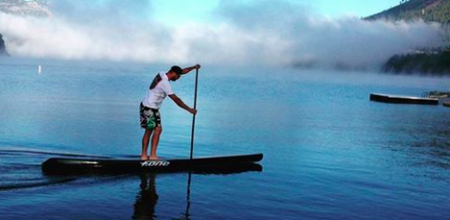 If you are ready to dive deeper into a practice that offers both meditative benefits as well as health and strength-training attributes, then head over to the West End Beach of Donner Lake for Tahoe Sports Hub's Free Standup Paddleboard Demos. Happening every Saturday until August 26, this is an excellent opportunity to try out the latest and greatest in standup paddleboarding. For beginners this is also a great time to get a free chance to try out the sport. The demo sessions run from 5:30-8 p.m.
Photo at right: Tahoe.com
Tahoe Mountain Bike Girls Summer Ride
Calling all ladies who love the thrill of mountain biking. This is your last opportunity to explore the exciting trails of Alder Creek Adventure Center in Tahoe Donner while meeting other ripping female riders and getting the chance to demo stellar bikes. The ride is filled with single-track excitement, making it an adrenaline-filled event. It's free to join in, although a kind donation for the Breast Cancer Fund and other local nonprofits is appreciated. The ride begins at 5:30 p.m. though it is asked that participants arrive 15 minutes early.
Photo at left: Tahoe Mountain Bike Girls
Lake Tahoe Concours
In its 45th year, the Concours is Lake Tahoe at its nautical finest. A two-day boat show happening in Homewood, this public event is a sight to behold as Lake Tahoe is literally taken over by impressive restored wooden Concours boats. In addition to hosting some of the world's most beautiful water crafts, this judged event offers various entertaining social functions including a tasty BBQ and awards presentation, an opening night dinner and dance, a men's grill, a ladies' luncheon and fashion show as well as an invitation-only sponsor dinner. The festivities are held on both Friday, August 11, and Saturday, August 12, throughout the day.
Please visit our daytime and nightlife sections to learn about other fun events happening in Lake Tahoe this week.