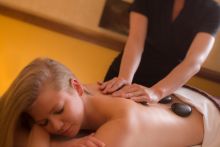 Are you yearning for a moment of pure relaxation? Look no further than the stunning Lake Tahoe region, where a collection of remarkable spas awaits to pamper your body, mind and soul. From soothing massages to revitalizing treatments, these spas offer an array of services designed to rejuvenate and refresh. Whether you're seeking a serene lakeside escape or a luxurious mountain retreat, Tahoe.com presents a guide to 10 spas in the area. Of course there are many other spas in the area, but this is a good list to get you started.
Photo: Everline Resort & Spa offers sublime moments for self-care. Photo courtesy of Everline Resort & Spa
North Lake Tahoe
At the Stillwater Spa, tranquility meets nature's beauty. Nestled within the Hyatt Lake Tahoe, this spa harmoniously blends the elements of earth, fire, water and air to provide holistic treatments. Choose from massage styles such as deep tissue, sports and hot stone therapy, all performed in treatment rooms offering breathtaking alpine views. From detoxing wraps to facial treatments, Stillwater Spa offers a diverse range of services to pamper you from head to toe.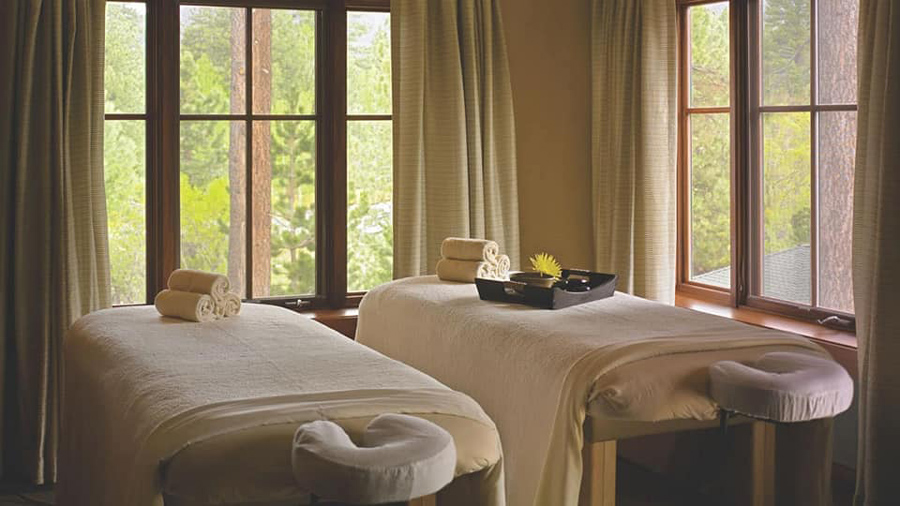 The ambiance at Stillwater Spa is perfect for a couple's massage. Photo courtesy of Stillwater Spa
Stateline
Experience unparalleled luxury at Spa Edgewood, recognized with four stars by Forbes Travel Guide. Combining boutique spa charm with world-class resort services, this spa is a haven of wellness offerings. Embrace total relaxation and rejuvenation in the lap of mountain-modern elegance.
Stateline
This South Lake Tahoe spa is one of only two locations in the United States to experience the time-tested therapeutic benefits of bathing in pure cedar and natural, living enzymes. Their authentic Japanese Cedar Enzyme Baths are complemented with an optional Oxygen Bar to help clients experience a wide range of benefits from improving circulation and relieving joint and muscle pain to giving their bodies a radiant glow and deeply calming their minds. Combined with its sister business, Purity Aesthetics, next door, this is a place for beauty, health and relaxation.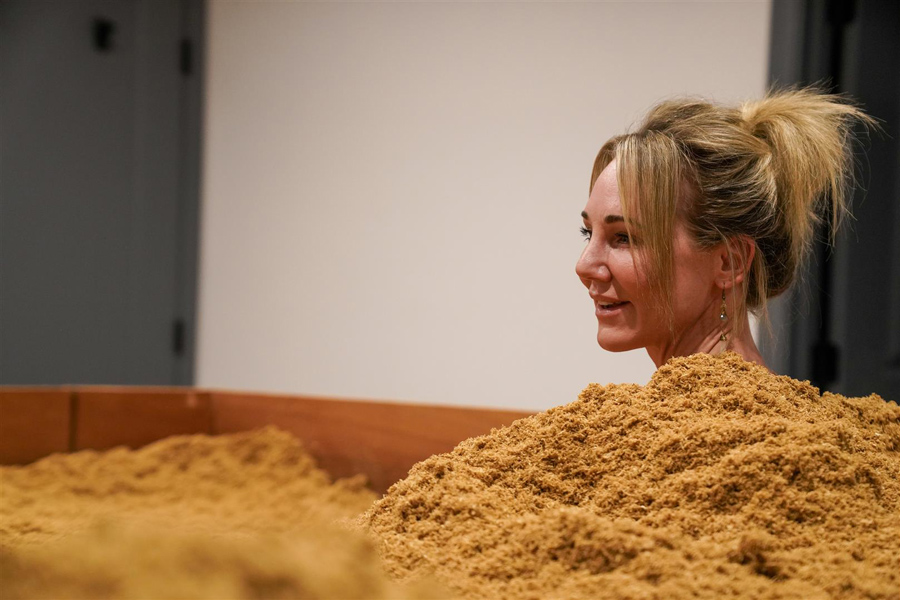 Photo: Soaking in pure fermented cedar and natural living enzymes at Tahoe Forest Baths.
Palisades Tahoe
Everline Resort & Spa, nestled in the Palisades Tahoe area, is a full-service resort for both adventure and relaxation. Voted in the top 100 spas in 2021, offers massage and other body treatments, facials, cupping and reflexology.
South Lake Tahoe
Biospirit Day Spa is your sanctuary for well-being in Lake Tahoe. With an array of massage styles and rejuvenating treatments, including body wraps, facials and foot reflexology, this spa ensures your body stays happy and healthy. They also offer spa space for special occasions and events.
South Lake Tahoe
Elements Day Spa seamlessly blends Tahoe's natural tranquility with the healing power of touch. Offering a range of massage, couples treatments, skincare and waxing, the spa's lakeside location at Tahoe Lakeshore Lodge offers access to a private beach, an outdoor pool and a hot tub.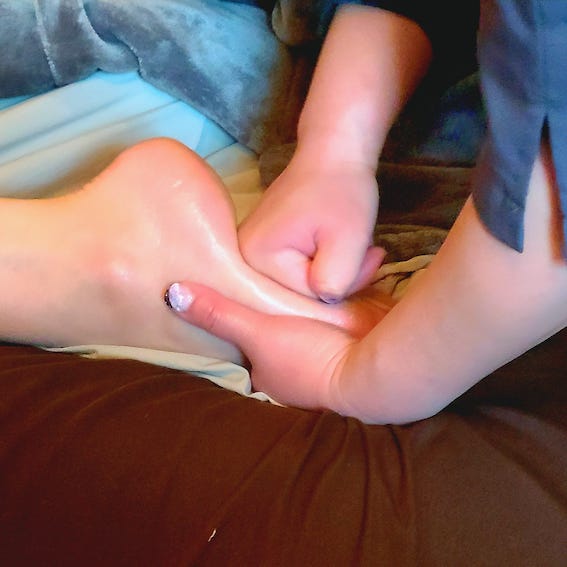 Foot reflexology is one of the many treatments available at Elements Day Spa. Photo courtesy of Elements Day Spa
Tahoe City
Established in 1991, Lighthouse Day Spa is the longest-standing wellness center in Tahoe City. Enjoy massages with lake views, ranging from Swedish to deep tissue, as well as facials, body wraps and healing treatments.
Tahoe City
Tahoe Asian Massage & Spa is a haven of healing, specializing in Thai massage and various wellness modalities. From body massages to facials, their services cater to relaxation and rejuvenation. Extended hours ensure you can indulge even late into the evening.
Tahoe City
Find tranquility at Massage On The Lake, a cozy oasis in North Lake Tahoe. With a focus on personalized care, their therapists offer a range of massages, facials, salt scrubs and aromatherapy wraps to ease your tensions away.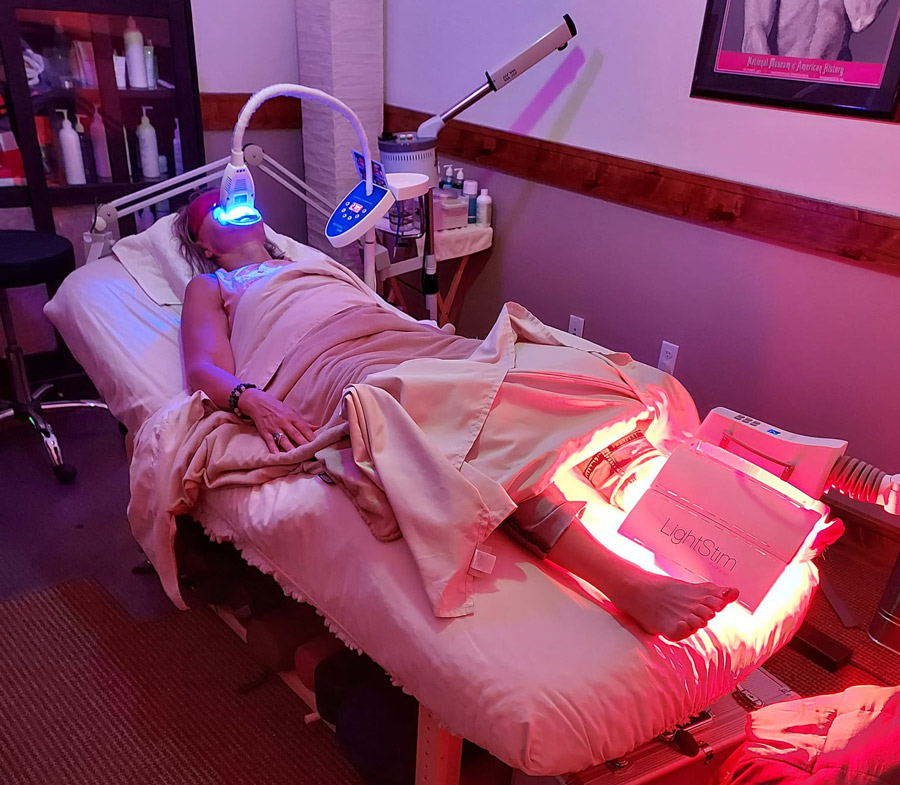 The gift of teeth whitening and LED light therapy on a hurt ankle are just a few of the body treatments available at Balance Holistic Health Spa. Photo courtesy of Balance Holistic Health Spa
Truckee
Located in the Village at Northstar, Balance Holistic Health Spa offers a blend of massages, acupuncture, chiropractic care and skin treatments. Their yoga offerings complement their wellness services, providing a holistic approach to revitalization.
Whether you're seeking a romantic couple's retreat or a solo wellness escape, these spas offer a spectrum of indulgent experiences against the backdrop of Lake Tahoe's natural beauty. 
---