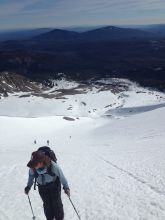 Lake Tahoe is stacked when it comes to resort skiing and snowboarding as well as cross-country skiing. We are blessed with a plethora of options that create smiles for all levels of abilities and for all ages. With the stunning mountains that surround beautiful Big Blue, it is no surprise that we have not only a goldmine's worth of lift-accessed skiing as well as cross-country and skate skiing, but also rich options for backcountry skiing. 
Discovering the magnitude of backcountry skiing treasures was a huge eye-opener for me when I moved to Lake Tahoe in the '90s. Despite skiing around the world, I had yet to discover a landscape that offered so many options for safe ascents and superb descents as was available in Lake Tahoe. In reality, it amplified who I became as a skier and assisted in teaching me what I needed to know once I started to ski first descents and guide in mountains like the Andes of South America.
Whether you are new to backcountry skiing or have many days under your belt, the greatest aspect to riding in the backcountry of Lake Tahoe is that there is something for everyone. To keep things safe, though, I highly recommend getting to know the area with one of our incredibly talented and educated backcountry tour companies. Their expertise and inside knowledge of the area will not only make the trip safe, but will also keep you from having what we call an "epic adventure." An epic adventure in the backcountry usually involves getting lost, maybe staying out overnight and feeling the omnipresent strength of Mother Nature. In a dangerous snowpack like we have this year (there have been 14 deaths due to avalanches this year alone, the highest count in more than 100 years), it is vital that you know how to stay safe and where to go.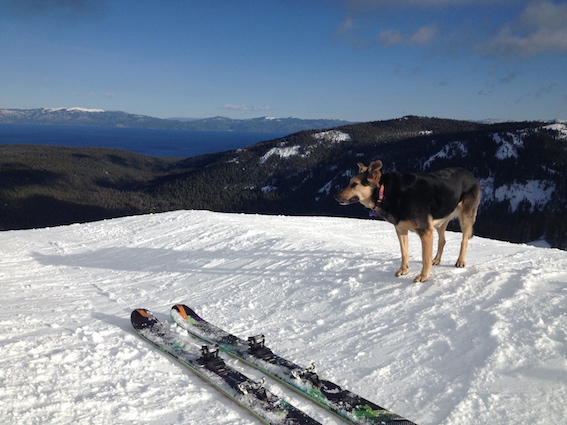 Avoid the frustration (and the potential of getting hurt) and get out there with a guide who knows their stuff. Here are my picks for reputable companies to work with.
Homewood's Backcountry Workshops: For those new to the world of backcountry skiing, Homewood Resort is offering a fantastic program for learning the ropes and keeping yourself safe. Offering their knowledge in the form of workshops, the resort will be partnering with the U.S. Forest Service and Tahoe's North American Ski Training and Climbing School to offer one-day courses for gaining experience, sharpening skills and honing the understanding of backcountry terrain. You will learn aspects such as route selection, kick-turning techniques and how to navigate avalanches. The program is set up to be a preparation for those ready to do their AIARE Level 1 education. All participants are asked to be comfortable in advanced terrain and that they come with all of the necessary equipment, including skis or split board, skins, beacon, probe and shovel. Cost is $799 per group of five people, making this a perfect outing for a family or group of friends. The course will be offered weather and conditions permitting.
Alpenglow Expeditions: A guide service created by IFMGA certified guide Adrian Ballinger back in 2004, Alpenglow Expeditions is a favorite guiding service for both winter and summer outings. In addition to backcountry skiing, they also focus on mountaineering, ski mountaineering and rock climbing, with specific routes in Squaw Valley that are only accessible by joining one of their amazing adventures. They offer ski courses in addition to guided outings. For example, their Backcountry 1.0 course is a fantastic introduction for the newcomer and is part of a three-part series that will enhance your knowledge.
International Alpine Guides: One of the most respected outfits for backcountry skiing and mountaineering, International Alpine Guides is superb at expertly accessing lines with safety, caution and precision. Their base is in Truckee on Donner Summit, giving them an in on some of the best backcountry skiing the basin has to offer. As the longest established guide service in the area (40 years of service), they are known for having a level of expertise that is hard to find elsewhere. Their guided outings vary in difficulty and are paired with trained professionals with certifications from the American Mountain Guides Association. In addition to their daily outings, IAG also offers workshops and avalanche courses.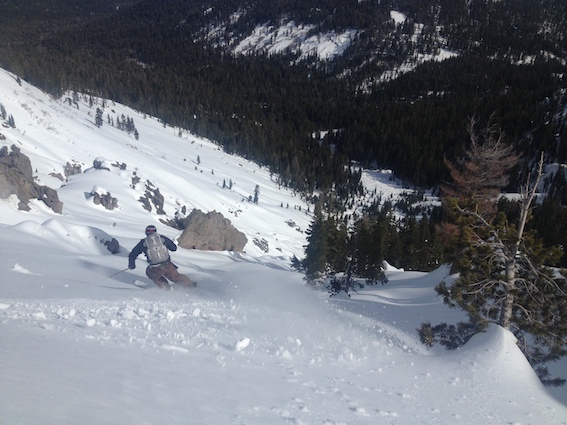 Alpine Skills International: Another highly reputable backcountry guide service is Alpine Skills International or ASI. Known for skiing, mountaineering and alpine climbing, ASI has been around the scene for more than 30 years. Their state-of-the-art programs includes professionally developed training curriculums as well as guided excursions that involve progressive safety tactics and techniques practiced by the most accomplished alpinists in the world. With their motto being, "Find the spirit of the alpinist...then let the spirit set you free!" enjoyment is paramount while enjoying the backcountry with ASI.
Pacific Crest Snowcats: Maybe my personal favorite guide service for getting into the backcountry is Pacific Crest Snowcats. A company that is purely local, as can be seen in an interview I did with owner Happy Rintala, enjoying a day out with Pacific Crest Snowcats is taking backcountry skiing to the ultimate. Not only will you get untouched, beautiful snow, but you will also have access to terrain that is only applicable if riding with Pacific Crest. The excursions are outfitted with a fantastic lunch, and the uphill work is done for you with their top-of-the-line people mover. Their guides are exemplary and highly knowledgeable about the surrounding terrain. To top everything off, their days tend to end with an on-slope après ski beverage. It's one of those outings that makes it impossible to stop smiling. 
Be sure to check out Tahoe.com's Daytime and Nightlife sections to learn about fun events to attend after your amazing day out in the backcountry.
Photos courtesy of Shanie Matthews