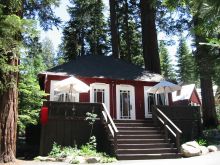 Enjoying Lake Tahoe has a lot to do with where you stay. Whether you are enjoying an amenities-rich 5-star hotel or a locally owned boutique experience that caters to your unique needs, where you choose to rest your head at night can make or break a great vacation. Thankfully, Lake Tahoe is blessed with some amazing locals who have put their hearts and souls into creating welcoming, impressive stays for Lake Tahoe's visitors.
That is why I was so excited to chat with the owners of Tahoma Meadows Cottages, Ulli and Dick White, for our new monthly blog addition, Get to Know the Locals. A longstanding, locally owned establishment, Tahoma Meadows Cottages has provided decades worth of exceptional night stays for people from around the world. The quality of care that they give to each and every guest that walks through their doors is outstanding and part of the reason that Lake Tahoe is known globally as a must-visit destination. Just a quick skimming through their hundreds of reviews showcases the care and thought they give to the overnight experience that they offer their guests. From guests expressing their gratitude for their canine-friendly cottages to their incredible level of amenities and concierge services, Tahoma Meadows Cottages has created a sanctuary that is close to everything, yet feels like it is a world's away from the hustle and bustle of Tahoe.
So how did they do it? Who are Ulli and Dick and how did they create a place that is filled with such a loving and welcoming atmosphere? Continue reading to learn more about this inspiring couple, what makes them tick and why Tahoma Meadows Cottages is the fantastic place that it is.
How long have you lived on Lake Tahoe?
21 years and three years in Truckee before that.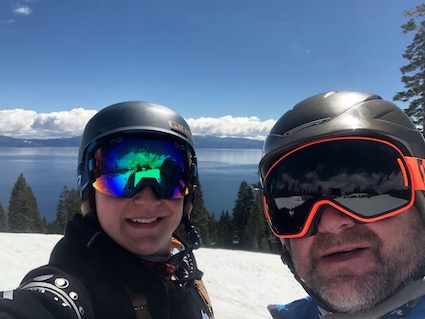 Where did you grow up and live before you came here?
Truckee, Berryessa, Germany, and Davis, California.
What's your favorite Lake Tahoe town or village? 
The West Shore.
What is your favorite thing about living in Lake Tahoe? 
Access to the great outdoors. Hiking, skiing, boarding, boating, fly-fishing, biking ... If you know where to look you can find solitude even on a holiday weekend.
What's your favorite season in Tahoe?
That's a tough one, but we'd have to say fall.
What's your favorite Lake Tahoe beach access?
Sugar Pine Point State Park. Shhhh!
Do you have a favorite trail or area to access the mountains?
Ellis Peak and Blackwood Canyon
What do you do for fun?
Fly-fish, ski, bike, kayak, paddleboard, anything outdoors.
Describe your perfect day off.
Catching a few turns of spring snow, jumping into waders and catching a few fish on fly, watching the sunset with a nice cocktail. Ir's all good for the soul.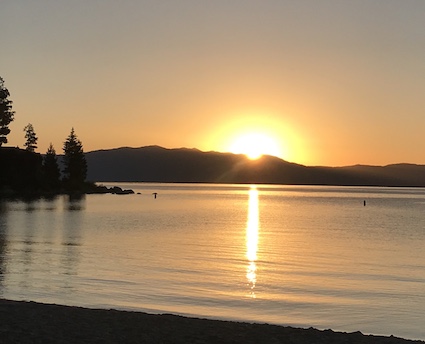 Do you see more sunsets or sunrises?
Sunrises. I always stop if it looks like it will be a good sunset or sunrise.
What's one thing you wish more Lake Tahoe visitors knew?
To slow down and actually see the beauty around you. Also, pack it out! And always pick up any trash you see on the ground.
Where do you go on vacation?
We're campers: Carson River, East side of the Sierra, Sonora Pass, backside of Tioga.
For a celebratory dinner, would you rather order take-out, go out to eat or cook something at home?
Most likely cook at home or go camp and cook out.
What's your favorite meal of the day, and where in Lake Tahoe would you get it?
Breakfast. At Tahoma Meadows Cottages, of course.
What's your favorite thing about your job? 
All the great guests at Tahoma Meadows Cottages. Many have been staying with us for years and have become like family.
Do you have any side hustles?
I'm a computer geek at heart. So I keep my hand in some side jobs.
What's the first thing you want to do when COVID is over?
Toss the mask and get hugs.
What's one item on your bucket list?
Take an extended camping road trip of eight plus weeks. We did one years ago when the kids were little that hit 12 national parks and monuments, all in the West. And, of course, to include fly-fishing, mountain biking, rafting, hiking and exploring history.
To learn about activities that can fill your days while you enjoying staying at Tahoma Meadows Cottages, be sure to check out our Daytime and Nightlife sections.
Photos courtesy of Ulli and Dick White of Tahoma Meadows Cottages