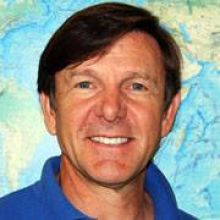 Imagine flying with birds, seeing all of the beauty that encompasses Lake Tahoe in your own world, void of obstructions.
Enjoying this type of scenario is possible thanks to one special local, Paul Hamilton. Owner and operator of Hang Gliding Tahoe, he takes his clients on tours by air, a specialty not named by many. His sightseeing adventures create memories that last a lifetime. 
Who is this adventurous soul that allows mere man to soar with the eagles? Keep reading to learn the where, when, how and why of Paul Hamilton.
How long have you lived on Lake Tahoe?
I have always lived around Tahoe and fly to Tahoe almost every workday. My grandparents and parents all lived and worked in the Tahoe region.
Where did you grow up and live before you came here?
All around the country: Utah, Arizona and high school in upper New York State.
What inspired you to create a local business? 
I lost my high-paying job as an aeronautical engineer consulting clients and then experienced slow sales with my Adventure Productions flight training products in the crash of 2001-02. I went to Hawaii to fly people around with a friend and decided to start the similar flight business, Hang Gliding Tahoe, in 2003. It's been booming ever since.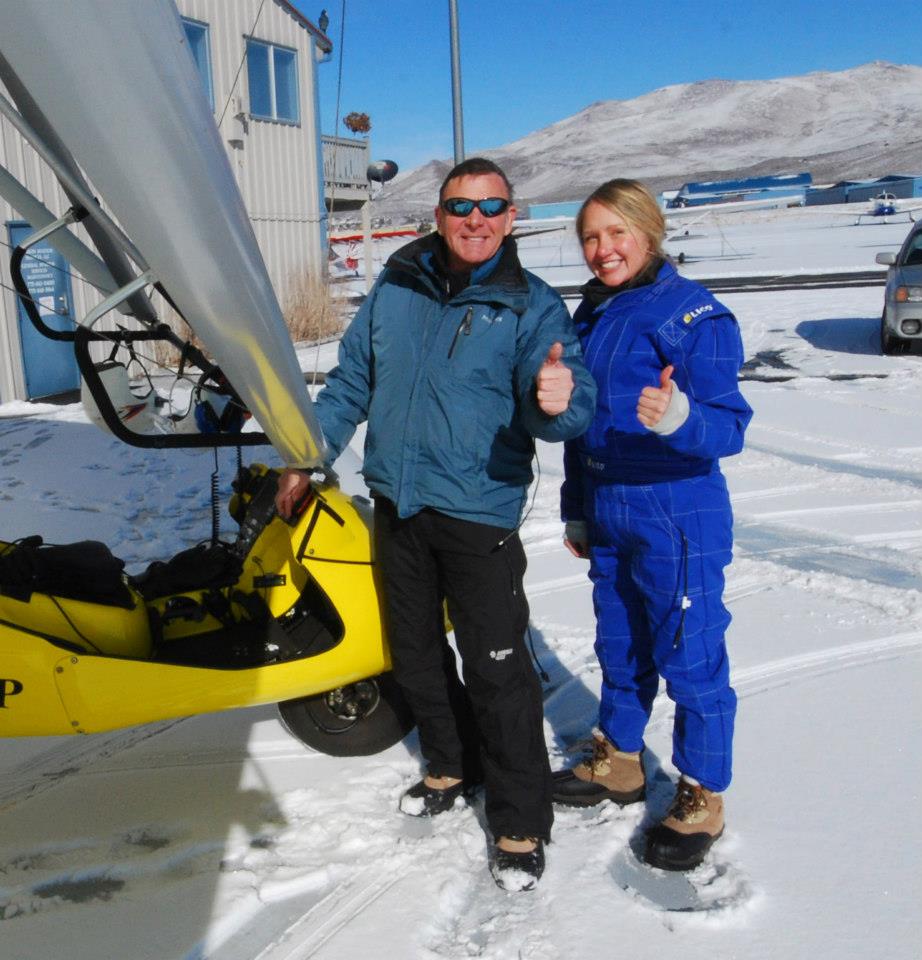 Paul getting ready to fly with student Michelle.
What's your favorite Lake Tahoe town or village?
I rarely am on the ground at Lake Tahoe, so my towns and villages are from the air over the water. I especially like the Pope Beach to Emerald Bay section, because with these beaches you can get low if there is nobody there.
What is your favorite thing about living in Lake Tahoe?
I can work in harmony with the Lake and the people. I get tremendous support from the locals.
What's your favorite season in Tahoe?
I like them all. Winter adds skiing, spring and fall is motorcycling, and summer is watching all the tourists from above.
What's your favorite Lake Tahoe beach access?
By air we have access to see every beach. 
Do you have a favorite trail or area to access the mountains?
Yes, typically I fly from Carson City through Spooner Pass or Kingsberry Grade.
What do you do for fun?
My job flying people around and providing the experience of a lifetime to their memories.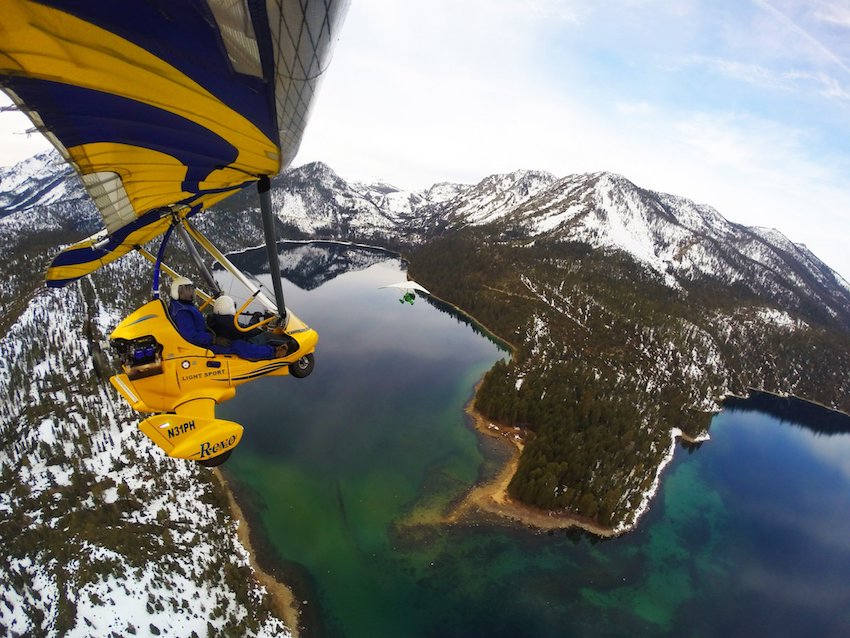 Paul's typical view of Emerald Bay
Describe your perfect day off.
Typically skiing on powder days when it is dumping or windy and I cannot fly. In the spring and fall I enjoy riding my motorcycle around Tahoe.
Do you see more sunsets or sunrises?
Sunrises because the best time to fly is at sunrise since the winds are most calm. My record is five sunrises on one day by descending into the shadow in the morning over Sand Harbor, climbing up to see the sunrise, descending down into the shadow, climbing up into another sunrise, etc., etc.
What's one thing you wish more Lake Tahoe visitors knew?
That Hang Gliding Tahoe exists.
Where do you go on vacation?
Other great places to fly. Grand Canyon, Monument Valley, Zion National Park, Lake Powell. Skiing in European Alps and visiting the wonders of the world such as the Great Pyramids.
For a celebratory dinner, would you rather order take-out, go out to eat or cook something at home?
We love to go out.
What's your favorite meal of the day, and where in Lake Tahoe would you get it?
Lunch. When we ride on the motorcycle around Tahoe, we like to stop in South Lake Tahoe for a lake-view lunch at the Ski Run Marina.
What's your favorite thing about your job?
Flying people around the lake and seeing EVERY beach on the lake.
Do you have any side hustles?
Yes, besides the flights, I have a full-time flight school with airplanes, plus I author and publish online pilot training courses. The ugly truth is that I have to maintain my aircraft fleet so I do maintenance as an FAA-certified LSRM mechanic as well. I maintain and service my own aircraft.
What's your favorite way to unwind after a busy day?
Play guitar.
What's one item on your bucket list?
Locally, it is to hydrofoil on Lake Tahoe.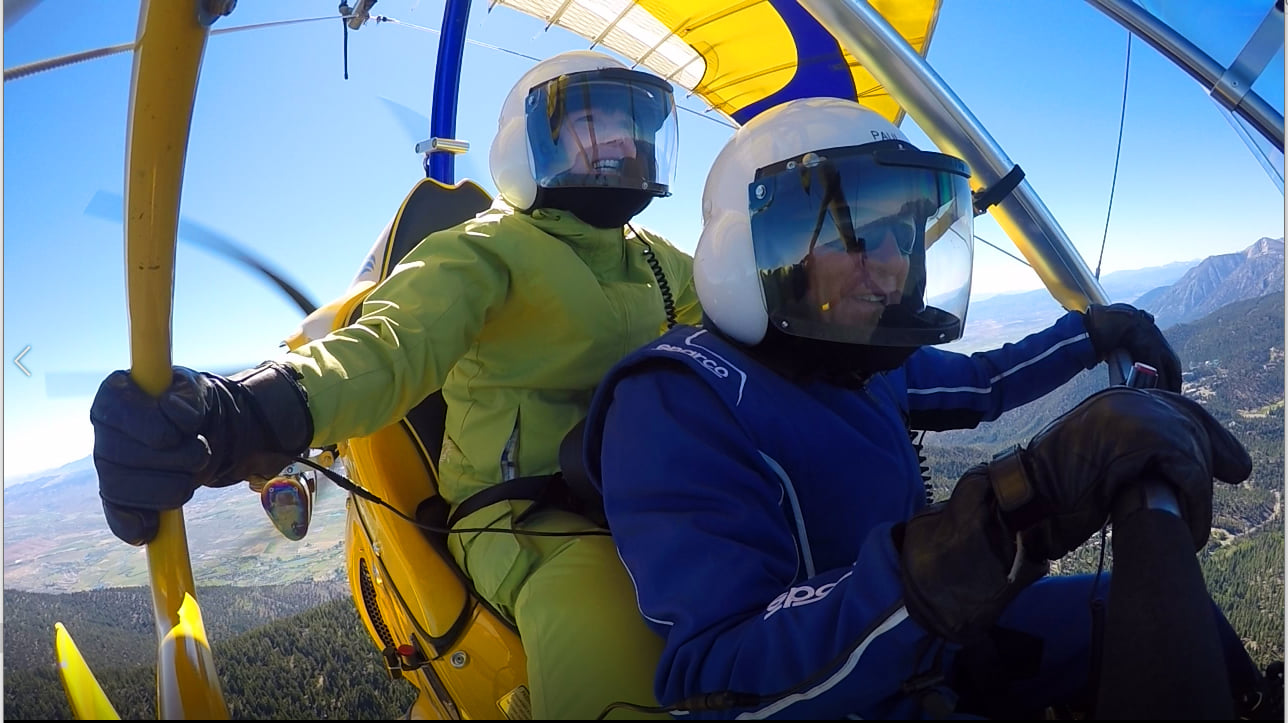 A typical question about Paul's discovery flights: "Can I control the aircraft for my intro flight?" Paul's answer is, "Yes! Many fly much of the flight EXCEPT when we get near the ground or in significant turbulence. This is part of the experience." Others ask, "Do I have to take the controls?" Paul says, "No! It is up to YOU how or if you want to fly it."
Photos courtesy of Hang Gliding Tahoe