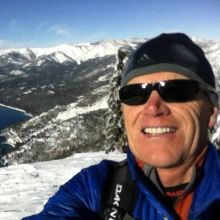 In this edition of Get to Know the Locals, we delve into the life and experiences of Max Jones, owner of Flume Trail Mountain Bikes. A seasoned adventurer who has considered the Lake Tahoe region an important part of his life for more than four decades, Max's journey has taken him from the breathtaking landscapes of Incline Village to the charming streets of Carson City. As a fourth-generation Nevadan, Max has witnessed the transformation of the area over the years. His dedication to preserving the natural beauty of Lake Tahoe is evident through his local business ventures, which include aspects like bike shuttles and a delightful cafe.
One thing that sets Max apart is not just his love for Lake Tahoe but his remarkable achievements in the world of mountain biking. As a professional cross-country racer for more than a decade, he competed in numerous national championships and even represented the U.S. National Team. Max's passion for biking has led him to teach racing and riding clinics across North America, leaving an indelible mark on the biking community.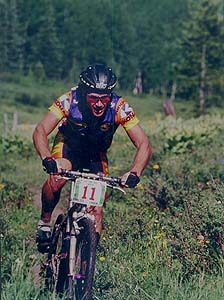 A top racer, Max was known to have a command for the trails in racing circles. Photo courtesy of Max Jones
Join us as Max shares his favorite Tahoe spots, his passion for mountain biking and what item still remains on his bucket list of life. Get to know the man behind the legend and discover what makes him tick ...
How long have you lived on Lake Tahoe? 
I lived in Incline for eight years and now have lived in Carson City for the last 33 years.
Where did you grow up and live before you came here? 
I was born in Reno. I'm the fourth generation in my family still living in Nevada.
What inspired you to create a local business? 
I saw a need for shuttles to keep cars and bike riders off of the east shore Highway 28. My wife and I operated Spooner Lake Cross Country Ski Area for 27 years. We started the bike shop when I retired from professional mountain bike racing and started the bike shop and shuttle in the state park before moving down to Incline and our current location. Our landlord, Craig Olson, offered the opportunity to move our bike shop and shuttles down to his property at the old stables area for the Ponderosa Ranch. The idea was hatched to offer beer at the end of the ride, and that became Tunnel Creek Cafe, which we operated for 11 years before the current owners of the cafe bought the business from us last year.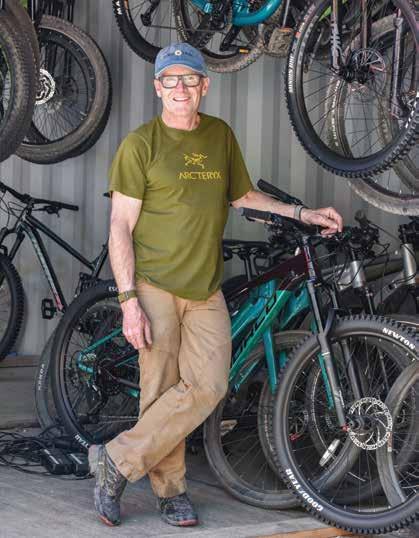 Max has a lifelong passion for bikes. Photo courtesy of Max Jones
What's your favorite Lake Tahoe town or village?
Pretty much the entire North and East Shore.
What is your favorite thing about living near Lake Tahoe?
In Carson City, we have single-track mountain biking just five minutes from my house by bike.
What's your favorite season in Tahoe?
Fall.
What's your favorite Lake Tahoe beach access?
The East Shore.
Do you have a favorite trail or area to access the mountains?
Spooner Lake, especially during fall colors.
What do you do for fun?
Mountain bike, camp, rock climb.
Describe your perfect day off.
Drive somewhere to camp then ride from camp the next morning.
Do you see more sunsets or sunrises?
Sunsets – trying to switch to sunrise as that is the best time to be in the mountains.
What's one thing you wish more Lake Tahoe visitors knew?
How to leave no trace. And maybe recognize what is and is not a parking spot!
Where do you go on vacation?
Moab to mountain bike and hike.
Working and playing with mountain bikes is a passion that extends to Tahoe Rim Bikes. Photo courtesy of Jessie Marchessau
For a celebratory dinner, would you rather order take-out, go out to eat or cook something at home?
BBQ at home.
What's your favorite meal of the day, and where in Lake Tahoe would you get it?
Mid-afternoon lunch at Tunnel Creek Cafe after a ride.
What's your favorite thing about your job?
We get to help people have a great day at Tahoe.
What's your favorite way to unwind after a busy day?
A quick hike or run with my dog, Dakota.
What's one item on your bucket list?
Climb El Cap in a day.
Find Flume Trail Mountain Bikes at 1115 Tunnel Creek Rd Suite B in Incline Village. Call (775) 298-2501 or visit flumetrailtahoe.com.