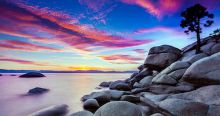 It's no secret that Tahoe is rich in beautiful scenery, epic views and natural places that will steal your heart. 
But to truly capture her beauty in a photo takes time, dedication and an eye for that epic shot. This is a skill that not many possess in my humble opinion. Lake Tahoe is so incredibly stunning that capturing her majesty takes a level of professionalism that only a lifelong passion can create.
That is why I was super excited to talk with local professional photographer and web designer Matt Bansak. He has dedicated his life to photographing the area and in doing so has captured some of the most stunning photography that showcases Lake Tahoe's outdoor elegance. His positivity extends further, though, into our community with his friendliness, care for the environment and support for local businesses.
Here's his story, the reason he lives here and what makes Tahoe the best place in the world for him.
How long have you lived on Lake Tahoe?
I moved out to Tahoe from Vermont 10 years ago. I was drawn to the mountains as a skier, to the lake as a sailor and to Tahoe's natural beauty as a photographer. I had never visited prior to moving out, but I have since come to appreciate not just the plethora of activities the lake has to offer, but also the strong community of great people from all walks of life and disciplines who share a common appreciation for what makes this area unique and special. It has truly become home for me and makes up a large part of who I am. I feel so fortunate to be a part of this lifestyle.
Matt enjoying some time with his feathered friends. Photo courtesy of Matt Bansak
Where did you grow up and live before you came here?
I grew up in Connecticut before attending the University of Vermont where I studied geology, computer science and geospatial technologies. After graduating, I took on a remote job working as a web developer and designer. Despite never having visited Tahoe, I moved here shortly afterward to immerse myself in my passions for the outdoors, to build my photography business and to pursue the lifestyle I was after. Like many East Coast transplants, I was drawn by the mountains, the weather and all the opportunities the lake allows for. Tahoe is truly an oasis for adventure.
What's your favorite Lake Tahoe town or village?
It's probably easy to fall prone to bias on this one given how every part of Tahoe has its own unique charm and proximity to special places, but I've called North Lake my home with all the great friends I've made and my connection to the community up here.
What is your favorite thing about living in Lake Tahoe?
My favorite part of living in Tahoe is the opportunity it allows to immerse myself in such a variety of activities at a world-class level. As a skier and a sailor, I love that Tahoe allows me to do both. Six years ago, I learned how to kitesurf, and that is a huge part of my life now. All year round, I can take advantage of the wind. When it's too windy to ski, I can kitesurf on the lake, and when it's not windy enough to kitesurf, I can go skiing, biking, hiking, wakesurfing or on a photography mission. There is never a shortage of things to do, and if you're ever bored, there's a strong likelihood that you're doing it wrong!
What's your favorite season in Tahoe?
Fall is probably my favorite season in Tahoe. I love the limited crowds, the colors, the crispness to the air, the energy that comes from the first snowfall and return to winter. As a kiter, fall is also typically host to some of the strongest winds, which accompany the cold fronts as they roll in and often bring big waves. While Tahoe is known for its tranquil blue skies and waters, I really love the rawness of the Sierra weather and the powerful forces of nature that are often on display in the fall.
What's your favorite Lake Tahoe beach access?
The East Shore has always been home to some of my favorite beaches, along with many photographic opportunities with those quintessential blue waters.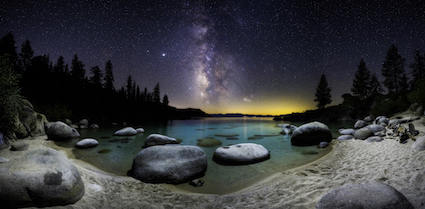 The East Shore modeling for Matt. Photo courtesy of Matt Bansak
Do you have a favorite trail or area to access the mountains?
I'm not telling.
What do you do for fun?
For fun, kitesurfing has pretty much taken over my life and free time, but when it's not windy, you'll probably bump into me chasing snow in the backcountry, mountain biking or pushing buttons on my camera in some remote locations. Skiing has been the other major component of my life and is one of the reasons that brought me to Tahoe. As a side note, I've enjoyed being part of the "turns all year" crowd, maintaining a streak of skiing at least once a month for the last 129 months. That has often led to some really fun adventures in the summer months of climbing to sometimes precarious locations to ski patches of snow remaining from the previous season.
Describe your perfect day off.
My perfect day off would probably involve a car loaded with a lot of gear. I'd lay everything out the night before so that I can just hop in my clothes, grab a coffee for the road and head up the hill for an early morning backcountry ski adventure. Then I'd grab a bit of lunch, throw on my thickest wetsuit and head out kitesurfing as the next storm starts to roll in with a healthy wind along with it. In the spring, I might even throw some mountain biking in for the true multisport Tahoe Trifecta. No matter what the activity though, the thing that truly makes the perfect Tahoe day are the friends you get to share it with. I feel so lucky to be surrounded with some of the highest caliber of friends anyone can hope to have, and all of the perfect days in the memory banks.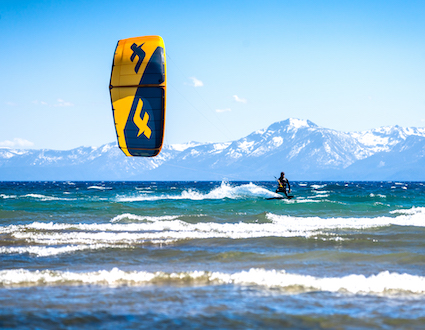 Matt showing how kitesurfing is done on Lake Tahoe. Photo by Wei Wang
Do you see more sunsets or sunrises?
Since I'm usually a bit of a night owl, sunrises are a more rare occasion for me, but the quiet serenity of a Tahoe sunrise is always a special experience. However, I am prone to waking up early when it comes to getting out for photo missions or backcountry strike missions.
What's one thing you wish more Lake Tahoe visitors knew?
While the majority of visitors have a certain level of appreciation and respect for nature, trash and vandalism have become an increasingly large issue, and it takes a community effort and awareness to preserve Tahoe as the treasure that it is. If everyone were to do their part, no matter how small of an effort, we can truly make a difference. Remove a few pieces of trash on hikes and beach outings, even if it's not yours. Don't overfill trash bins, as that leads to a whole suite of additional problems. At minimum, we should pick up after ourselves, but we should also have the mindset of leaving this place better than we found it.
Where do you go on vacation?
Living in a vacation destination allows for a sense of constant adventuring in the backyard. I love to travel, but going home definitely feels like going from one vacation to another. While it may seem from an outsider's perspective that I'm always playing, I strike a balance with work and rely on my somewhat insomniac tendencies to make sure I'm up to date with everything I need to get done. I always work remotely when I travel, either with my programming and design work or seeking out photo work. Truly going off the grid for extended periods is difficult with my work, and that's a compromise that I'm happy to make. Almost always, there is either skiing or kitesurfing involved with my travel destinations. Alaska, the Dominican Republic and the Pacific Northwest have been a few of my hotspots.

For a celebratory dinner, would you rather order take-out, go out to eat or cook something at home?
Making the time to cook something at home is always nice, though I always appreciate getting to go out to eat as well or bringing take-out to a pretty spot.
What's your favorite meal of the day, and where in Lake Tahoe would you get it?
I'm a big fan of the post-adventure burrito, which I'll typically grab on the way home at The Burrito Window in Kings Beach.
What's your favorite thing about your job?
My favorite part of being a photographer and a web designer is the lifestyle that they allow me to participate in. Photography is my art form, and I appreciate the challenge that it bestows on me to uniquely visualize and find beauty in all things. I really enjoy trying to line up difficult shots that require a combination of techniques and a lot of planning, and the satisfaction of when everything comes together. I have been fortunate enough to shoot expeditions around the world in places such as Antarctica, Svalbard and the Amazon River, along with shooting for heliskiing operations and having the opportunity to work with some world-class athletes. On the other end, web design lets me geek out and get creative at the same time. Oftentimes, I can offer my clients a package of web design and photography, which allows me to shoot images that complete a storytelling vision for their business that can sell their products or services, and which I know will complement the website and their marketing efforts. The ability to live in Tahoe and pursue my passion for the outdoors is reflected by the energy that I put into my creative projects and my work. 
Do you have any side hustles?
The most important thing for me is to live every day as much as I can, so I suppose all the work I do could be considered a side hustle. But fortunately, I love what I do. 
What's your favorite way to unwind from a stressful day?
To me, there is no better way to de-stress than to kitesurf. The freedom of being able to harness the wind to fly into the air and the absolute concentration that it takes to engage safely in a challenging environment allows me to live as fully as I've ever felt able to. Any sort of stress melts away when I'm on the water.
What's one item on your bucket list?
One of my bucket list items is to ski the seven continents. I have some of the hard ones out of the way, so I'm looking forward to taking a couple more trips! And while I'm at it, I might just have to upgrade that bucket list item to kitesurfing the seven continents.