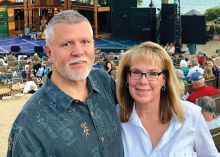 Nestled in the heart of downtown Tahoe City, Bluestone Jewelry has become a destination for those seeking the perfect gift for their loved ones. With a vast selection of jewelry and watches for all occasions and budgets, Bluestone is owned by Marc Bigelow and his wife, Linda, who have been providing their customers with the finest jewelry since the store's inception in 2007. Their sons, Aaron and Benton, also work with them in the stores.
What sets Bluestone apart from other jewelry stores is its warm and inviting atmosphere. As soon as you step inside, you're greeted by an ambiance that is more like a friend's home than a retail space. The store's friendly staff is always ready to assist you in finding the perfect piece of jewelry for your loved one. Bluestone Jewelry also features pieces from popular Lake Tahoe designers such as Michou and Janice Carson. Whether you're looking for a unique and personalized piece or a timeless classic, Bluestone has something for everyone. The store also offers a selection of stunning photography inspired by the natural beauty of Lake Tahoe, adding to the store's warm and welcoming atmosphere.
Bluestone's presence in the community has only grown over the years, prompting the Bigelows to expand their business with a second location in Truckee. The store is a haven for wine lovers, with a Wine Mine that features a selection of wine from smaller vineyards. The Bigelows pride themselves on supporting small, family-owned businesses, and their dedication to featuring smaller vineyards is a testament to that.
In this exclusive interview with Marc Bigelow, we delve into his journey to Tahoe and what makes this area so special to both him and Linda. So, join us as we explore the fascinating world of Bluestone Jewelry and get to know the man behind the store. 
How long have you lived in Lake Tahoe? Fifteen years.
Where did you grow up and live before you came here? I am Iowa-born and moved from the Michigan area to Tahoe.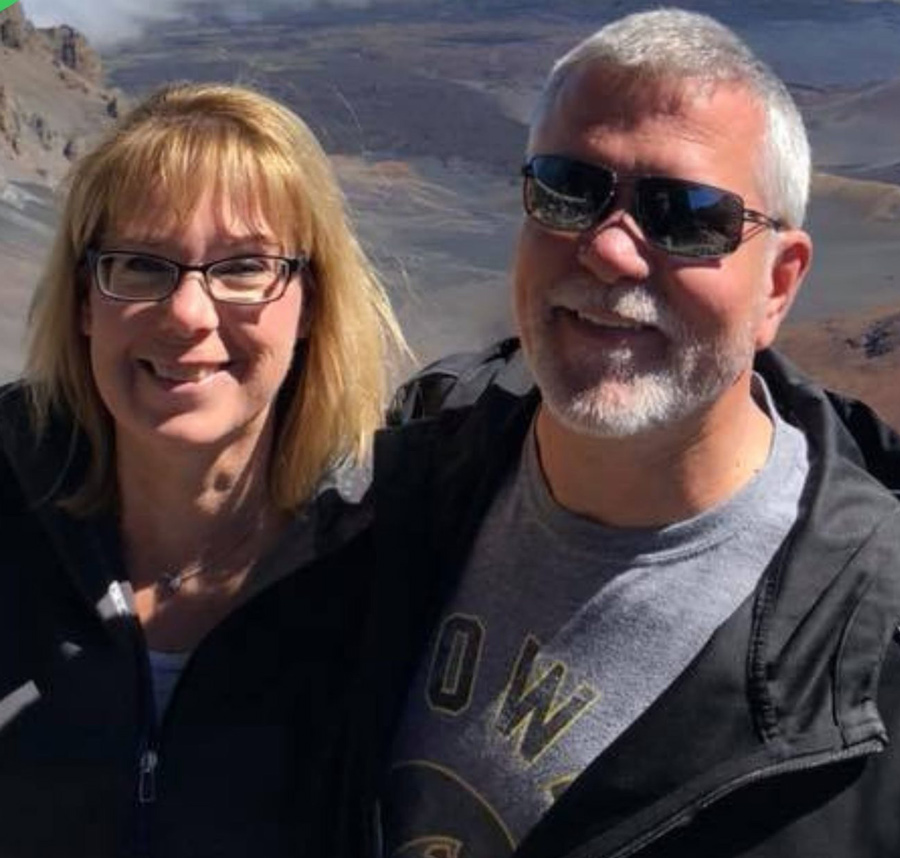 Marc and Linda enjoying the great outdoors.
What's your favorite Lake Tahoe town or village? Tahoe City and Truckee are where we put our stores, so I have to say they are my favorite.
What is your favorite thing about living in Lake Tahoe? The whole environment and energy.
What's your favorite season in Tahoe? Fall.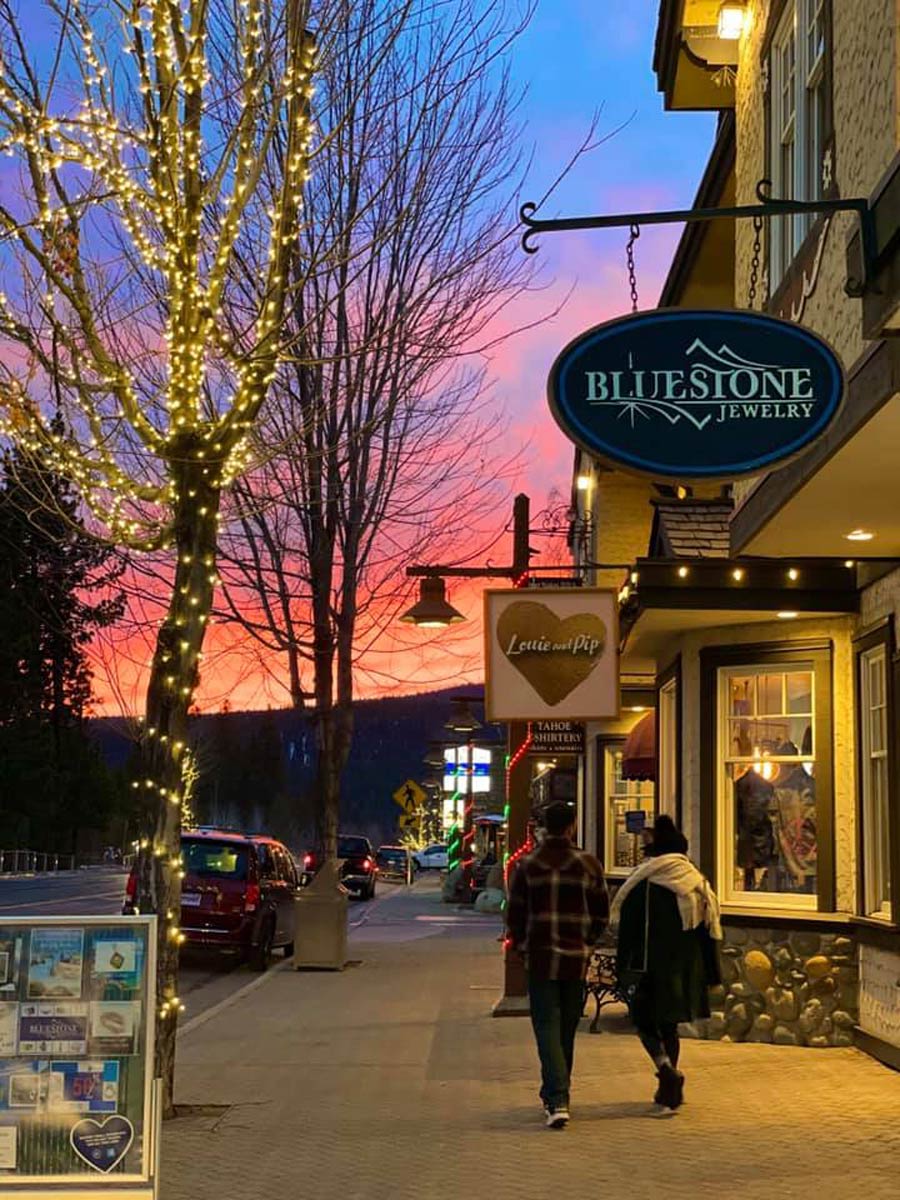 Bluestone Jewelry is one of those stores that is nothing but inviting.
What's your favorite Lake Tahoe beach access? Meeks Bay or Sand Harbor.
Do you have a favorite trail or area to access the mountains? I have to say I love all of them. A short favorite is up to Eagle Lake.
What do you do for fun? Ski and bike.
Describe your perfect day off. Lunch on top of a Tahoe mountain.
Do you see more sunsets or sunrises? Sunsets.
What's one thing you wish more Lake Tahoe visitors knew? How great the people are up here.
Where do you go on vacation? Overseas  – I just back from Switzerland trip.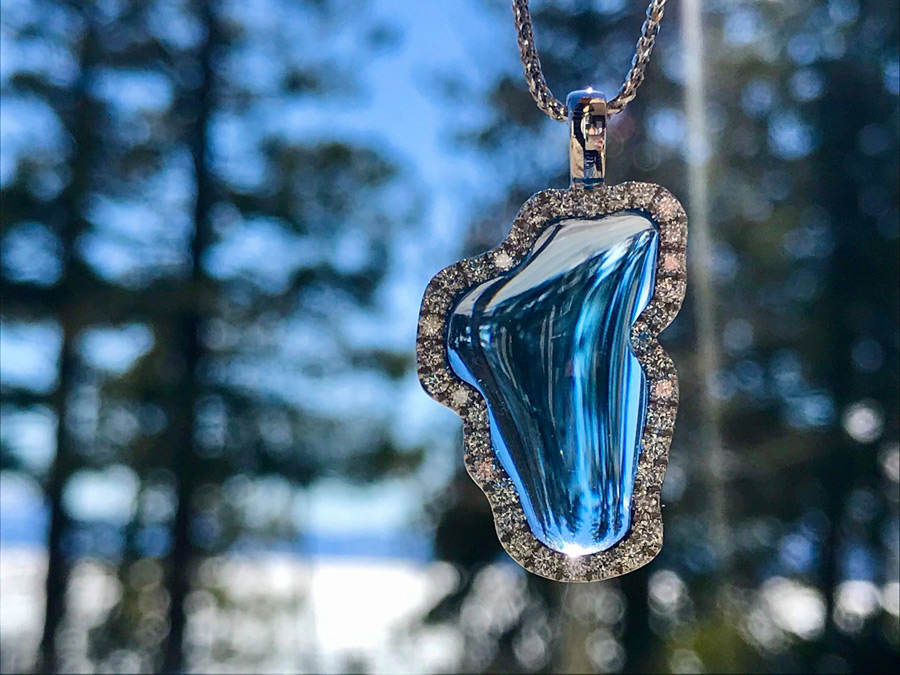 Lake Tahoe-shaped pendants are some of the stunning pieces Bluestone is known for.
For a celebratory dinner, would you rather order take-out, go out to eat or cook something at home? Cook at home.
What's your favorite meal of the day, and where in Lake Tahoe would you get it? Breakfast. Firesign in Tahoe City is my go-to.
What's your favorite thing about your job?  Helping a wide range of people.
Do you have any side hustles? No.
What's one item on your bucket list? An African safari.
Photos courtesy of Bluestone Jewelry