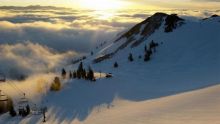 With Easter behind us, it's time to move into the warmer days of spring. In Lake Tahoe that means ample opportunity to enjoy music, sunshine and outdoor recreation.
This week, in particular, offers one of my favorite ways of getting a great workout while testing my skills against others in the Fire On The Mountain Vertical Challenge.
What other fun is there to be had this week? Let us see….
Fire On The Mountain Vertical Challenge
As mentioned before Squaw Valley & Alpine Meadows' Fire on the Mountain Vertical Challenge is one of my preferred ways to compete against others who enjoy getting a little sweaty with their ski descents. This is the second year that the competition will be held, and it is sure to test even the strongest skier or snowboarder. Considered to be more than a race against others, it also is a test of your own endurance and strategy skills. Teams are put to the test to ski or snowboard an excess of 100,000 vertical feet within one day, the first to do so winning the race. Competitors are set out on compulsory runs around the ski area. Once these are finished, racers are free to rack up vertical the best way they see fit. The competition begins taking entries at 7:30 a.m. on Friday, April 1. A celebratory race party will be held afterward for awards.
Boarding For Breast Cancer 20th Anniversary
Boarding For Breast Cancer (also known as B4BC) is an important Lake Tahoe nonprofit that has been making leaps and bounds of goodness for 20 years in the area helping those suffering from breast cancer. To celebrate the positivity that they bring to the area, Sierra-at-Tahoe ski area is hosting an anniversary event to celebrate Boarding for Breast Cancer's success. The day will include snowboarding, live music, yoga classes and other exciting events that are sure to entertain. The event is on Saturday, April 2 and begins at 2 p.m. and lasts until around 4 p.m.
16th Annual Dummy Downhill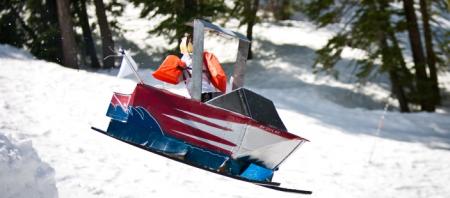 Are you ready to get imaginative? Diamond Peak Ski Resort is holding its 16th Annual Dummy Downhill race. This excellent family affair has participants build their own form of dummy-on-skis (or snowboard). The dummy is launched off a giant jump to start its descent toward the Base Lodge Deck. It' s pretty hilarious watching the routes these dummies choose while cascading down the slopes with gravity-created speed. Dummies are to be registered for the event at the base lodge by 10 a.m. on Saturday, April 2. Dummies must not be alive and must weigh less than 75 pounds. For each dummy there must be a team captain available for loading and unloading the dummy at the top and bottom of the course. An awards ceremony is held afterward at the Base Lodge Deck accompanied with live music by local band Owen Big.
Spring It On! Pond Skim

Another super fun, family-friendly event happening this week is Northstar Resort's Spring it On! Pond Skim competition. An annual event that is considered to be the true mark to the beginning of spring, this pond skim event brings the festive vibe out in full form. Whether you are skimming the pond on skis or snowboard or just watching the fun, it is highly suggested to come in springtime costume attire. Those in costume are also highly encouraged to show off their best back scratcher off any jump on the mountain. Come 11:30 a.m. competitors are asked to be at mid-mountain for the pond skimming aspect of the competition. From 11:30 a.m. to 2 p.m. bystanders can watch costume-enhanced daredevils try their hand at crossing the pond without falling in first. The event is paired with rocking live music on the Day Lodge deck, appetizer and drink specials as well as other fun activities.
Lake Tahoe is a happening place in the springtime. To check out the immense amount of other activities continually available, please be sure to check out our day and evening event listings.