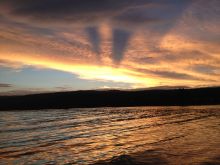 Lake Tahoe is a place that captures the heart. Its beauty, the clean air and the thriving natural habitat are all reasons that this place is special for so many people. But there is another side to this picturesque area. There are secrets that hide in these mountains. Some are shocking. Some are heartwarming. Some are just plain crazy.
I thought it would be fun to do a post on six aspects to Lake Tahoe that you might not have known. Leave a comment and let me know if any of these were shocking to you, or if you have a tidbit to share. We'd love to hear.
So here you go, six crazy things you didn't know about Lake Tahoe...
1. Lake Tahoe's name: Lake Tahoe wasn't always known as Lake Tahoe. Upon being discovered by explorer John C. Fremont in 1844, the first white man to set eyes upon this glorious region decided to name it Lake Bonpland after the famous botanist, Aime Bonpland. He shortly thereafter decided to call it Mountain Lake but then settled on Lake Bigler, naming it after the California Governer, John Bigler. The higher ups in the US Department of Interior weren't so keen on that name, however, and decided to hire a journalist, Dr. Henry Degroot, to decide upon a name. He is the one to suggest the word Tahoe, linking it to the Indian word meaning big water. It took many years for the name Lake Tahoe to take hold, and it wasn't truly considered Lake Tahoe until the California State Legislature secured the matter in 1945.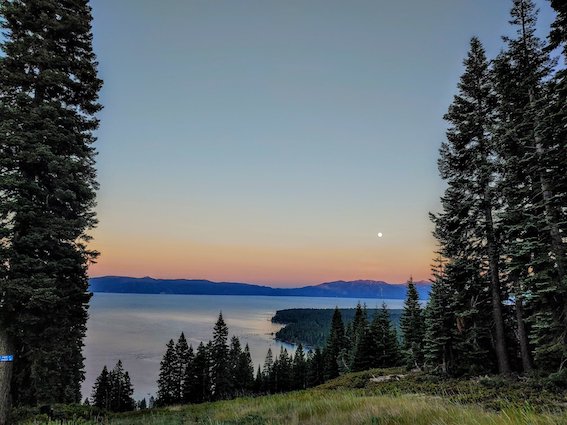 2. We are blessed with a Coast Guard: Lake Tahoe is one of those unique situations in which a fresh body of water deserves the attention of the Coast Guard. Why? Due to the fact that Lake Tahoe inhabits both California and Nevada, the Coast Guard has a presence over the safety and well-being of all those that enjoy her. Two-thirds of the lake belongs to California and the final third to Nevada.
3. She's a big girl: Lake Tahoe holds a gigantic amount of water. Imagine this: If we were to drain Lake Tahoe, it would cover the entirety of California in 14 inches of water. Now that's a lot of water! To give you a few fast facts: Lake Tahoe is the third-deepest lake in North America and the tenth-deepest in the world. (Lake Baikal, in Russia, is the deepest at more than 4,600 feet.) Tahoe's deepest point is 1,645 feet near Crystal Bay (where it is rumored that mobsters dumped bodies back in the 1940s). The average depth of Lake Tahoe is 989 feet.
4. We are home to Loch Ness Monster's Cousin: Lake Tahoe is home to the cousin of the infamous Loch Ness Monster. Tahoe Tessie is her name, and she is a friendly giant, with stories throughout the decades of making quick appearances to remind people that she is there. Stories of seeing Tahoe Tessie date back to Native American folklore and continue up to today.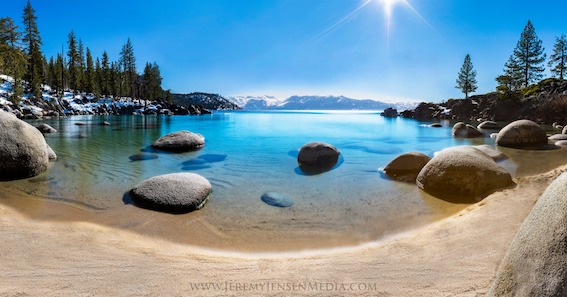 5. Mark Twain almost burnt down the basin: The year was 1861, and a young Mark Twain (otherwise known as Sam Clemens) had discovered Lake Tahoe, writing upon finding her, "I thought it must surely be the fairest picture the whole earth affords." Still, in the times of Lake Tahoe being called Lake Bigler, Twain was overcome with wonderment for the area and decided to lock down 300 acres for his own. Along with a friend, he created his own homestead with a small house and chopped down trees to mark the spot. Only after a few weeks of claiming the land, Twain set fire to his land accidentally, losing all that he had built in a short time. As he put it, "I took the loaf of bread, some slices of bacon and the coffee pot ashore, set them down by a tree and lit a fire, and went back to the boat to get the frying pan. While I was at this, I heard a shout from Johnny, and looking up I saw that my fire was galloping all over the premises!"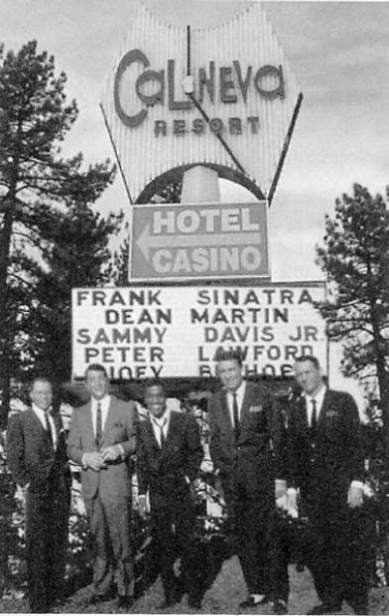 6. Lake Tahoe is a second home for the rich and famous: With the turning of the clock into the 20th century, Lake Tahoe became a land for those who enjoy the finer things in life. Lake Tahoe became a place of reprieve for famous politicians like the Kennedys as well as the members of the Rat Pack, including Sammy Davis Jr., Joey Bishop, Peter Lawford, Dean Martin and Fred Astaire. Marilyn Monroe was also known to frequent the area and had her own little cabin at the Cal-Neva Resort, where the glitz and glamor of Hollywood was known for their musical appearances. Other famous residents include Charles Bronson, Cher, Natalie Cole, James Hetfield, Liza Minelli, Wayne Newton and the Captain and Tennile. Lake Tahoe is also a favorite for movie backdrops and is part of the filming of many movies, including Indian Love Call, starring Jeanette McDonald (the first movie to be filmed at Lake Tahoe in the 1920s) as well as The Godfather, starring Al Pacino and Marlon Brando and The Bodyguard, filmed at Fallen Leaf Lake, starring Kevin Costner and Whitney Houston.
Photos from Shanie Matthews, Snowbrains.com, JeremyJensenMedia.com and Tahoe.com
Please visit our Daytime and Nightlife sections to learn about fun and interesting activities happening around Lake Tahoe.