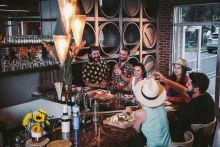 Amidst the towering mountains and serene waters, Lake Tahoe boasts a selection of exceptional wine bars that not only serve top-tier wines, but also offer an opportunity to relax and savor the enchanting vistas of this picture-perfect location. Whether you're a seasoned wine connoisseur or simply seeking a tranquil escape, the area's wine bars provide a unique experience that combines the pleasures of fine wine with the natural wonders of Lake Tahoe. Keep reading to discover nine of the most charming wine bars that Lake Tahoe has to offer.
South Lake Tahoe
The Idle Hour stands out as Lake Tahoe's only lakefront wine and bubbly bar. It boasts an ever-changing selection of regional wines from boutique California producers and imported wine and sparkling wines. The breathtaking setting provides the perfect backdrop for savoring a glass of wine or Champagne while indulging in delectable charcuterie boards, appetizers and wine/food pairings. With balcony seating and an outdoor patio featuring fire pits, it's no surprise that this spot is renowned for offering one of the most spectacular sunset views in Lake Tahoe. Additionally, The Idle Hour is an excellent choice for hosting weddings, parties and special events.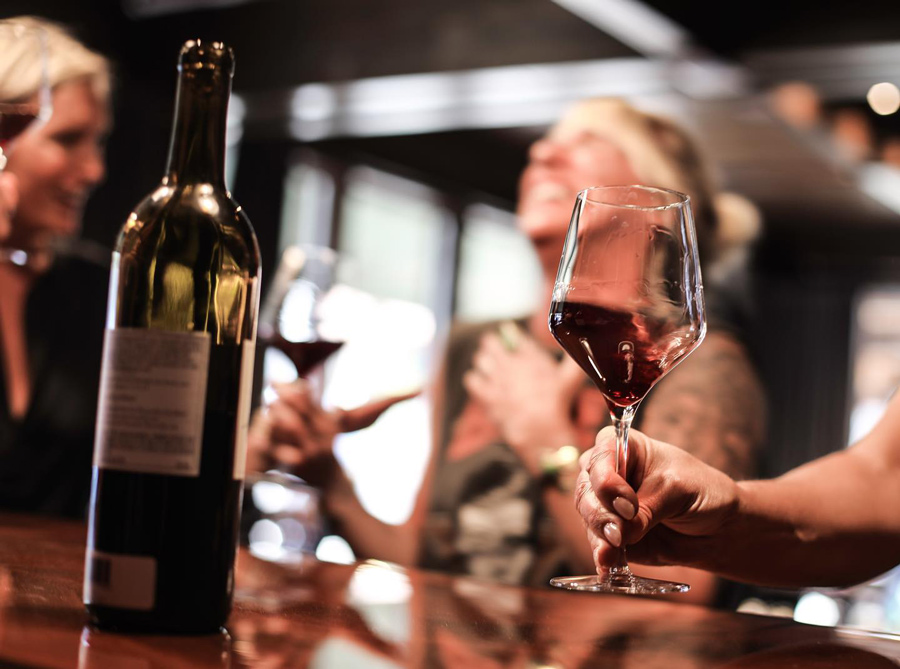 Pure joy and laughter at Tahoe Wine Collective, where every sip is a celebration! Photo courtesy of Tahoe Wine Collective
Tahoe City
More than just a wine bar, Tahoe Wine Collective is a neighborhood gathering spot where you can explore boutique wines and craft beers from the nearby Sierra Foothills region. While the focus remains local, there's a selection of wines from small, family-owned wineries both regional and international. Pair your wine with locally sourced cheese, charcuterie, bread and weekly specials. The weekends are always vibrant with local artists, live music, comedy nights, wine-pairing dinners and seasonal workshops. Don't forget to sign up for their monthly newsletter and join their wine club for exclusive early-bird pricing and discounts.
South Lake Tahoe
For a different take on a wine bar, try The Cocktail Corner. An ideal destination for those seeking specialty cocktails expertly paired with culinary excellence, it's an upscale, yet casual atmosphere, where the drinks and menu items rotate seasonally to cater to your palate throughout the year. The restaurant is directly connected to The Bistro at the Corner, offering a mountain-modern upscale dining experience. This means you can enjoy a craft cocktail while seamlessly transitioning to a fine dining setting all in a hop, skip and jump.
Incline Village
Glasses Wine Bar offers a welcoming setting where you can enjoy dozens of unique wines from around the world by the glass. They also serve beer and pre-mixed cocktails. Whether you're in the mood for an engaging conversation, games or reading, this wine bar provides an environment that encourages relaxation. When the weather permits, they offer outdoor seating for you to soak in the stunning Lake Tahoe surroundings. Be sure to check their calendar for daily specials, including live music every Saturday night.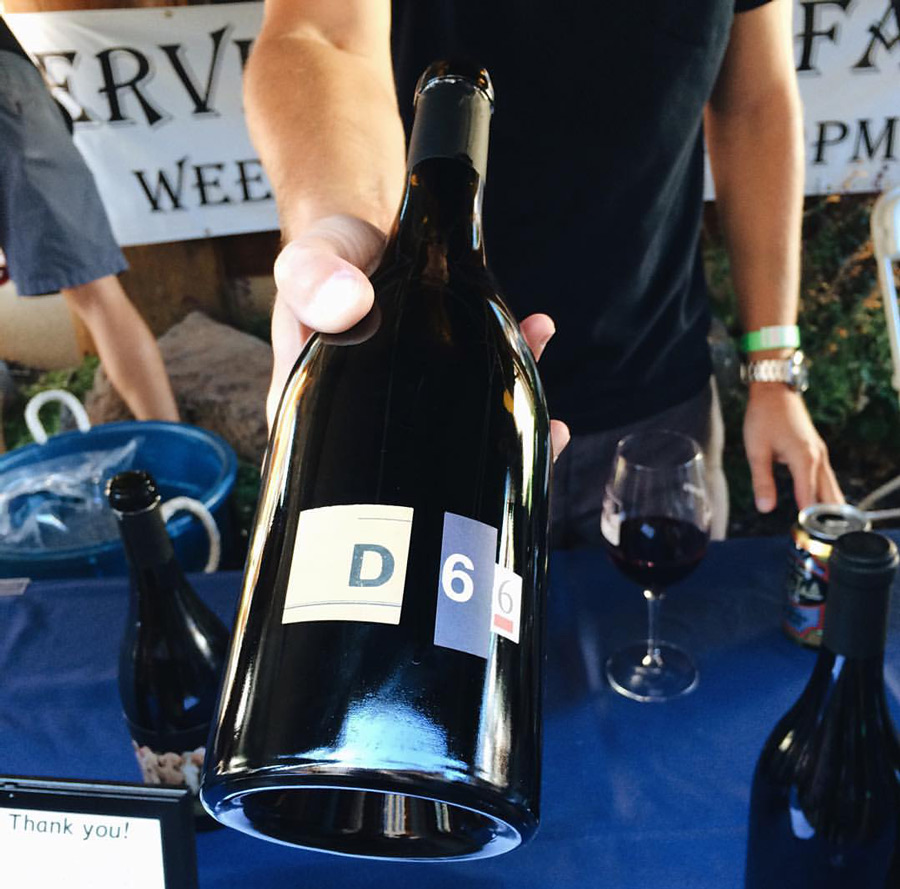 One of the tasty treats at UncorkedL a Grenache based blend from Orin Swift Cellars. Photo courtesy of Uncorked
Tahoe City & Palisades Tahoe
Uncorked presents a high-class atmosphere for wine connoisseurs. It's the place to immerse yourself in the true ambiance of wine culture. You can enjoy wine by the glass or by the bottle, along with cheese plates. Uncorked makes it easy for you to relish a delightful experience, whether you prefer bubbly, white or red wine. With multiple locations in superb locales, you can truly immerse yourself in the unique vibe of the area.
South Lake Tahoe
Revive Coffee & Wine offers the best of both worlds as a lakeside coffeehouse and wine bar. Whether you're looking to kickstart your day with nitrogen-infused coffee or unwind with a glass of wine in the afternoon or evening, this establishment has you covered. Their indoor space is akin to a comfy living room, and the outdoor area, located near the lake, boasts beautiful landscaping and towering trees. It's an ideal place to enjoy a peaceful lakeside retreat or host catered events, including weddings and receptions.
South Lake Tahoe
Tahoe Tastings offers a unique way to explore Lake Tahoe – while savoring wine and cruising the lake on a classic wooden boat. You can choose from midday or sunset tours that take you from Keys Marina to the iconic Emerald Bay. During the tour, you'll have the opportunity to sample various wines while enjoying the breathtaking scenery for two hours. For an exclusive experience, consider booking a private excursion for up to 16 people. Keep in mind that the daily trips are designed for passengers of legal drinking age.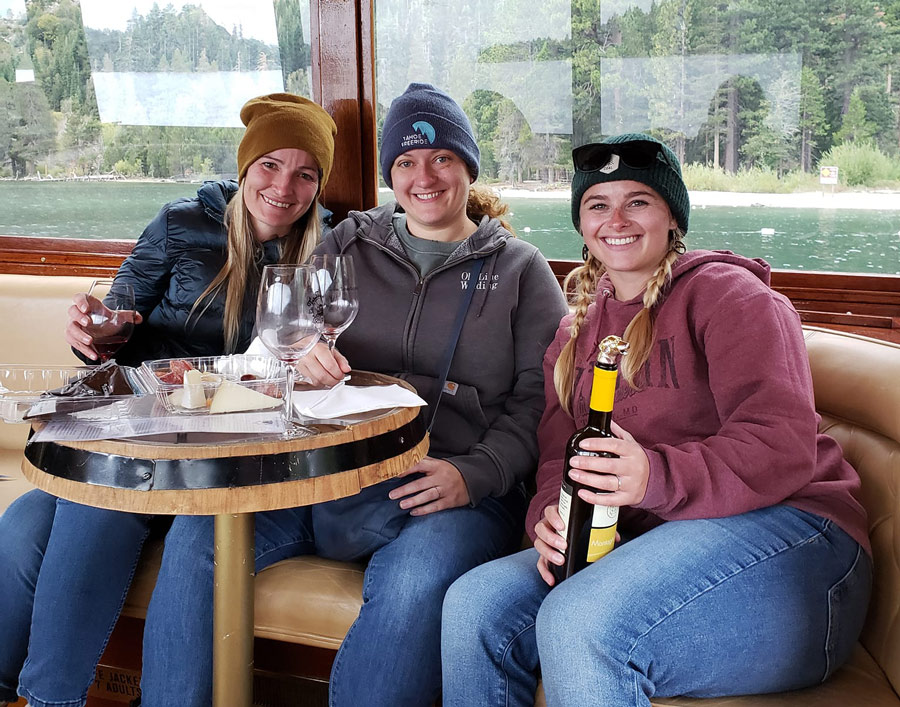 Tahoe Tastings is a place to celebrate lasting friendships. Photo courtesy of Tahoe Tastings
Truckee
The Pour House Wine Shop in Truckee is a charming, welcoming spot that offers wines from across the globe. The shop focuses on small producers who create unique wines, resulting in a selection that caters to all tastes and budgets. Whether you're searching for a budget-friendly California sauvignon blanc or an exquisite bottle of Opus One, you'll find it here. The Pour House also hosts private sessions and group wine classes, making it a great place to enhance your wine knowledge. Moreover, they offer a 10% discount on all cases of wine and provide the option to create DIY gift boxes from an assortment of cheese, meats, crackers, chocolates and more.
Northstar
Petra Wine Bar at Northstar is a combination wine bar and gourmet restaurant, creating a relaxed setting for you to enjoy excellent drinks and food. With both indoor and outdoor seating, you can savor a wide selection of wines, craft beers, shared-plate appetizers, entrees and delectable desserts. Petra offers more than 150 wines to choose from, making it an excellent place for wine tasting. Don't miss the chance to participate in their daily happy hour or Meet the Winemaker events (reservations are recommended for the latter). It's the perfect place for an afternoon or evening of unwinding with great drinks and culinary delights.