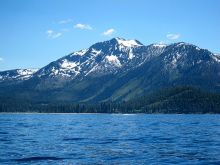 The Tahoe region covers an area that crosses county lines and even state lines, with plenty of federally administered lands scattered throughout. But we are finally moving into a time in which many of the COVID-19 recovery regulations are beginning to standardize across regulatory jurisdictions. The list of businesses that can move forward on the California side includes schools, restaurants, gyms, museums, movie theaters, hotels, vacation rentals and campgrounds, as long as the businesses have developed and implemented safety plans according to the guidelines established by the state. Some businesses that are not included in the reopening for Stage 3 in California include nail salons, tattoo parlors, live theater, concerts and nightclubs. The state Stay at Home order is still in place, but the restrictions have been revised. Many of the businesses allowed to begin reopening under these changes had already seen looser restrictions on the Nevada side of Tahoe. Please do remember, however, that face coverings are still required throughout most of California. Photo at left: Wikimedia Commons, Jonathan Cook-Fisher.

Restaurants
On the California side of the Tahoe region, all three counties have qualified for variances allowing for advancement to Stage 3 for businesses including restaurants and bars. Those who choose to go out and about for a drink or a bite to eat may experience some differences from what they are used to before the pandemic caused the shutdown of businesses. You'll likely see measures in place to help preserve distance between patrons, such as only using every other table for customers. Don't expect to be able to wait inside for a table to open up, and if possible, making advance reservations is strongly recommended. And it's considered good manners not to linger over your meal; the restaurants need to make up for lost time and serve as many diners as possible under the existing restrictions. Photo at right: Pixabay, Salvatore Monetti.

Shops
Retail shops are allowed to be open for in-store business. Social distancing and caution while shopping are still the guidelines by which to operate, along with 6-foot distancing. Face covers are required for employees and very highly suggested for customers as is the sanitizing of such objects as carts and baskets after each use.
Things to Do
The current Stage 3 status in the California counties of the Tahoe area allows for more businesses in this category to open back up, such as gyms, museums and galleries, with similar restrictions on the Nevada side. As with all other public venues, social distance and strict sanitizing regimes are the rule of the day. Casinos are also allowed to be back in business in the Tahoe area. The state parks on both sides of the line are open for day use, and the restroom facilities, visitor centers and similar amenities have also reopened at many of these sites. Truckee's West End Beach is open along with the skate park and bike park. The Forest Service reports most recreation areas are open with the exception of the Tallac Historic Site and Valhalla. The grounds are open at the Taylor Creek Visitor Center, but the buildings are closed. Meeks Bay Resort was one of the last sites to reopen as of July 1 and is taking online reservations. As for taking a boat ride on the lake, look for most of the commercial cruises to be up and running with most of the normally scheduled offerings. Photo at right: Facebook, Valhalla Tahoe.

Hotels, Motels, Inns and Campgrounds
The revisions on travel restrictions mean that the California providers of rooms and lodging can now join their counterparts on the other side of the state line to offer their services to travelers. The majority of the area's hotels, motels and inns are either open or have plans to open soon. For campers, the Lake Tahoe Basin Management Unit of the National Forest Service reports most campgrounds are soon to be reopened, even Bayview and Kaspian, which were the last holdouts in the LTBMU. Photo at right: Facebook, U.S. Forest Service - Lake Tahoe Basin Management Unit.
Vacation Rentals
The looser restrictions on non-essential travel have also opened the vacation rental market back up to put both sides of the Tahoe region on more equal footing. If you are restricted to certain days you have available for your High Sierra vacation, you may want to see about booking your vacation rental sooner rather than later. If you are more flexible in your plans, you may be able to find a spot in exactly that special corner of Tahoe where you always wanted to enjoy some down time.