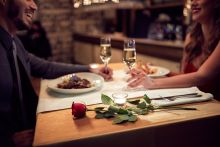 Can you feel the love in the air?
With all of the fantastic snow that we have recently been blessed with, there is no doubt that smiles and joy are abounding. It's easy to feel a whole lot of love in Lake Tahoe right now. With Valentine's Day right around the corner, the timing couldn't be better. 
If you are looking for a way to show your Valentine how special he or she is, look no further. Below are 10 outings that will make any heart flutter with delight.
We don't have room to list all of the fun Valentine's options here. Please check our Daytime and Nightlife listings for February 14 or check our Dining Promotions page for more great restaurant ideas. 
Stateline
Offering a dinner worthy of a queen, Tahoe Tavern & Grill is lending its atmosphere to inspire love. Known for using only the best ingredients, Tahoe Tavern is a dining experience that is not only very welcoming but also offers impeccable service. The spacious layout of the dining area supports the feeling of privacy and intimacy. Their special Valentine's menu is only offered at this time of year, giving access to delectable dishes like Lamb Osso Bucco, Jerk Salmon served with sake-roasted bok choy or their delicious Coq Au Vin served with butternut squash gratin. The desserts are reason enough to visit for this special occasion, with a mini cheesecake sampler or their Champagne-infused chocolate covered strawberries. Dinner is on Tuesday, February 14, beginning at 5 p.m. Reservations are required.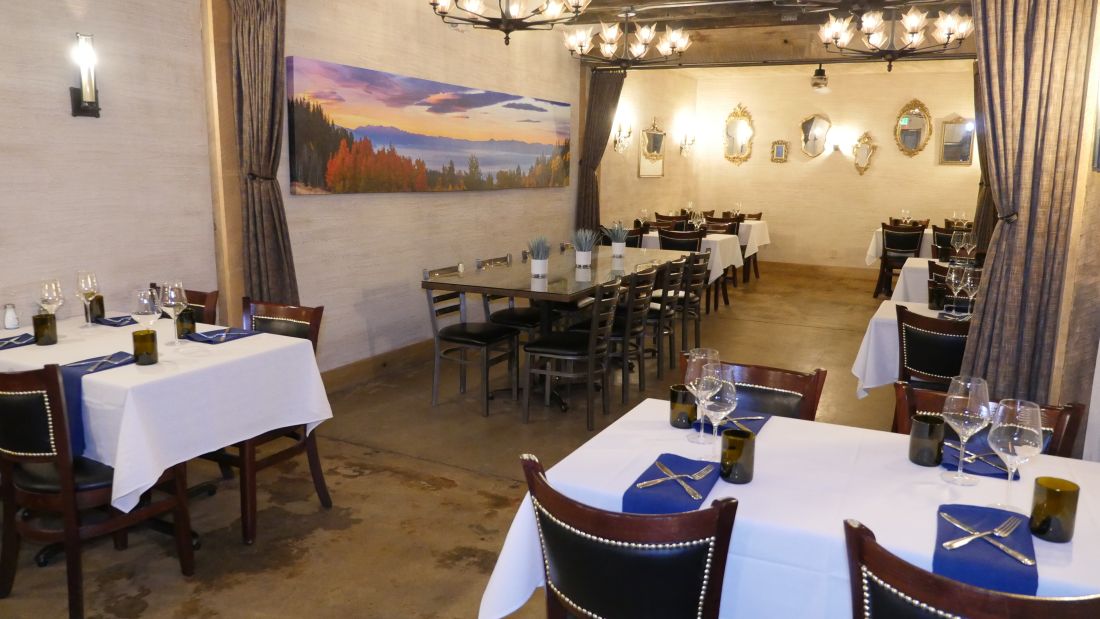 The Lake House ambiance supplies Valentine's Day elegance. Photo courtesy of The Lake House
South Lake Tahoe
The Lake House supplies a classy atmosphere, delicious food and exquisite wine for your Valentine's Day celebration. All you need to do is show up! For a romantic dinner that is sure to impress your sweetheart, the meal is made with love and served with joy. The mountain-modern vibe and award-winning New American cuisine created by Master Chef Jimi Nakamatsu are heavenly. This is an event that is certain to sell out so it is highly recommended that you book your reservation as soon as possible. Patrons need to be 21 years old or older. Dinner celebrations are on Tuesday, February 14, starting at 5 p.m.
South Lake Tahoe
In my personal opinion, there is no better place to celebrate Valentine's Day than at The Loft. A restaurant with incredible food that doubles as a stage for world-class magicians, The Loft is a place of mystery and intrigue no matter what time of year. Add Valentine's Day to the mix, and you are in for a heart-pounding experience. This year they are offering a five-course gourmet meal that comes with five Champagne pairings. The evening costs $99 per person plus tax and gratuity. After dinner be sure to check out their magician show or their lounge for great dancing music. Food will be served beginning at 6:30 p.m. on Tuesday, February 14. Pre-registration is required.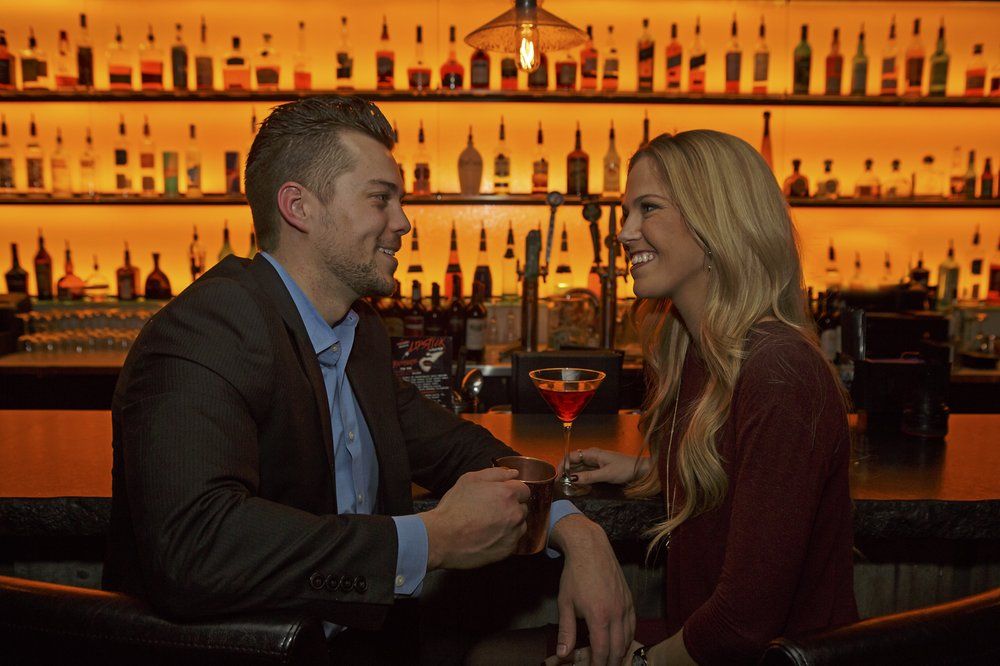 Love is in the air at The Loft. Photo courtesy of The Loft Theatre
South Lake Tahoe
Considered a favorite restaurant any time of year, Riva Grill is getting in on the Valentine's Day action with their special dinner menu specifically created for this day of love. Known for their Wet Woody signature cocktail and floor-to-ceiling windows that lend to their impressive views of Lake Tahoe sunsets, Riva Grill supplies the optimum ambiance for enjoying this special day with your favorite person. Reservations are highly recommended for this Tuesday, February 14, dinner. Dinner runs from 5 to 10 p.m.
Tahoe City
Offering a Land & Sea duet for your Valentine's celebration, Cedar House is raising the bar for fresh, delicious food served in a warm and inviting lodge-style setting. It's known for offering a cozy atmosphere, so you can't get much better than a Valentine's Day dinner at this incredible establishment. The menu runs from February 11 to February 14 and includes a starter of butternut squash soup and Caesar salad with a main course of 4-ounce Maine lobster tail and filet mignon in port sauce, served with garlic mashed potatoes, grilled asparagus and baby carrots. There is a vegetarian option as well, including lasagna with white cream sauce, spinach and garlic. Dessert will put the loving strawberry on top with their delectable white chocolate raspberry cheesecake. Dinner begins at 5 p.m. and costs $53.99 per person.
Olympic Valley
Palisades Tahoe is offering a special adventure for the lovebirds with their guided snowshoe tour that ends at the mid-mountain Chalet at Alpine Meadows. The Bavarian-inspired meal comes complete with a complimentary glass of Champagne upon arriving as well as hand-selected wine pairings with each course. There will be additional wine and beer available for purchase. Snowshoes are provided free of charge, making things easy. Just show up with warm clothes and an appetite and you are good to go. To attend be sure to meet at the Last Chair Bar located in the main lodge at Alpine at 4 p.m. The event lasts around two and a half hours. Tickets are required, and the cost is $125 per person. All attendees must be 21 years of age or older. If you aren't able to attend for Valentine's Day, not to worry. They will also offer this tour on February 18, 19 and 21 as well as March 2 and 11.
South Lake Tahoe
A new establishment to the Lake Tahoe dining scene, The Bistro at the Corner is a place made for Valentine's Day celebrations. Based on the motto of "where food meets passion," this is the place for exquisite culinary experiences that will leave you in awe. Offering mountain modern fine dining, they will offer their normal fare including aphrodisiac foods like half-shelled oysters and caviar as well as specially created dining options that were designed for this occasion. Dinner is on Tuesday, February 14, from 5 to 9 p.m. Reservations are suggested.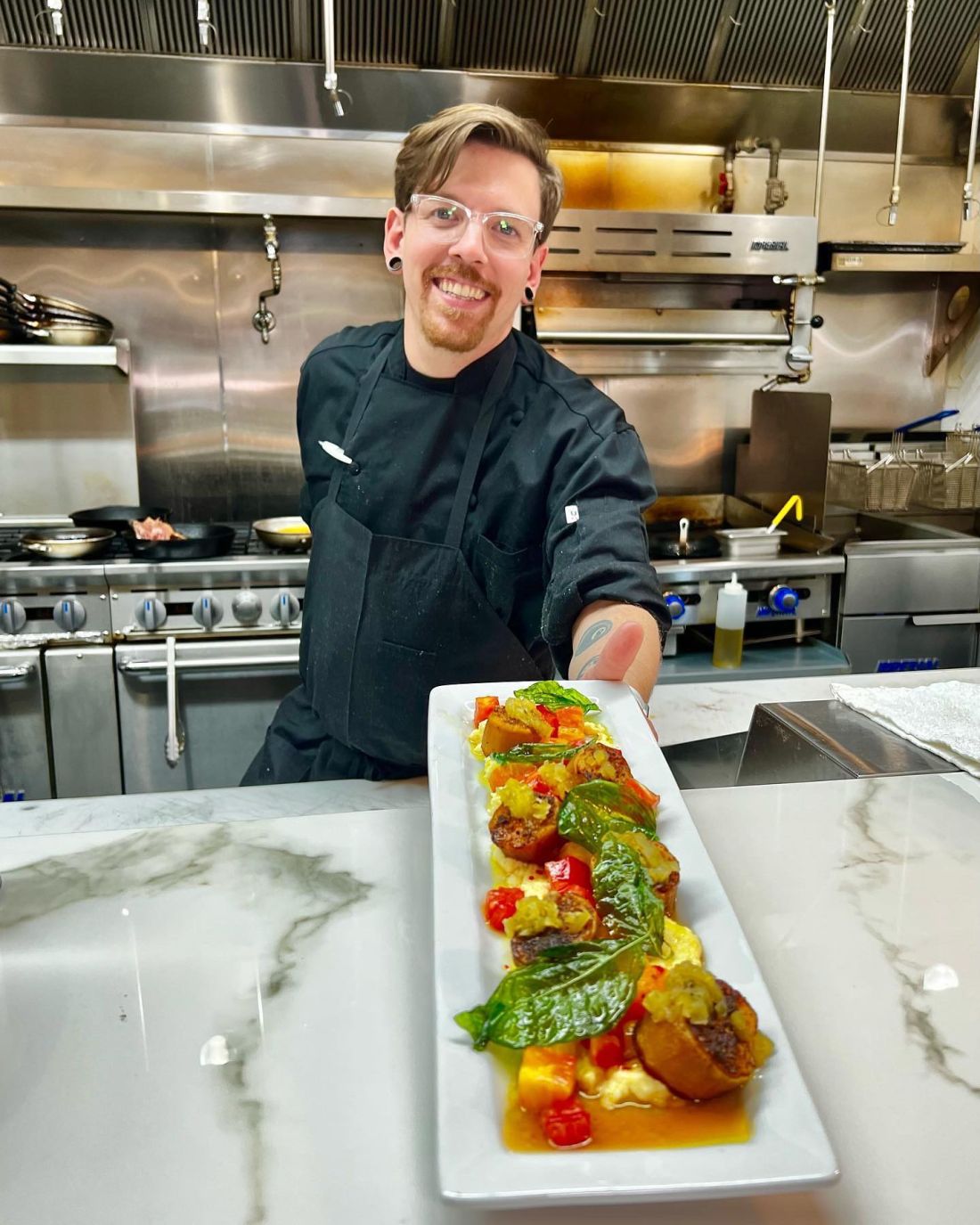 The Bistro at the Corner serves up delicious food with a smile. Photo courtesy of The Bistro at the Corner
Stateline
For the golfers out there, this is the Valentine's Day celebration for you. Situated on the esteemed Edgewood Tahoe Resort's Golf Course, this is a day event that gets the love going early. Running from noon to 4 p.m., Brooks; Bar & Deck will be serving up a feast worthy of a king. Considered one of the best golf pubs in the world by Golf Digest, Brooks' has impressive surroundings in addition to tasty cuisine. The Valentine's Day menu includes puree of butternut squash served with pumpkin seeds, a cinnamon puff heart and microgreens followed with poached pear and strawberry salad, an entree of ribeye steak and creamy Cajun shrimp and chocolate rouse for dessert. Tickets, $60 per person, are required to attend.
Stateline
For Tahoe Rim Trail Association (TRTA) members looking for a bit more action rather than eating, this is a great activity for you. A short and scenic guided snowshoe trek will take you on an adventure showing off the beauty of Castle Rock and its impressive views. The easy-to-moderate excursion is about a 3.5-mile round trip. There will be special Valentine's Day goodies offered at the end to make your experience that much more memorable. Pre-registration is required. This free event for TRTA members starts at 3 p.m. on February 14. There is an age limit of 18 years or older to attend.
Tahoe City
For those who love the serenity of cross-country skiing, the Tahoe XC is offering you a way to share the love with skis on. For a fun game of sorts, Tahoe XC is inviting you and your loved one to join in on the excitement of looking for hidden hearts that are spread out amongst the cross-country trails. A free, self-guided event, this is a wonderful way to share the love with those you care about while doing something that makes your heart happy. There are two rules to the game. First, look for hearts throughout the Tahoe XC trails and take pictures of each heart you find. Second, follow Tahoe XC on Instagram or Facebook and post your pictures using hashtags #sharethelovetahoe and #tahoexc. Pre-registration is required for this free event that runs on Tuesday, February 14, from 8:30 a.m. to 5 p.m.
To enjoy other fun events happening in the basin during Valentine's Day or anytime, check out our Daytime and Nightlife sections.
---