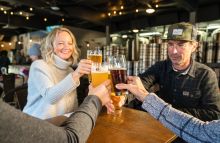 With the breathtaking beauty of the Sierra Nevada mountains, Lake Tahoe invites you to explore its many wonders, from crystal-clear waters to outdoor adventures and stunning vistas. But this remarkable region offers more than just natural beauty; it's also home to a burgeoning craft beer scene. Welcome to a world where pine-scented forests meet the aroma of freshly brewed ales, and where the joy of exploring the great outdoors pairs perfectly with the pleasure of sipping a cold, locally crafted beer.
In this week's blog post, we're going to take you on a journey through some of the charming breweries of Lake Tahoe, where the craft is as impressive as the views. So grab a pint, soak in the scenery, and let's dive into the delightful world of Tahoe's brews. This list is not comprehensive, but itgives you an idea of what's out there. For more places to drink beer, click here.
Photo: South Lake Brewing Company is a great place to share with great friends.
South Lake Tahoe
Crafting an exceptional product is all about passion, and this is precisely what fuels the vision of Chris and Nicole Smith, the creative minds behind South Lake Brewing Company. Their venture is a tribute to both the incredible locale and their unwavering love for finely handcrafted beer. The cozy and inviting ambiance at South Lake Brewing Company embodies the essence of Lake Tahoe: a sense of community, joy and shared experiences. Here, you'll savor a range of remarkable brews, from the Barrett Brown reminiscent of a luscious German chocolate cake to the Marlette Blond with hints of pear, honey and tangerine. Beyond exquisite beer, the brewery plays host to engaging weekly events like Boga (yoga before beer) and spirited trivia nights.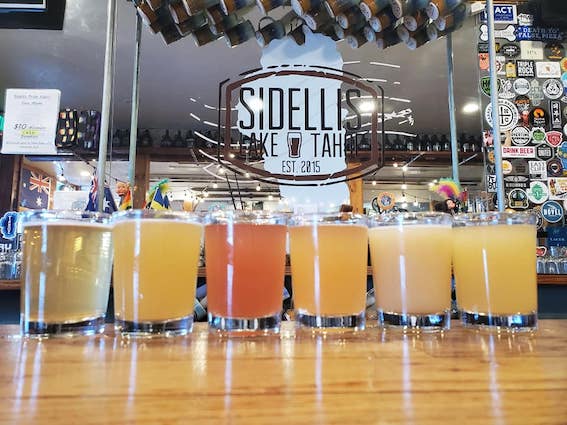 The rainbow of flavors at Sidellis. Photo courtesy of Sidellis Lake Tahoe Brewery & Restaurant
South Lake Tahoe
Sidellis Lake Tahoe, though labeled as both a brewery and a restaurant, feels more like a masterful exhibit of craft brews that also happens to offer some delightful dishes. Their beer list unfolds as a vivid narrative of their establishment, featuring brews like Bitter Creek Pale Ale, paying homage to the former bar's legacy, and Hanzo Hefeweizen, a playful nod to their beloved mascot and guardian, Hanzo the dog. Even Brewocracy "Red Tape" IPA finds a place, a tongue-in-cheek reference to the trials of starting a new business. In the culinary realm, Sidellis doesn't disappoint with appetizers that pair perfectly with their house-made beers, such as a variety of fresh salads and an enticing selection of sandwiches. 
South Lake Tahoe
Imagine merging a warm, inviting ambiance with exquisitely crafted beer. South of North Brewing Co is a splendid brewery option that embodies the best of both worlds. Their beer selection, ever-revolving, spans the entire spectrum of styles and flavors, catering to all palates. What sets this brewery apart is its delightful addition of homemade kombucha. But that's not all; their partnered menu presents generously sized sandwiches, wholesome grain-based salads and a delightful array of appetizers, including pretzels, meatballs and baked Brie. To make your experience even more memorable, South of North boasts a spacious outdoor patio, complete with inviting fire pits, entertaining outdoor games and live music on most nights of the week, including the beloved Tuesday Open Mic Night.
South Lake Tahoe
As the first all-grain brewery in the region and the sole female-owned brewery by the lake, Cold Water Brewery is a unique gem. But what makes it exceptional is its fusion of a fantastic brewpub with a focus on top-notch food. Featuring 14 in-house brewed beers, this establishment goes beyond the typical brewery. Its extensive menu boasts everything from fish and chips to gourmet burgers, along with grilled Scottish salmon, a hearty ribeye and more. The warm atmosphere, outdoor dining and weekly specials add to the experience. Don't leave without trying their By Dad 4 Dads American Ale for a perfect lakeside day.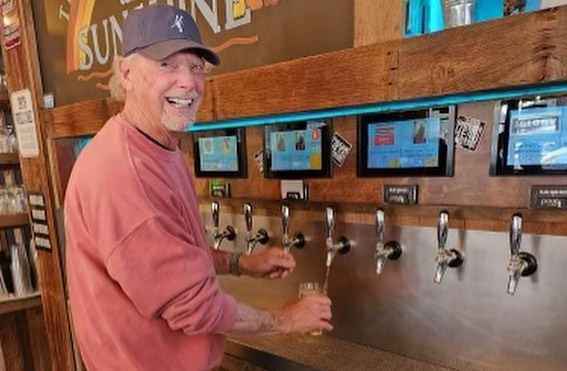 The self-serve beer station at AleWorX is a real hit amongst patrons. Photo courtesy of Lake Tahoe AleWorX
South Lake Tahoe
At Aleworx, adventure meets craft beer in the heart of South Lake Tahoe. With locations in both South Lake Tahoe and Stateline, this brewery offers an ever-evolving selection of specialty craft beers. Paired perfectly with their self-service beer concept is a mouthwatering menu featuring authentic Neapolitan wood-fired pizzas, fresh salads and delectable desserts. The South Lake Tahoe venue, conveniently located at the Y, boasts roll-up garage doors that open onto a cozy patio, complete with fire pits and a stage nestled against the serene Tahoe forest backdrop. From live music to a welcoming community spirit, Aleworx creates an inviting atmosphere for beer and Tahoe enthusiasts to come together, socialize, and craft unforgettable memories. 
Incline Village
Embrace the charm of small-batch brewing at Bear Belly Brewing Company. This cozy nanobrewery offers a rotating selection of five craft beers, ensuring each visit is a delightful surprise. The inviting taproom provides an immersive peek into the art of ale crafting. For those seeking an outdoor experience, Bear Belly boasts a family and pet-friendly beer garden. To elevate your time, they occasionally invite local food trucks, adding a delectable twist to your brew adventure. 
Incline Village
Relax and unwind at Alibi's original taproom, the Barrel House, nestled at their production brewery in Incline Village. This well-crafted space is designed for the community to gather and enjoy. The Barrel House features a carefully curated selection of draft and bottled beers, including exclusive brews you won't find elsewhere. Savor their beers by the glass or opt for a custom flight of your choosing. Don't forget to explore their crowlers and growlers to take your favorites home. In addition to beer, you'll discover a variety of wines, ciders and their house-brewed kombucha. While the Barrel House doesn't have its own kitchen, you're welcome to bring your own grub or order from one of the neighborhood's fantastic restaurants.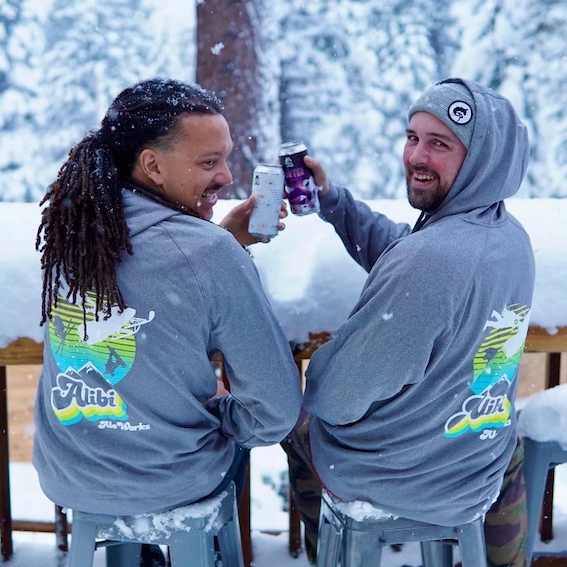 Rain, snow or sunshine, fun is always the name of the game at Alibi Ale Works. Photo courtesy of Alibi Ale Works
Truckee
Elevate your taste buds at the renowned FiftyFifty Brewing Co., a celebrated brewery in known for its innovation and delectable brews. Their diverse beer selection caters to every palate, offering everything from crisp pilsners to hazy IPAs and robust stouts and porters. The extensive tap list rotates seasonally, promising fresh and exciting flavors. Don't miss the opportunity to savor their legendary Eclipse beer, an Imperial Stout aged for six months in oak bourbon barrels. It's been recognized by Beer Advocate as one of the "Top Beers in the World." But that's not all. FiftyFifty Brewing Co. is also a top-notch restaurant, offering a meticulously crafted menu to complement their brews. With an emphasis on organic produce and all-natural meats, your culinary experience here is sure to impress.
Truckee
Good Wolf Brewing Company epitomizes the spirit of craft beer with a dash of love for nature. It's a place where the lush Tahoe forest meets the essence of hops. Here, you'll be welcomed by a diverse selection of delectable brews, from their BerlinerWeisse, infused with tangy sour cherries and a touch of house-made vanilla syrup, to the Cream Ale reminiscent of Czech tradition. The taproom, your gateway to this beer lover's paradise, is open every day, offering you a refreshing pause except on Mondays. Good Wolf Brewing Company is more than a brewery; it's a craft beer love affair.
After enjoying your tasty brews, be sure to finish your day off right with an exciting event happening in the basin. To learn about all of Lake Tahoe's gatherings check out our Daytime and Nightlife pages.