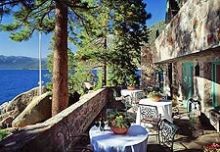 Lake Tahoe is fabulous for enjoying the outdoors, taking in spectacular sunsets and elevating the heart rate with exciting adventure. But there is another thing that makes Lake Tahoe special: its history and the community that supports it.
Not only is area filled with historical importance (like being the stage for the 1960 Olympics), but also it is the stage for spectacular architecture that is still celebrated today. This week offers appreciation for two of Tahoe's beauties, including one of the most impressive properties in the nation: Vikingsholm. It is also a week of getting together, sharing stories and making friends.
Keep reading to learn more.
Conversations With History: Living at Vikingsholm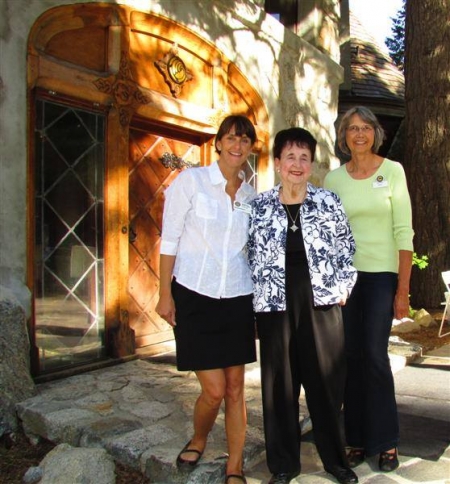 Sierra State Parks Foundation is hosting Conversations with History: Living at Vikingsholm, an exceptional opportunity to hear from a woman who experienced Vikingsholm in its heyday. Helen Smith, a guest of Vikingholm owner Lora Knight for 14 summers, will give guests a behind-the-scenes viewpoint. The intimate conversation will be paired with a signed copy of Smith's book, Vikingsholm. The event is on Thursday, August 10, from 5 to 7:30 p.m. Tickets cost $65 per person or $55 for SSPF members.
Free Outdoor Summer Movie Series
The Village at Squaw Valley is offering a family event with their Free Outdoor Summer Movie Series. Happening each Thursday through August, the Events Plaza at The Village at Squaw Valley turns into a outdoor movie theater showcasing newly released films. Starting at 8:30 p.m., each week will offer a different movie, weather permitting. You are advised to bring blankets and warm clothing. This Thursday, August 10, the showing will be Ghostbusters. August 17 brings Rogue One, August 24 is Power Rangers and August 31 is Storks.
Mountainside Tahoe Stargazing with Tahoe Star Tours
For those who enjoy the beauty of a star-filled sky, The Ritz-Carlton is offering Mountainside Tahoe Stargazing with Tahoe Star Tours. Enjoy a tour of Tahoe's skies with star guide and poet Tony Berendsen. The tour includes a laser tour of the constellations, telescopic viewing, a fun space quiz with prizes, a poetry reading and more. The tour happens each Friday until September starting at 8:15 p.m. Tickets for the event cost $40 for adults and $20 for children 12 years and younger.
Sierra Forage Barn Party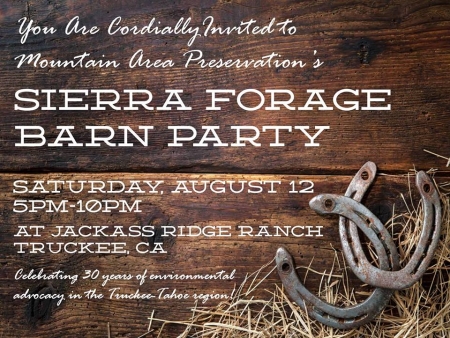 If you are ready to enjoy some community good times, join in the Mountain Area Preservation's Sierra Forage Barn Party happening at Jackass Ridge Ranch. A great opportunity to meet locals while celebrating 30 years of successful grassroots environmental advocacy work done by the Mountain Area Preservation, this is a barn party like no other. Featuring a delicious farm-to-fork dinner created by EATS Cooking Company, craft cocktails, locally handcrafted beer and wine, a silent auction as well as live music by Jenni Charles and Jesse Dunn of the world-famous local band Dead Winter Carpenters, this is certain to be a hoot of a good time. For commemorating the fun event there will be a photo booth. The party is on Saturday, August 12, from 5 to 10 p.m. Tickets for the event cost $100 per person or you may purchase a Table Sale for ten people, which includes a champagne welcome, a photo booth session for your table as well as verbal recognition at the event of your organization, business, family and friends.
Thunderfaire: Grape & Gourmet on the Lake
Thunderbird Lodge is hosting another wonderful opportunity to mingle within their walls of excellence at Thunderfaire: Grape & Gourmet On The Lake. They're teaming up 12 wineries and eight Tahoe-area chefs for a good cause of preserving Lake Tahoe's art and history, and this is a once-in-a-lifetime chance to peruse the grottoes and secret spaces of Captain George Whittell's Thunderbird Lodge Estate while enjoying the pairings of fine wines and Tahoe-focused appetizers. This event also includes raffles, prizes, a silent auction and entertainment evocative of Old World elegance. The event is on Sunday, August 13, beginning at 4 p.m. Tickets cost $195 per person.
Please visit our daytime and nightlife sections to learn about other fun events happening around Lake Tahoe this week.
Photos: Tahoe.com