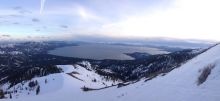 It is time to celebrate!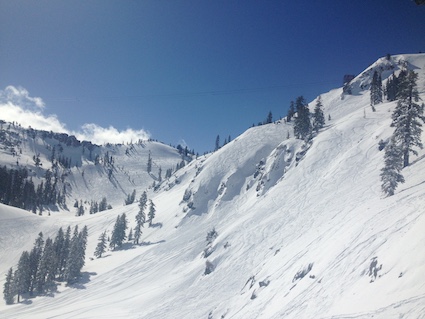 The storm gates have opened, and the mountains are getting their fair share of the winter white stuff. There is nothing that makes Tahoe locals and visitors smile more than a few feet of powder.
Luckily for all of us (and the watershed, too), it sounds like we are in for a series of storms. While snow is something that we are grateful for, it also means it's time to take safety precautions, especially for driving. 
Lake Tahoe is filled with a million fabulous ways to enjoy a winter wonderland, but the one drawback is that you have to drive to pretty much anywhere you want to go. For that reason, it is important to make the necessary precautions so that you, your loved ones and everyone you encounter on the road stay safe. Here are eight important points to consider while driving in Lake Tahoe snow.
Give your car the TLC that it deserves before heading into the mountains. Be certain that your tires are snow tires, are inflated correctly and have excellent tread, that your brakes are in great condition, that your windshield wipers clean like they are new and that your heater, defroster and exhaust system are up to snuff.
Keep your engine happy by making sure that your antifreeze is in that ideal place for freezing temperatures.
Don't skimp on your windshield wiper fluid. Go for the more expensive – but oh-so-worthy – nonfreezing formula. Your vision will thank you for it.
Always, and I truly mean always, carry in your car a set of chains that are made to fit the tires on the car (this seems obvious, but it is amazing how a horrible situation can arise when you realize your chains don't fit your new snow tires). If the need for chains presents itself, be sure that you are installing the chains on the drive wheels of the automobile, which is different for a rear-wheel versus front-wheel drive.
Get yourself a little winter goody bag. Every winter driver should have a little goody bag in their car that never leaves the premises. The bag should contain a properly working flashlight, a lighter, an ice scraper, a blanket, a pair of gloves and an extra warm hat. It's also mandatory to have a snow shovel in the car as well. These items can be literal lifesavers.
Be sure to carry some food in the car for your travels. It is common to get stuck in long-lasting traffic jams, and a little extra food can go a long way. Just be sure to remove it when you get to your destination as there is still a chance of bear break-ins, even in the winter.
Get the apps and the maps to help detail your travel. It is incredibly common for roads to close when snow falls. Be ahead of the curve by staying up to date on road changes. The CalTrans Highway Information Network (CHIN) is an excellent resource. You can see the Lake Tahoe roadways here or you can call them directly at (800)427-7623.
Just for safety's sake, be sure to have an extra key on the outside of your vehicle. It is not a good situation when you go to put on chains or dig out your stuck tires, only to find you have locked yourself out of your own car. It happens more than you might think.
Photos by Shanie Matthews