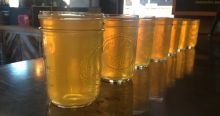 With a great day in the outdoors comes the great pleasure of enjoying a good beer. There is something special about the taste of the sweet nectar of a good lager on one's lips after a day spent enjoying the mountains. It can't be described in words – it just has to be experienced.
Luckily, Lake Tahoe has its fair share of incredibly tasty brewing companies. No matter where you are in the basin – from Stateline to Truckee, Meyers to Tahoe City – there are amazing offerings of homemade beer no matter where you are enjoying your time in this beautiful region. Keep reading to learn about eight options for crafted hops here in Lake Tahoe. Of course, there are many other places to get a great beer in the Tahoe area and you can find them all here. Photo: Courtesy of South of North Brewing Co.
South Lake Tahoe
As soon as you step foot into South Lake Brewing Company, one thing is very obvious: The owners are passionate about what they do. Brewmasters Chris and Nicole Smith built their dream brewery on the foundation of a deep love for Lake Tahoe and excellent handcrafted beer. With a business motto focused on community, good times and enjoyment, South Lake Brewing Company is one of those places that leaves a special place in your heart and a great lingering taste on your tongue. A few tastes to try: the Barret Brown that echoes the flavors of a German chocolate cake or the Marlette Blond that leaves the essences of pear, honey and tangerine. In appreciation for their love of community, South Lake Brewing Company hosts fantastic gatherings like their Boga, in which yoga meets beer, or the ever-popular trivia nights. Their website calendar is updated with the latest events.
South Lake Tahoe
If breweries and the magic that they create fascinate you, then Sidellis is a needed excursion. Dedicated to the craft of creating great beer, Sidellis' menu of beers offers a beautiful spectrum of flavors. From year-round flavors like Petey's Porter and Darwin Sour Series, which plays to the flavors of different fruits, to seasonal beers like their Bodie Ghost Town Brown Ale, the choices are fun and flavorful. For food, Sidellis offers appetizers, salads, sandwiches and sausages as well as cheese quesadillas for the kiddos.
South Lake Tahoe
Cold Water Brewery & Grill is a favorite on my list for a few reasons. First off, they were the first brewery to grace the shores of Lake Tahoe. Second, this is a woman-owned operation. Third, their beers – all brewed on-site – are some of the best-tasting crafted beers around (in my humble opinion). They offer more than a dozen flavors that range from their Preacher's Pale Ale to their Tahoe Cross IPA, from their Knock 'Em Dead Red Ale to their Hey Girl! Hey Double IPA. For a hot summer day, the favorite is their By Dad 4 Dad American Ale. They also have an ample menu that is filled with all of the comfort food a person could want, including favorites like fish and chips, burgers and salads as well as entrees such as salmon, pork chops and scallops. Beyond great food and beer, Cold Water is also known for their welcoming atmosphere that comes complete with five big-screen TVs.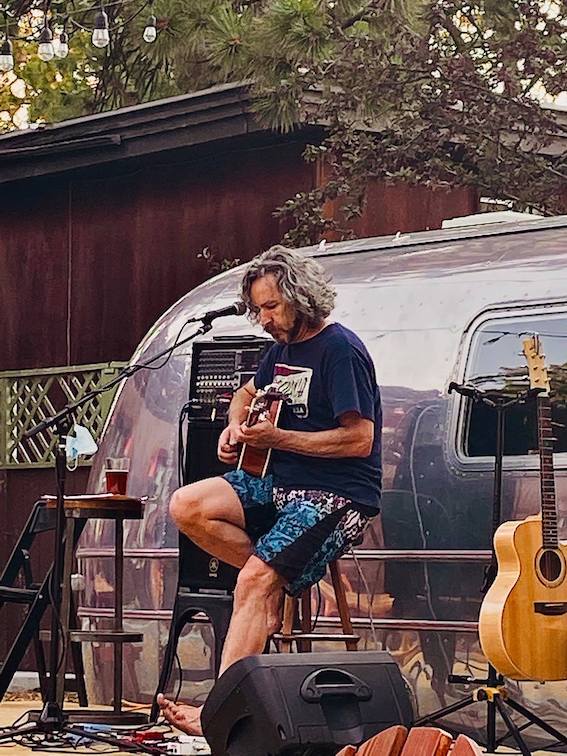 Photo: You can't go wrong with a little live music with your handcrafted beer at South of North Brewing Co.
South Lake Tahoe
What happens when you combine a chic, welcoming atmosphere with delicious handcrafted beer? You get a fantastic brewery option by the name of South of North Brewing Co. The beers are offered on a rotating basis and come in a full spectrum of styles and flavors. They also offer homemade kombucha. The partnering menu offers well-sized sandwiches, grain-based salads and appetizers like pretzels, meatballs and baked Brie. What really helps South to North stand out is their large outdoor patio that comes complete with fire pits, outdoor games and live music most nights of the week, including Tuesday Open Mic Night. South of North Brewing Co. has stylish merchandise available.
Incline Village & Truckee
With its two spacious and welcoming dining experiences as well as a separate brewery and barrel house, Alibi Ale Works is a step above the rest when it comes to brewing beer. The restaurants, or Public Houses, offer a modern, upscale atmosphere that is airy, open and great for enjoying live music. Their beer is offered in a variety of forms, including by the glass, in build-your-own flights and in crowlers, growlers, cans and bottles. In addition to hops-based beverages, they also serve wine, cider and hard kombucha. The menus at the Public Houses give opportunity to eat locally sourced California fare, making it the ultimate Tahoe experience. The barrel house is a wonderful excursion for groups of six and is maybe the best way you can truly learn about the entire process of creating handcrafted beer. Don't miss their hip merchandise that allows you to take the experience home with you. 
Bear Belly Brewing Co.
Kings Beach
If you are a fan of the nanobrewery world, then your next stop needs to be Bear Belly Brewing Company. Based on the small-batch approach, Bear Belly offers a menu of five beers that is continually changing. This simple method makes certain that your taste buds never bore of the flavors offered while at the same time assuring perfection in taste and freshness. The intimate taproom gives guests a firsthand feel of the brewing process, and the outdoor garden is excellent for both kids and dogs. Offering events from time to time, Bear Belly sources local food trucks to help keep the party going.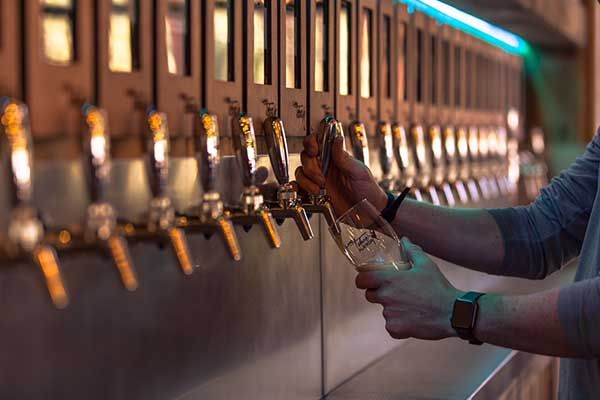 Photo: It doesn't get much better than serving yourself a great beer at Lake Tahoe AleWorX.
South Lake Tahoe
A shining star in the brewery scene of South Lake Tahoe, AleWorX is a master at bringing microbrew and pizza together. Their beers are offered in a self-serve format, and you can't get much better than serving yourself a delicious cold one straight from the tap. They also offer cider and wine, self-serve style. In addition to their giant pizzas, they also offer salads that leave you feeling satisfied. The outdoor patio is beautifully surrounded by large trees and offers a picturesque Tahoe setting, perfect for the live music they often offer. Plus, they are dog friendly.
South Lake Tahoe
Combining the brewery aspect with the appreciation for bottled microbrews from small breweries on the West Coast, Stateline Brewery & Restaurant provides a casual, welcoming experience. Beyond hops, they also offer wine and specialty cocktails. Their lunch and dinner menu is filled with burgers, sandwiches, pastas and pizzas as well as ample entrees like St. Louis-style pork ribs or filet mignon. Stateline Brewery has a large event area for groups ranging between 30 to 85 in size or you can rent the entire place for parties of up to 270 people. 
After enjoying a beer at one of Lake Tahoe's breweries, check out one of the fun events that you can discover at our Daytime and Nightlife sections.