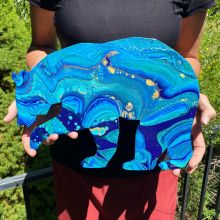 Rain or shine, young or old, playing around with crafts is a great thing to do.
The healing power of making arts and crafts is often underestimated but it is a fantastic way to support your wellbeing. Experts in the medical field are showing that participating in crafting uplifts those suffering from anxiety, chronic pain and depression. It also is known to be a great way to release stress, increase our happy barometer and (maybe most importantly) help us avoid brain aging by building new neural pathways.
Luckily for us in the Tahoe basin, we are blessed with locally owned shops and community centers that specialize in giving people access to play with their imagination in the form of crafting. Keep reading to learn about six places for arts and crafts in Lake Tahoe – they are sure to bring a smile to your face. 
Left: Acrylic pouring of Blue Bear by Ellen Nunes, featured at Wildwood Makers Market.
1. All Fired Up! Pottery Painting, Candle Making & More
A fun, welcoming environment that is all about letting the creative juices flow, All Fired Up! is a fantastic place to connect with your inner craft maker. Located in Tahoe City, it offers a huge selection of ways to play through pottery painting, chunky candle making, canvas painting, mosaics and other fun and unique projects. All Fired Up! is all about guiding you on an artistic journey. They welcome all ages and have created events for bridal and wedding parties, birthdays, gatherings of loved ones, office parties, moms' groups, team building ... basically if you have a group, they have a party to support it. The easiest way to book a crafting session is to text them at (530) 414-9034 or call (530) 584-2828. Reservations are recommended for four people or more, as seating is limited.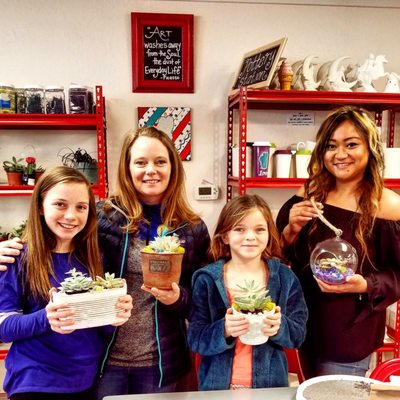 Photo: Courtesy of All Fired Up!
Situated in South Lake Tahoe, Wildwood Makers Market is a craftsman's dream. A complete DIY boutique that caters to anything handmade, it is also a fantastic information resource for making your own masterpiece. Beyond the craft kits and classroom dedicated to all things artsy, the market showcases local artists and their treasures. There is a superb offering of classes dedicated to teaching crafty ways to make things. Or if you like, they also offer the space for you to host your own class, party or event. Another fun aspect of Wildwood Makers Market is that their website offers free coloring pages to download and print for quick and easy access to getting crafty.
If you are looking for a way to learn knitting or dive deeper into the craft, then Knits & Knots is your place. With a brick and mortar store in South Lake Tahoe that offers all of your knitting needs as well as crochet and fiber supplies, Knits & Knots is well stocked to support you in this brain-enhancing activity. They also offer a virtual, once-a-week knitting class, and all are welcome to participate. The shop has partnered with knitting extraordinaire Pam Grushkin of Pam Grushkin Knits so that you can learn all about knitting from the comfort of your own home. Be sure to use the code KnitsKnotsTahoe-CA-10 to receive 10% off any class. 
Below Photo: Art by Gilberto Ramos at Wildwood Makers Market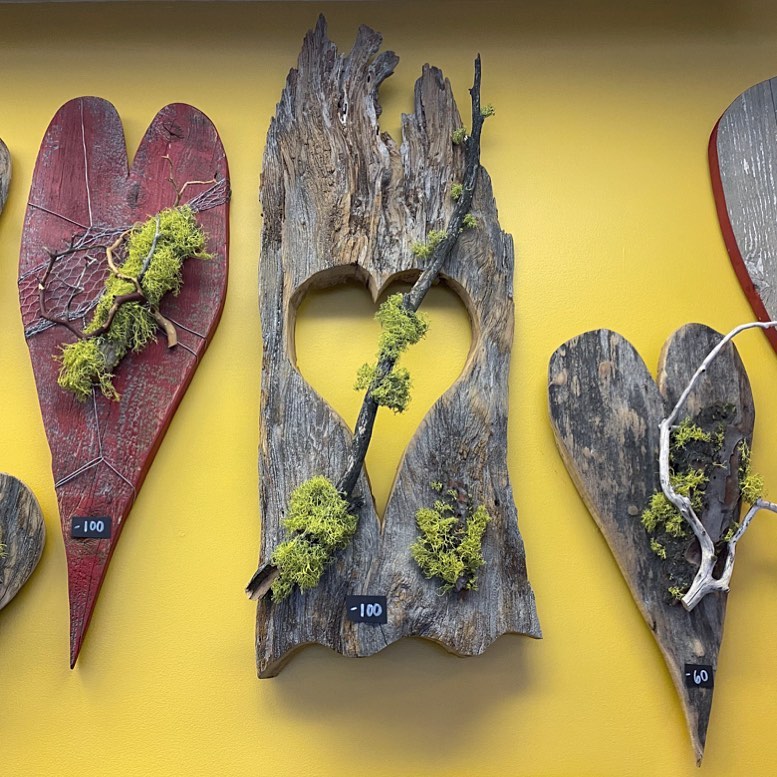 A beautiful representation of a nonprofit organization doing good work in a community, North Tahoe Arts is all about creating community through creativity; in fact; that is their slogan!. Located in Tahoe City, right on the shores of Lake Tahoe, the center supports the community through exposure to different mediums of art, education on how to create various art forms as well as participation through events and workshops. The center offers a gift shop that is packed full of one-of-a-kind treasures, perfect for finding that gift that will be loved forever. They also offer summer programs for kids as well as offer art showings that support local artisans. 
Centered in South Lake Tahoe, Tahoe Art League is another amazing nonprofit; this one has been supporting our community through the promotion of fine art and art education since 1964. Their mission statement is "To support and enhance South Lake Tahoe as a vibrant arts community for the cultural and economic benefit and quality of life for local artists and our community." To make this happen they offer free monthly art demonstrations, workshops and classes as well as an art gallery and exhibit. In further support of the community, they also help promote local artists through selling their art throughout town, participating in summer outdoor shows and funding scholarships for college students attending Lake Tahoe Community College as well as high school students attending South Lake Tahoe High School. They welcome members. If you would like to get more involved, they hold a general meeting at 6 p.m. the second Wednesday the months of February, March, May, June, September, October and November at the Aspen Room at the Lake Tahoe Community College.
If you are ready to let your inner Vincent Van Gogh loose, then Lake Tahoe Paint & Sip is ready to support you. This welcoming place empowers you in painting a picture that you will treasure forever. Lake Tahoe Paint & Sip is set up so that all you have to do is check-in, grab an apron and get ready to let your inner artist flow. They offer a delightful variety of alcoholic beverages to nourish that inner artist as well as a trained artist available to help guide you step by step as you recreate a featured painting. The sessions usually last between two to two and a half hours. Be sure to come in comfy clothes and be ready to leave with that masterpiece that has your name written on it.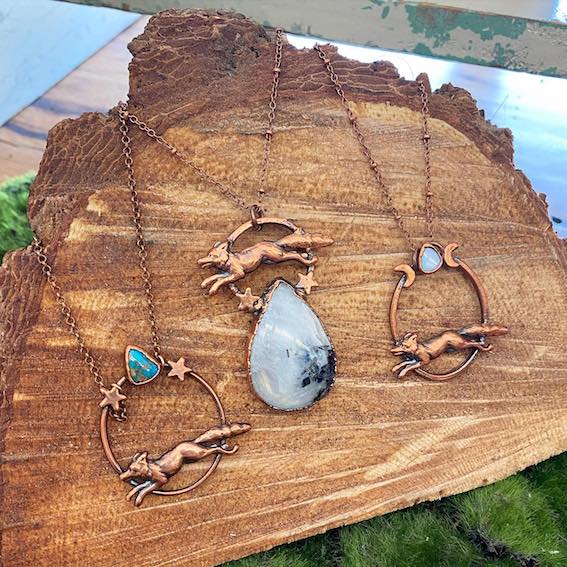 Photo: Jewelry by Rugged and Raw at Wildwood Makers Market
After enjoying your creative time, be sure to check out our Daytime and Nightlife sections to learn about other fun events to keep that smile going.
---