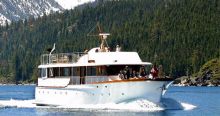 With fall already here, the temperatures will soon be dropping below a pleasant temperature for enjoying a daylong outing on beautiful Lake Tahoe. Not that you can't enjoy her splendor once Jack Frost comes nipping at our noses, but it is a different experience that requires a bit more preparation.
To help you take advantage of these lingering Indian summer days, I thought I would highlight seven different companies from around Lake Tahoe that provide unique ways to take advantage of Big Blue. It is not an exaggeration when a person says that there is something special and unique about being out on the water of Lake Tahoe. Maybe it's the serenity. Maybe it's the turquoise water. Or maybe it's something only the individual can decide. What are your thoughts?
Photo: Tahoe Cruises' Safari Rose on the waters near South Lake Tahoe.
South Lake Tahoe
Bleu Wave Cruises is one of the luxurious ways that you can float upon the waves of Lake Tahoe. This cruise company is built around their fabulous 1966 Million Dollar Classic Yacht, and the experience of the surrounding beauty is brought to an entirely higher level by setting foot aboard what many consider to be Lake Tahoe's "Most Luxurious Yacht." It might be because of the onboard fireplace. Or maybe the opulence comes from the combination of a gigantic party bow, fly-bridge and stateroom. Either way, the experience of setting off on Lake Tahoe on one of Bleu Wave's tours is one of my top outings for Lake Tahoe. The touring operation offers private excursions that are perfect for groups of up to 49 people with plenty of space being offered by the ship's 70 feet of length. Bleu Wave is also set up to provide all the bells and whistles needed for an amazing wedding. Setting sail for the north, south, east and west shores of the lake from their dock in Tahoe Keys Marina, they also offer public cruises that highlight aspects of the area like the impressive homes along Tahoe's shoreline or stunning sunsets.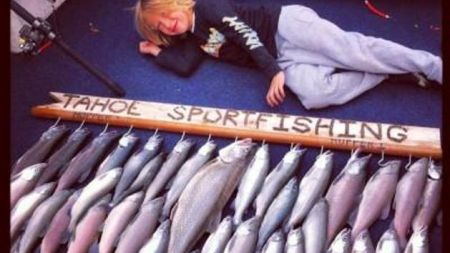 Now that is a moment of magical memories! Photo courtesy of Tahoe.com
Ski Run Marina & Zephyr Cove Marina
If you haven't experienced the thrill of fishing on Lake Tahoe, then you are literally missing the boat! Tahoe Sportfishing will support you in all of your Lake Tahoe fishing needs with their charter fishing services. Not only does Tahoe Sportfishing have the largest fleet of fishing boats in the basin, but they are also continually voted as top dog in the yearly Best of Tahoe competition. They offer many different outings including both public and private morning and afternoon fishing trips as well as morning and afternoon private charters.
South Lake Tahoe
In a class all its own, Tahoe Yacht Charters offers their own version of glamorous boating upon Lake Tahoe. With a motto of, "We are about you!" their dedication to service brings the pleasure trip to a level that competitors find hard to match. Why? This has a lot to do with their customized packages that focus in on exactly what you want. And this extends off the boat as well, as custom yacht packages include on and off vessel amenities, allowing you to have more of the fun and less hassle. They include with their yacht experiences Jet Skis, paddleboards and kayaks from the ship as well as the ability to dock at some of Tahoe's best lakeside restaurants or private beaches for cocktails and appetizers. But maybe what I like best about Tahoe Yacht Charters is that they offer on-board spa services. You can't get much better than that.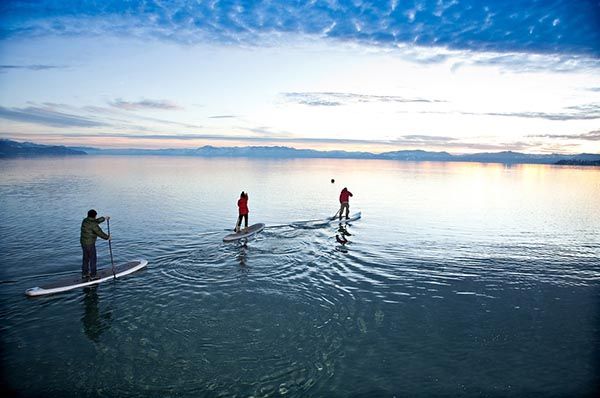 Kayakers enjoying the splendor of Lake Tahoe thanks to Adrift Tahoe. Picture courtesy of Tahoe.com
Kings Beach
There is something extra special about paddling on the pristine water of Lake Tahoe. The meditative tranquility that goes with kayaking and paddleboarding is brought to a deeper level upon these crystal clear waters. For most of us the challenge arises not in the desire to go but rather in having access to a paddleboard or kayak. Not to fear. Adrift is here. The quintessential example of a true locally owned small business, Adrift is one of those companies that is here for us locals and visitors year after year. Their beachside location makes it super simple to rent a top-of-the-line paddleboard or kayak, along with gear, beach wear or sundries. Their little shop offers its own brand-name surfwear merchandise that is inspired by the art and spirit of ancient Polynesian seafarers. They make each piece with the hope that it celebrates the adventurous mindset of these amazing men, inspiring you in your own way. As they say, "Grab a board and go adrift."
Tahoe City
Another favorite option for grabbing a paddleboard and getting out on the water with ease is Tahoe City Kayak. A kayak and paddleboard rental, touring and sales operation with 17 years of proven reliability, Tahoe City Kayak not only gets people out on the water and smiling, but also guides them to the very best that Lake Tahoe has to offer. With superior customer service, this small, locally owned guide and rental service does what is necessary to help each customer have the best experience possible. For example, they will hand deliver your kayak or paddleboard to the destination of your choosing. It doesn't get much more simple than that. 

Tahoe City Kayak helps you get up close and personal with the fauna of Lake Tahoe. Photo courtesy of Tahoe.com
South Lake Tahoe
Maybe mentioned last, but definitely not least when it comes to cruising Lake Tahoe in luxury, Tahoe Cruises' Safari Rose is voted by locals as the best cruise on Lake Tahoe. Offering daily cruises aboard their impressive Safari Rose (and so aptly named to match her beauty), the outings venture to Emerald Bay and along the south shore of the lake, with evening excursions giving attention to sunsets. The Safari Rose is a ship with a prestigious history, being originally built for the 3M Corporation (known for their Scotch Tape). The yacht is an impressive 80 feet long and 20 feet wide and offers six bathrooms, three staterooms, a dining room, a heated salon with leather couches (perfect for those cooler days), a forward bow with cozy seating, a full bar as well as an enclosed fantail and upper sun deck. And to top it off with a safety cherry on top, the vessel is captained by a Coast Guard-licensed Master Captain and crew. In addition to their daily public cruises, they also offer private charters.
Incline Village
A longtime provider of fun on Lake Tahoe, Action Water Sports (or AWSIncline if you're in the know) is nearing 25 years of helping families, adventure enthusiasts and thrill seekers get out on Lake Tahoe. From slow, private cruises that take in the peacefulness of the area to high-speed power boats that will get your adrenaline pumping, AWSIncline is here to please. Their power boats range in size, with some even coming with their own captain and a setting that holds up to 13 passengers. They also offer kayaks, paddleboards, catamaran tours, parasailing, wakeboarding, wake surfing and water ski lessons.
Be sure to pair you incredible day on Lake Tahoe with one of the amazing events happening around the lake. Check out our Daytime and Nightlife sections to learn more.