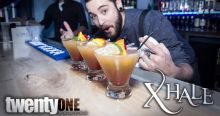 Lake Tahoe is known as an outdoor paradise, but what many may not realize is that Lake Tahoe is also rich in activities once the sun goes down. Between Truckee, North Lake Tahoe and South Lake Tahoe, there are plentiful options for getting out and enjoying nightlife Tahoe-style, from live music to magic shows, from boisterous sports bars to all-night casinos. This post is dedicated to seven of my favorite places to check out when enjoying life stretches into the late-night hours.
Xhale Bar & Lounge in South Lake Tahoe is built around the motto of enjoying life and that it's time to start living. In fact, they have built the entire place on the premise of making it a playground in which you can play as hard as you work. Their form of play comes in three offerings. The first is their amazing hookah lounge. For those who have yet to try this leisure-time activity, partaking in the hookah is like stepping into a far-off land of mystery and intrigue. Known to set your entire nightclub experience into overdrive, the hookah is a water pipe for smoking flavored tobaccos. Xhale makes the experience that much better by offering a huge assortment of hookah flavors to try. The second form of play they offer comes in the form of their exceptional bar and their impressive staff that hustles to serve you your drinks. The third way they are certain to bring a smile to your face is their live DJ that knows how to get the crowd moving. Just like the name suggests, Xhale is all about letting loose and enjoying life ... one hookah at a time.
Grand Lodge Casino, located within the Hyatt Regency Lake Tahoe in Incline Village, is one of those rare combinations offering world-class gaming set within an atmosphere that can truly be called upscale mountainous tranquility. With the setting of a traditional alpine lodge, the Hyatt Regency is a place of opalescent glamor. It's a luxurious 422-room resort that is literally nestled into the wilderness of Lake Tahoe's serene north shore. The granite stone accents, hand-carved timber beams and oversized hearths offer the atmosphere of rustic elegance that partners, in an interesting way, perfectly with their 20,000 square feet of games like slots and video poker as well as 16 blackjack, craps and roulette tables. Beyond the high-end gaming experience, Grand Lodge Casino is also home to incredible restaurants, a relaxing spa and a huge staff ready to be at your beck and call.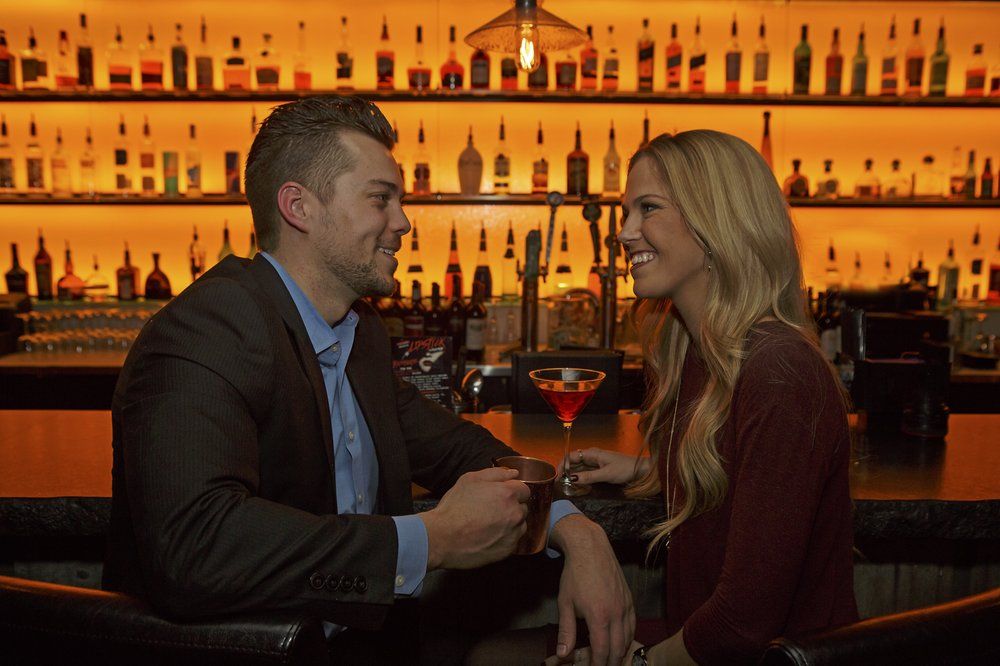 The Loft is a marvelous choice for spending quality time with that someone special. Photo Tahoe.com
You can't go wrong bringing a little magic into your life. To help make things easy, The Loft Theatre, situated in Heavenly Village, provides nightly award-winning live magic shows created by different magicians from around the world. Their show is ranked as one of the best acts to see in Lake Tahoe by "Best of Tahoe" and is considered to be high-energy and fast-paced. There are two shows offered, with the first focused around family-appropriate material and acts that children would enjoy. The later show is perfect for the adults out there looking for a little fun. I like to think of it as a great excuse for date night. Connected to Magic Fusion is The Loft's superb restaurant that highlights American tapas as well as handcrafted gourmet dishes created by their culinary magician, Frank Trotta. After the magic show and dinner, The Loft turns into a fantastic place to kick back with a lounge-like setting complete with great music and a full bar. They also offer trivia nights from time to time.
This is a place where everyone can come together to cheer on their favorite sports team. A longtime favorite hangout for locals in Incline Village, Rookies is all about celebrating sporting events – those known and little known. With their 30 HD TVs, it's pretty much a certainty that you will be able to watch the game you are looking for while enjoying the company of others cheering alongside you. For those looking for a live music scene, Rookies offers shows on some Thursday nights. Beyond entertainment, Rookies also shines with their tasty all-American menu, serving breakfast, lunch and dinner options that will make even the pickiest eater happy. Be sure to keep an eye out for their daily specials, like their half-priced burgers on Tuesdays or Wing Wednesdays. Their menu also takes a turn toward Italy with a separate kitchen for making pizzas. The bar is fully loaded and comes with video poker seats as well as an outdoor space ideal for enjoying Lake Tahoe stillness when the time calls for it. One of the greatest aspects to Rookies is that they have thought of the kids, too with their large video and arcade game room, perfect for any age. Rookies is open 24 hours a day, seven days a week, with the youngsters allowed to stay until 10 p.m.
I am going to rank Moody's as my all-time favorite place to remind myself that mountain girls are classy, too. The ambiance is plush. The setting is vibrant. And the live music makes me feel as if I could be listening to musicians in New York City. Maybe because Moody's was designed with the hopes of giving guests access to the casual supper club feel of the 1950s with a trans-generational style. In my opinion, they have greatly succeeded, and this has translated into Moody's Bistro being the place to go for meeting the hip people who call Truckee home. Filled with a warm ambiance and welcoming vibe, Moody's is known for super-innovative cocktails, incredibly delicious recipes that bring together the farm-to-table experience as well as a live music selection (Thursday through Sunday) that pays respect to sounds like jazz, funk and spoken word. One of the greatest aspects to Moody's is that their live music shows are always free. One word of advice, though: The free music makes getting there early important if you are hoping for a good seat. One way of making that a simple task is to enjoy dinner there first and then carry the evening on into the live music. Their impressive kitchen offers menu items that are considered regional mountain cuisine, giving appreciation to tastes like ahi poke, brick oven pizzas, lamb shanks and wild game, fresh seafood and organic beef. One other great aspect to Moody's is that it makes for a superb starting point if you are going to do the Old Town Truckee bar crawl, as it is perfectly positioned to be a great starting point.
Just hanging out at the Bloom Lounge. Photo courtesy of Hard Rock Hotel & Casino Lake Tahoe
You can't go wrong with a Hard Rock Casino. With a reputation for knowing the beauty of rock and roll and celebrating it the world over, the plethora of Hard Rock Casinos around the globe make a recipe for success. One of the newer resorts to South Lake Tahoe, our version of the Hard Rock vibe is one for the senses. The gaming area is mesmerizing with hundreds of gaming machines like video poker and slots as well as nearly 30 gaming tables dedicated to blackjack, craps, roulette, different forms of poker and a sportsbook. They also have one of the more impressive casino nightclubs, where many big names have been known to grace its stage as well as their infamous Bloom Lounge that has been known to make a local, or two, miss their alarm for work the next morning.
Otherwise known as the Crystal Bay Casino, the CBC is one of the best places on the north shore to see live music (especially in winter). It's also known by locals to be a great place to go for late-night shows and debauchery. The casino keeps the action flowing all night long, and the CBC's classy ambiance keeps people feeling lively and uplifted. They offer all forms of gambling entertainment, including blackjack, craps, roulette, slot machines and a sportsbook. They also have a large concert room, The Crown Room, where you will find premier performances by artists from all around the globe. This once-upon-a-time bowling alley makes for exceptional acoustics with a state-of-the-art sound and lighting system as well as a dance floor that will make you want to get up and boogie. They also have a smaller bar, The Red Room, that offers the late, late-night live music shows and smaller performances. For hungry bellies, the CBC also has a five-star steak and lobster house.
Be sure to keep an eye out on our Daytime and Nightlife sections to learn about events at these amazing locations as well as other businesses all around Lake Tahoe.