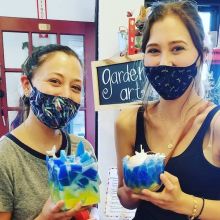 One of the things that I love most about Lake Tahoe is the plethora of locally owned shops that offer unique and special holiday gifts. From handmade treasures to top-of-the-line outdoor gear, Lake Tahoe stores give pleasure not only for the person receiving a gift, but also for the person giving. It's just plain fun shopping all of the great stores that we have around Big Blue.
With the holidays upon us, I thought it fitting to do a blog post on seven of my favorite places to shop for gifts. When it comes down to it, I want to know my loved ones will not only be excited when opening their gift, but also treasure it for years to come. The Lake Tahoe shops have never let me down. In all reality it is difficult to choose which shops to focus on because there are so many great stores to visit, but here we go. Click on the name to find more information about the business.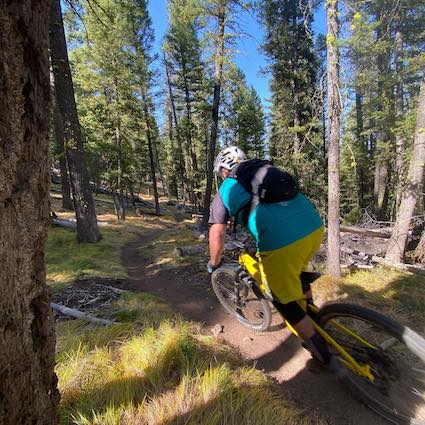 If someone you care about is getting into (or is a longtime lover of) backcountry skiing or mountain biking, you must check out The Backcountry in Truckee. Owned by longtime local Mike Schwarz, The Backcountry is a trusted place for finding gear. A backcountry ski or snowboard set up (including the extensive list that involves, like the special boards, bindings, poles, pack, shovel, probe, avalanche transceiver, climbing skins, goggles, hat, spring gloves and high-energy food, for example) or a mountain bike (plus the necessary amenities) are big purchases. It is reassuring to know that you can trust the place where you spent that pretty penny. Because, like it or not, sometimes things go wrong. For example, The Backcountry offers lifetime tune ups on all of the mountain bikes they sell. This can save thousands of dollars in the lifetime of a nice bike. One of my favorite aspects of this three-decade-long provider of toys for the outdoor adventurer is that they are also the place to go when wondering what trail or backcountry ski is serving up the best fun to be had.
Wanda's is built on the love of creating that special gift for the person you care about most. Owner Sahra Otero is talented at curating the perfect gift basket or finding a locally handcrafted gem that will be treasured forever. This little adorable boutique is also a favorite place in Tahoe City for getting a fresh bouquet of flowers or live plant, a gift that never fails to bring a smile to a person's face.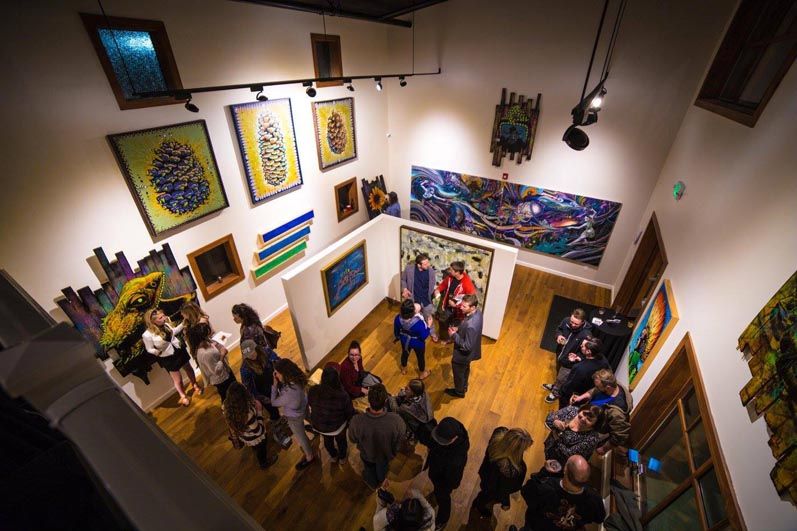 If you are looking for a piece of art that showcases the beauty of Lake Tahoe, look no further than Benko Art Gallery in South Lake Tahoe. Home to a variety of talented artists, the fun and eclectic gallery features a multitude of mediums. From stunning images that offer a keepsake of Mother Nature's beauty to pine cone art, from blown glass to woodcraft, Benko Art Gallery gives homage to the huge spectrum that is art and that translates into making it the perfect place to find a gift. 
I love Bluestone Jewelry because of their locally designed, custom jewelry. They have different jewelry collections to choose from that specifically highlight the beauty of Lake Tahoe. Beyond jewelry, they offer fine art photography and paintings as well as unique glassworks. Bluestone has two stores – in Tahoe City and Truckee.
A little shop in South Lake Tahoe that deserves a special shout out is Cabin Fever Gifts. Known for their Tahoe souvenirs, this quaint local shop offers gifts that you literally can't find anywhere else. They have fun stocking stuffers like magnets, key chains, ornaments, shot glasses and, my favorite, the oh-so-popular, hand-carved wooden Lake Tahoe bear. They also carry a fantastic selection of hard-to-find books written by local authors that highlight the amazing stories of Lake Tahoe. Cabin Fever Gifts also has presents for your sports lover, along with clothing and personalized mementos. 
I love Tahoe Oil and Spice because they have an impressive selection of olive oils from all over the world as well as flavored oils, with tinges of herbs, fruits and peppers. They also carry flavor-infused balsamic vinegars and traditional balsamic from Modena, Italy. You can also find yummy stocking stuffers like honey, jams, flavored teas, spices, rubs and pasta. They even will make up an adorable, customized gift basket for you.
There is something extra heartwarming about a homemade gift. All Fired Up! Creative Studio & Gift Shop in Tahoe City makes creating your own Lake Tahoe gift super simple. All Fired Up! is a sanctuary for creation in the form of pottery, painting, candle making, mosaics, succulent gardens, canvas painting and maybe the most fun of all, slime making. This is the place to let your imagination go wild, letting you be the creator for that gift that will be treasured forever. All Fired Up! invites all ages and artistic abilities as well as individuals or groups. Another fun fact: You are allowed to bring your own wine or beer to help in getting your creative juices flowing.
Happy Holidays!
Please be sure to check out all of the fun and entertaining holiday events happening throughout the Lake Tahoe area in our Daytime and Nightlife sections.
Photos, top to bottom, courtesy of All Fired Up!, The Backcountry, Benko Art Gallery and Tahoe Oil & Spice