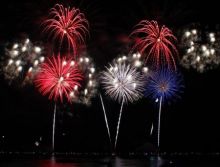 The 4th of July celebrations are just around the corner. This is THE biggest weekend of the year in Tahoe, so it is mandatory to have some sort of plan of what you are going to do and to arrive early at everything. With people coming to Lake Tahoe from far and wide for Independence Day festivities, the roads become congested, the hotels fill up quickly, and the restaurants are packed. But there is one thing that all of this coming together does: It creates a fabulous, festive atmosphere.
Whether you are on the north side or south side of the lake, there are many ways to participate in celebrating the independence of this great nation. Here are six ideas to get your plans started.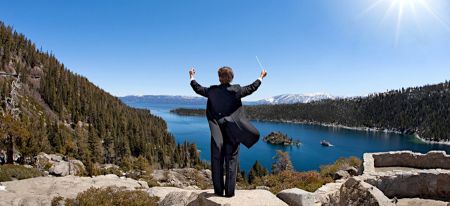 Toccata-Tahoe Orchestra and Chorus's 14th Annual Bops Concert: A beautiful way to start your 4th of July celebration is by attending the Toccata-Tahoe Symphony Orchestra's 14th annual Bops concert. A masterpiece of musical showmanship, the evening is conducted by Maestro James Rawie and is a performance that highlights our patriotic colors with full orchestra and choral performances. Included in the evening is a tribute to the armed forces as well as the opportunity for a raffle winner to conduct "The Stars and Stripes Forever." There will be opera favorites, moments of cherished sing-alongs and the opportunity to enjoy Lake Tahoe at her finest. Tickets cost $30 for adults and $25 for seniors, and entry is free for youth younger than age 23. If you prefer front and center tickets, the cost is $40 for adults and $15 for youth. The music runs from 7 to 9 p.m.
July 3rd Fireworks & Beach Party: Start your Independence Day celebration on July 3 at the 40th annual July 3rd Fireworks & Beach Party, which will take place from 7 to 10 p.m. at one of Tahoe's best beaches, the Kings Beach State Recreation Area (KBSRA). The Beach Party is open to all ages, and admission is free. Enjoy three delicious food vendors and a beer/wine garden. The event is capped off by a dazzling fireworks display at 9:30 p.m. shot from just off the shore of Lake Tahoe.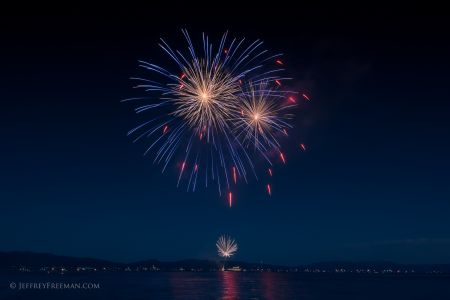 Independence Day Celebration at Edgewood Tahoe: If you would like to take your glorious Lake Tahoe 4th of July experience to lofty levels, then you must put Edgewood Tahoe on your radar. This is a full day of excitement, with the daytime filled with water enjoyment and the evening saturated with delicious food, drinks and the highly anticipated Lights of the Lake Fireworks Show. The soiree offers a gourmet buffet, drinks, party favors, special games and activities and one of the best views going for the fireworks. Tickets for the event are $225 for adults and children ages 11 and older, $75 for children 10 and younger. The event begins at 8 a.m.
Tahoe City's Annual Fireworks Show: Now in its 74th year, Tahoe City's Annual Fireworks Show is a favorite among locals for its ease (due to being able to ride your bike into town) and for the ample space to check out the fireworks on Commons Beach, not to mention the plethora of party options after the fireworks. This year the fireworks show also includes music from DJs Dennis & Kandy as well as fun souvenirs and a spectacular Dyno-Mite Big Bang fireworks show. This event runs from 11 a.m. to 10 p.m. and is for all ages.
Kayak Fireworks Tour: If you are looking to do your fireworks celebrations a little differently this year, try doing a sunset paddle with Tahoe City Kayak. You'll get the benefit of a lovely guided excursion while also getting to enjoy the fireworks as you leisurely paddle back. This may be one of the better ways to watch the fireworks, as it gives you the best vantage point. The kayaks depart at 7 p.m. A single kayak costs $65, and the double kayak costs $130 to rent.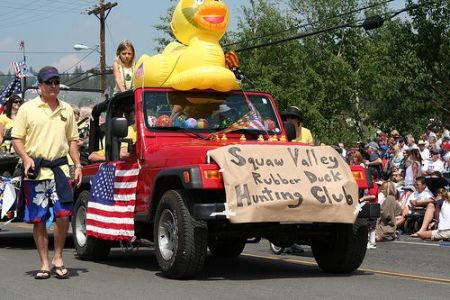 Truckee's 4th of July Parade: You can't have a 4th of July celebration without a parade. Truckee happily obliges with their rendition, which begins just east of the high school on Donner Pass Road and continues through Historic Downtown Truckee. The fun begins at 10 a.m. and runs until noon.
To learn about other ways to enjoy your 4th of July celebration, please visit our Daytime and Nightlife sections.
Photos courtesy of Tahoe.com.