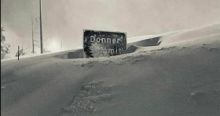 Lake Tahoe is a true winter wonderland at the moment.
In fact, we have already broken the 50-year record for December snowfall. Incredible snow total amounts are being reported. For example, the UC Berkeley Central Sierra Snow Lab showed a whopping 193.7 inches for December, blowing away the closest contender from 1970 at 179 inches. This amount of snow is creating a landscape that is stunningly beautiful – but also treacherous if the proper precautions are not met. The importance of having the necessary tools, making the right decisions and being aware of the dangers can literally save your life.
In appreciation for the power of Sierra winter storms and to hopefully help you enjoy your holidays during this incredibly fruitful storm cycle, this post offers six tips for staying safe during Lake Tahoe storms. If you have other tidbits that will help people stay safe and sound, please feel free to share in the comments below. 
Bring Layers
Obviously, with a lot of snow comes some cold weather, and with this series of storms the temperatures are colder than normal. When it comes to staying warm, it is all about layers. But not just any layer. Try to be sure that your base layers are not cotton and have the ability to wick away sweat. As the saying goes, cotton kills. This is a true statement and can make or break having to deal with a super chilly situation, that god forbid, could turn into frost bite, hypothermia or, in extreme cases, death. To keep yourself toasty warm, make sure that your outer layer is waterproof as well. In these extremely cold situations, a down jacket is fantastic. Be sure to have a warm hat, as a lot of heat escapes through the head. Also be sure to have an extra set of gloves, because wet gloves mean cold fingers.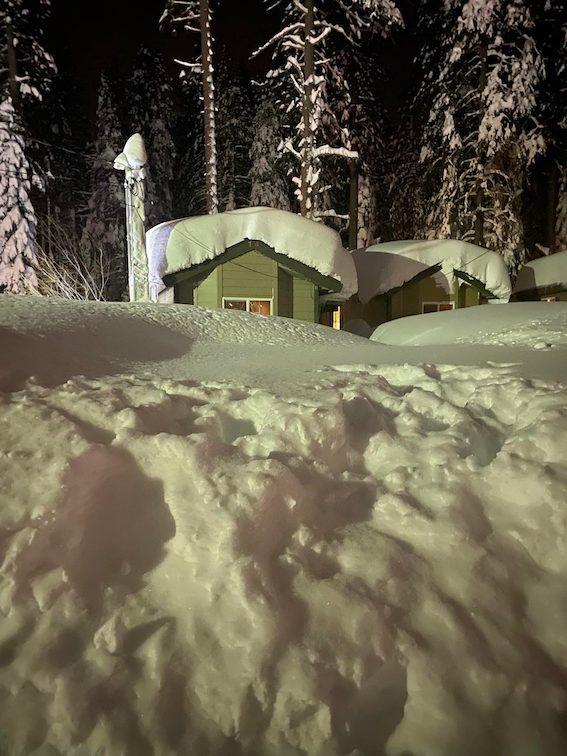 A few more days of snow, and this house might be buried completely. Photo credit Micah De Silvia
Check Road Conditions 
Traveling to Lake Tahoe for the last few days has been incredibly dangerous. In fact, most of the highways have been closed at one point or another in the last few days. That includes Highways 50, 80, 88, 89, 267 and 431. This usually leaves access to the basin via Spooner and Kingsbury grades only. Beyond closures, the roads are often congested and slow moving. Knowing what roads are closed as well as the conditions of the roads can help you avoid a very lengthy, boring and cold waits in traffic jams. To stay connected with the who, what, when and why of highway closures, CalTrans has a reliable website to use. 
Get Ready for Power Outages
Power outages are a very common occurrence when the snow flies with such ferocity. Be sure that you are set up with the extra provisions necessary to keep your loved ones safe, such as flashlights, candles, blankets and firewood (if your house has a wood stove). Not having access to heat and light can be an overwhelming endeavor in a stormy situation. Knowing that you have supplies on hand and knowing where they are can make a scary situation turn into a fun adventure.
When your snowed in, the supplies you have are everything. Photo credit Eric Gellerman
Come Prepared
During these crazy storms, the locals find it very helpful for visitors to stay home and wait until the storms subside, if at all possible. But if you can't wait and now is the best time for you to come to Tahoe, please be sure to have yourself properly set up. Beyond warm clothes that you can layer, be sure to have the supplies that will make your trip that much better, such as a supply of food (most of the grocery stores tend to run out of goods during big storms), extra fuel (gas stations are also in low supply), a shovel for your car in case you get stuck as well as chains for your automobile. Also be sure that your car is up for the task and is winter ready with excellent snow tires, below freezing windshield wiper fluid and topped off antifreeze.
Be Aware of Fresh Snow Etiquette
There are a few rules to driving a car during big snow storms that many people may not know about. One of the biggest rules is to be sure to clean off the top of your car so that you aren't driving around with huge amount on the roof. It may look silly and seem like an extra effort that isn't needed, but leaving snow piled on a car is incredibly dangerous. The snow sliding off the car and crashing to the ground can create devastating effects – like broken windshields of the car behind you as well as traffic accidents. Another point of importance is to be aware of the drivers around you. If you are choosing to drive below the 25 mph speed limit that applies to all snowy roads, please be aware of the number of cars behind you; pull off safely to let others pass if you holding up five or more cars.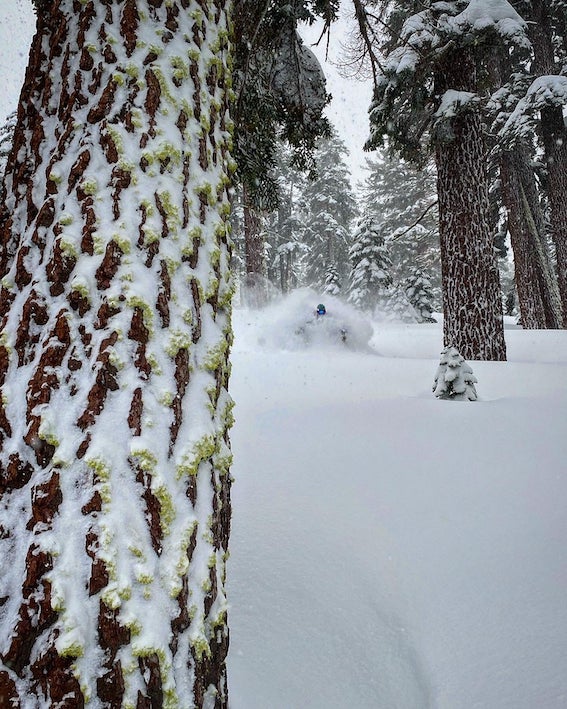 Skiing in the backcountry with a buddy is the best for creating a trustworthy friendship. Photo credit Robb Gaffney
Have a Buddy
One of the most important aspects of staying safe in stormy, winter conditions is to be sure that you aren't alone. If you are doing anything outdoorsy like going for a walk, heading to a ski resort, skiing in the backcountry or going for a cross-country ski, please don't go alone. Having a buddy can literally be a lifesaver. At this writing, Northstar was in the midst of searching for a missing skier who disappeared Christmas Day. He was riding alone and was last seen heading up an inbounds chair. This is a tragedy that can be avoided by having a partner you can trust out in the elements with you. You never know when that extra set of hands may be needed.
While enjoying our winter wonderland, check out the fun events that are happening despite the raging weather via our Daytime and Nightlife sections.
Wishing you a very joyful and happy New Year!