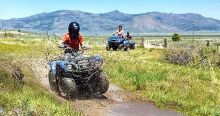 Enjoying the great outdoors can sometimes be intimidating, especially in Lake Tahoe, where so many options await.
The activities that are ready to be experienced are numerous, and the skills and equipment that go with them can be time and money intensive. From going for an epic mountain bike ride to rafting the clear, green waters of the Truckee River, from hang gliding with the birds to rock climbing the sheer granite cliffs of the Sierra Mountains, the adventures are seemingly unlimited. And that is why the many guides who call Lake Tahoe home are so important in our small community. These awe-inspiring men and women are a big part of the reason why so many visitors have such a great time experiencing this amazing place. 
The collective experience amongst the contingency of guides around Lake Tahoe is quite impressive. Not only do we have have world-renowned guide services that offer mind-blowing adventure in a safe and secure way, but also we are blessed with some of the world's best guides living here full time. 
To highlight some of the companies that help make Tahoe the special place she is, I thought I would dedicate this blog post to six guide companies that deliver when it comes to making the most of all that Lake Tahoe has to offer.
If you are looking to remove yourself from your everyday worries and stresses, then Explore! Sierra Touring Company is the guide company for you. Specializing in giving their guests that uniquely personalized experience that helps a person forget about the treadmill of life and bask in the glory of the Sierras, their trips are devoted to making sure guests are enjoying themselves. Voted as one of the state's best outdoor adventure guide companies, Explore! Sierra Touring Company is all about showing you excitement through the lens of an ATV or snowmobile, depending on the season. The company can host excursions for groups as large as 60 people and has adventures for all levels of abilities. One other prime bonus: With Explore! Sierra Touring Company you have exclusive access to their private, 1,500-acre Diamond S Ranch. A place with immense history from the early pioneer days, the property includes an original Dutch-style barn built in the 1800s that has been converted to a Sierra Valley History Museum filled with memorabilia from the 19th century. Their guided adventures and private land are perfect for the individual, couple or family as well as corporate outings, bachelor/bachelorette parties, family reunions or any other reason to gather and enjoy.
There is nothing quite as uplifting as soaring with the birds. Enjoy this exhilarating experience with Hang Gliding Tahoe. The company utilizes powered hang gliders (also known as a Weight-Shift Control Trikes). Considered an FAA-approved light-sport aircraft, this flying machine operates very similarly to a traditional hang glider but is powered by a small Rotax aircraft engine. The outing is not only a passenger experience, but also an interactive flight lesson. The hang gliders have a seat for the pilot and a seat for the student, but the company also offers trips for couples or other groups of two by providing two aircrafts flying at once. Flying in your own bird with your own qualified FAA instructor, you can radio back and forth with your partner to make the entire experience fully interactive.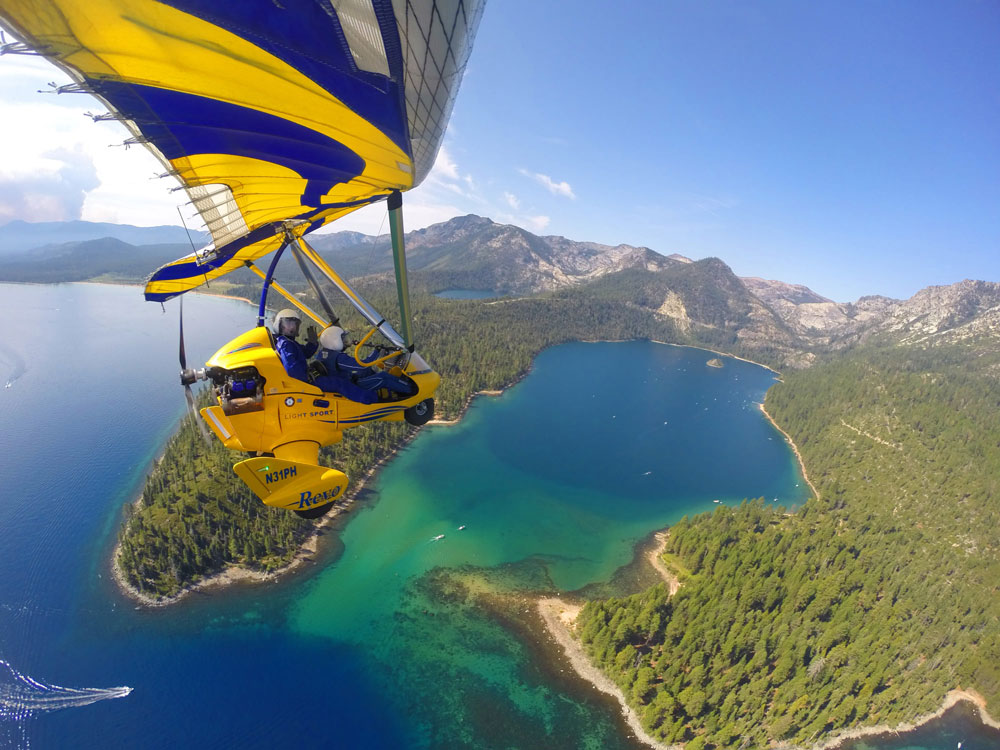 Flying above Lake Tahoe is a magical experience never to be forgotten.
If you are looking for a one-stop-shop for all of your adventure needs, Tahoe Adventure Company is a great bet. Offering guided excursions for almost everything Tahoe has to offer, their trips include rock climbing, kayaking, mountain biking, hiking, paddleboarding as well as full moon tours, star tours and sunset outings. In the winter Tahoe Adventure Company specializes in snowshoeing fun. The outfit is ready to set you up and get you out there whether you are in a large group or small, and they are able to create custom adventures as well as multi-sport adventures. Beyond their impressive array of guide offerings, they also offer team-building workshops and will even deliver rental gear to the place you're staying. A new tour that they are offering this year is a lovely 1.5-mile paddle to Thunderbird Lodge, where, as an exclusive guest you will enjoy relaxing and snacks as well as a guided tour of the Whittell Estate, Lighthouse Room, Old Lodge, maids' quarters and the original kitchen. You will also get to experience the spooky underground tunnel that connects the infamous Card House to the Boat House, where sits the astounding yacht, Thunderbird, built by the late George Whittell in 1939. You will also have the chance to enjoy the Dragon's Tail Path that wanders past waterfalls and the fountains of the Cook and Butler's House. This alone is a trip worthy of coming to Tahoe for.
What could be better than flying through the tippy tops of giant Jeffery pines? Not much in my humble opinion. Ziplining through the gorgeous Tahoe forest is an experience that should not only be experienced by our feathered friends. Luckily Tahoe Treetop Adventure Parks, located in the Granlibakken area, is allowing us humans to feel the thrill of flying through trees, from platform to platform. Each span is a varying distance, speed and drop, with interesting obstacles to play with as well. They also include bridge spans that offer the full spectrum of wobbly to simple to super hard. The choice is yours. Within the Aerial Adventure Park they offer vertical climbs, incline ramps and more ziplining. They also have other fun features to play with like swinging logs, tightropes, cargo nets, horizontal climbing walls and more. Tahoe Treetop Adventure Park is a sanctuary of fun and enjoyment for all levels of athleticism as well as age (minimum age is 5 and maximum weight is 260 pounds), with courses that are rated easy up to super-duper challenging. The interactive course usually takes around two and half hours to complete. Please be sure to reserve your space prior to your treetop adventure.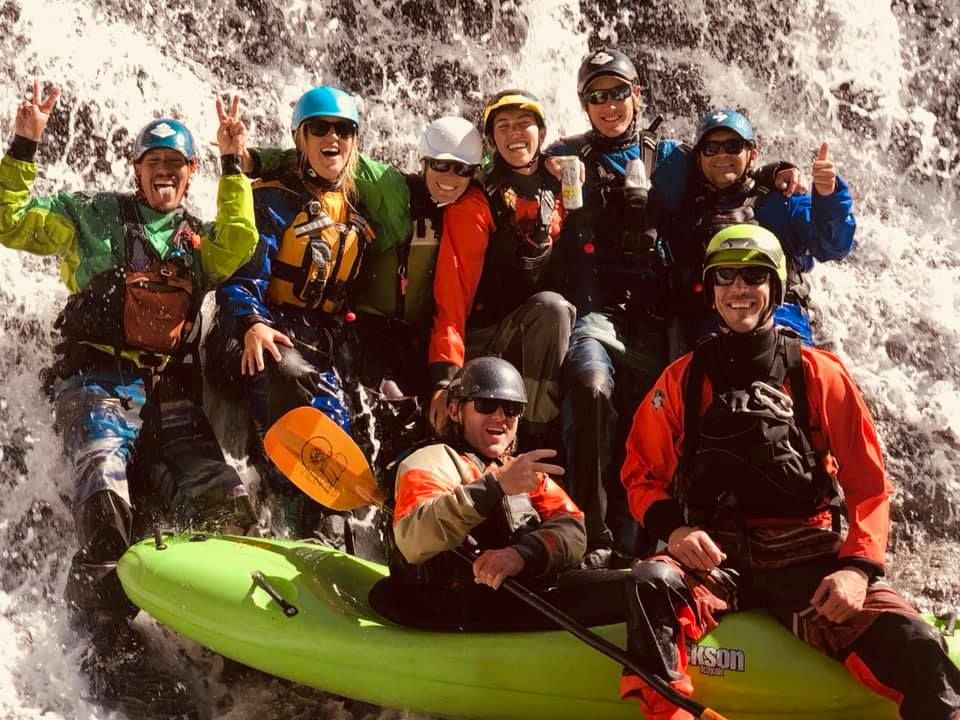 You can't help but smile rafting with IRIE. Photo courtesy of Tahoe.com
There is just something about river rafting that brings a smile to a person's face. IRIE Rafting Company excels on delivering happiness when it comes to guiding down rivers. Working various bodies of water, they offer trips from the Lower Truckee Gorge to the Middle Fork of the American. With a variety of types of trips offered, including half day, full day and multi-day wilderness excursions, they make enjoying our precious rivers simple. Their floats vary from super mellow to class III and IV. To make things even easier they offer discounts for non profits, large groups and military families. But what I may love about IRIE most is that they are deeply involved in keeping our rivers healthy. They offer on-river education programs that help people learn about our local flora and fauna, geographical history and preservation techniques. Additionally, they participate as much as they can in making a small footprint by recycling, serving organic food, supporting environmental organizations, participating in local river clean-up days and being a part of the Leave No Trace movement. 
A treasure of the Sierra Mountains that surround Lake Tahoe is that they make for impressive backcountry skiing in the winter and fantastic rock climbing in the summer. From Truckee to South Lake Tahoe, there are hundreds upon hundreds of lines to ski or snowboard. Magically, many of these lines turn to rock climbing come the melting of the winter's snow (especially in the Donner Pass region). These lines vary in technicality and difficulty as well as angle and aspect, making knowing the area as well as the ever-changing snowpack a pure necessity. Thankfully there are guide services in Tahoe that are created by longtime locals like Tahoe Mountain School. An educational center based on teaching all the various tools and tricks for staying safe in the mountains, Tahoe Mountain School is made up seasoned veterans who know our mountains. They offer guiding in the form of one-day and multi-day programs. The programs are all set up to be low ratios of students to teacher, making the guided experience that much more special and educational. 
After your guided adventure, pair it with one of the entertaining events happening in Lake Tahoe. Check out our Daytime and Nightlife sections to learn more.
First photo courtesy of Tahoe.com