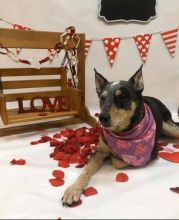 What does Valentine's Day represent to you?
For some it is nothing more than a commercial means of selling things. But if you look at Valentine's Day in another way, it could be the prompting needed to improve your life and relationships.
According to research studies, "Gratitude has been shown to contribute not only to an increase in happiness health, and other desirable life outcomes but also to a decrease in negative affect and problematic functioning, including in patients with neuromuscular disease, college students, hypertensives, patients with cancer, healthcare providers and early adolescents." So if we look at Valentine's Day as not just another opportunity to buy something for our loved ones, but instead as a way to show gratitude to those we care about, then we are not only improving our lives and others.
Giving thanks for the loved ones in your life this Valentine's Day is easy if you are in the Tahoe area. There are so many great events happening that surround this day of gratitude. Let's look at six that are sure to up your smile meter and increase your joy and well being.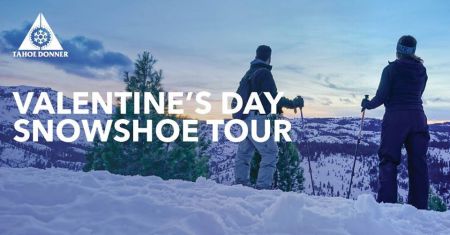 An event for the pooches, this get-together is thrown by the Truckee-Tahoe Pet Lodge. Dogs will enjoy a day of fun and exciting activities, and each pup will be sent home at the end of the day with a delicious red velvet pup-cake and a framed picture of him or her. 
Joining together in a mealtime setting is a wonderful way to show gratitude. Alpine Union Bar & Kitchen is offering an all-day affair for doing just that. The meal includes a warm spinach salad, lobster- and crab-stuffed halibut and coffee gelato diablo for dessert. The Valentine's Day feast begins at 11 a.m. and runs until all the scrumptious food is gone.
Created to show gratitude for all Tahoe Rim Trail Association (TRTA) members, this is a fantastic way to get outside and enjoy the beauty of Lake Tahoe. The event includes a short and scenic snowshoe trek that will lead you to Castle Rock and onto the Kingsbury North Trailhead. The 3-mile adventure will lead you to incredible vistas with a moment of appreciation for the sunset. There will also be tasty goodies including wine, cheese, crackers and grapes to make the event that much more special. You must be a TRTA member to sign up for this free event.
If you aren't a member of TRTA but still want an outdoor adventure to do with your special someone, look no further than Tahoe Donner. The association is offering a guided snowshoe hike on Tahoe Donner's cross-country ski trails. The outing will include a drink and appetizers at Alder Creed Cafe. The event runs from 5:30 to 7 p.m and costs $60 for members or $75 for guests.
The incredibly popular local band Dead Winter Carpenters will play a Valentine's Day concert at Tep's Villa Roma in South Lake Tahoe, and it'll be superb gathering for anyone who loves dancing. They will be joined by special guests Mescalito Trio and Ten Foot Tiger. Tickets cost $15 in advance or $20 on the day of the show. You must be 21 years or older to participate. Doors open at 8 p.m.
If staying fit is important to you, then this is a spectacular way to show your love for your special someone. Fit couple Holly and Jon will lead this class that is certain to get your heart pumping and body sweating. There will be free babysitting available, and you may bring a guest or love interest for free. The class runs from 5 to 6 p.m.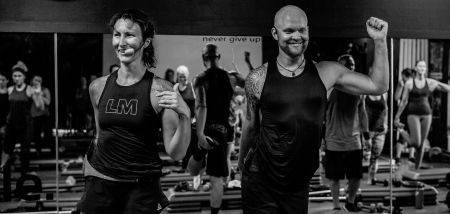 Please be sure to visit our Daytime and Nightlife event sections to learn about other fun ways to show gratitude to your loved ones for Valentine's Day.
Happy Valentine's Day, and we'll see you in Tahoe!
Photos from Tahoe.com