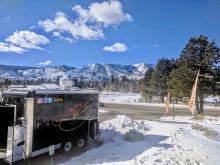 It's a crazy world right now. With so much uncertainty in everyone's future, it is the little things that keep our hope buoyed. One of those aspects that helps keep our faith, in my humble opinion, is the movement forward of new businesses coming on to the scene.
This post is dedicated to those entrepreneurs in our communities who are assisting the forward flow of our little Lake Tahoe townships. We appreciate you!
Please take a moment to check out these new enterprises fresh to the Lake Tahoe business scene.

If you are looking to add flavorful flair to your dining experience, check out Yugen Cuisine. With an incredible array of sushi choices, delicious salads and house specialties, there is no doubt that even the pickiest eater will find something delicious. You've got to try their Spicy Katsu Chicken Sandwich complete with crispy panko chicken breast topped with avocado, tomato, red onion and a sriracha garlic aioli on a soft bun and served with fries or their Bar-B-Que Albacore Seared Albacore topped with a variety of our house sauces. They also have a children's menu and a dessert menu. Yugen has a large outdoor dining area and offers take-out fare to accommodate for COVID regulations. They are closed Mondays.
1132 Ski Run Blvd, South Lake Tahoe; (530) 600-1838; yugencuisine.com
An ingenious idea that interweaves multiple aspects, Cuppa Tahoe is one of those places where you might find yourself spending hours. A well-stocked bookstore enhanced with food and drink, this land of learning offers a superb selection of reading material as well as games, stationery and space to enjoy. They also offer a Casual CoWorking area that offers business people a way to get out of their homes and out into the world to do work. The space is inviting, has open seating and offers private call booths.
2054 Lake Tahoe Blvd, South Lake Tahoe; (530) 600-0433; cuppatahoe.com

There is just something about good Mexican food. It fills you up in a way that is so satisfying. Maria's Mexican Restaurant is one of those places that delivers satisfaction. A family-owned eatery bringing flavors from Guadalajara, Jalisco, Mexica, they are skilled in serving food that is delicious, plentiful and well-priced. Many of the items on their menu are recipes passed down through their families through the generations, bringing a special authenticity to the dining experience.
2494 Lake Tahoe Blvd #1, South Lake Tahoe; (530) 600-2200; mariaslaketahoe.com
Sail Tahoe Blue is a boating company based on a passion for doing what one loves and sharing it with others. Built on the foundation of wanting to spend every day on Lake Tahoe and partaking in the excitement with others, the creation of Sail Tahoe Blue is a dream for the owners. Sail Tahoe Blue offers a safe, fun and entertaining adventure for any age. They sail on Blue, their 40-foot Santa Cruz sailboat. The sailing vessel provides a rich history of performance and chartering capabilities, while the captain and crew are highly experienced and delighted to give you memories you will treasure forever. 
900 Ski Run Blvd, South Lake Tahoe; (530) 213-3451; sailtahoeblue.com

Providing a fun name and a fun atmosphere, Pretty Odd Wieners is a new food truck for the South Lake Tahoe area. Specializing in adding flair to any event or party, Pretty Odd Wieners is a full catering company that provides a wide variety of hot dogs and sausages as well as a variety of french fry selections. Their menu of hot dogs and sausages is vast, with choices such as their Sonoran, a jumbo, all-beef, bacon-wrapped, deep-fried dog topped with sliced tomatoes, avocado, chopped onion, jalapenos, mustard and mayo; their Seattle Style, a jumbo all-beef dog loaded with Philadelphia cream cheese and smothered in caramelized onions; or their infamous Bacon Mac, a jumbo all-beef dog loaded with their homemade Mac'N'Chz, topped with crispy bacon and finished with a honey drizzle. Their sausages are made of elk, wild boar, venison and bison. They also have vegetarian options.
2933 U.S. Highway 50, South Lake Tahoe; (530) 721-9157; prettyoddwieners.com
A premier fly-fishing shop in Truckee, Trout Creek Outfitters is an excellent source of information and gear for any Lake Tahoe fishing adventure. The shop is stocked full of the very best in fly-fishing brands, like ORVIS, Sage, Redington, Simms, Umpqua and Fishpond. Known for their pulse on industry trends, Trout Creek Outfitters has exactly what you need to make that fishing expedition create the memories you will cherish forever. To help even more, they provide connections with top fly-fishing guide Matt Heron.
10115 Donner Pass Rd, Truckee; (530) 563-5119; troutcreekoutfitters.com
Please be sure to check out our Daytime and Nightlife sections to learn about events happening all around the lake.
Photos courtesy of Yugen Cuisine, Maria's Mexican Restaurant, Pretty Odd Wieners