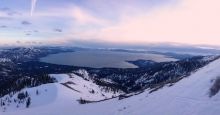 It was headline news throughout the country last Friday when Alpine Meadows experienced an inbound avalanche that resulted in a death.
This tragic circumstance hits home for all of us who love the mountains. We offer our most heartfelt condolences to the friends and family of the deceased and are reminded in these times of loss that the mountains around Lake Tahoe deserve respect and appreciation for what it takes to be safe.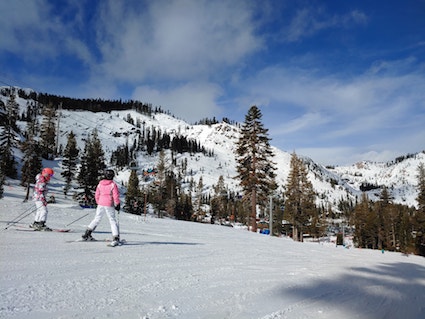 Enjoying the splendor of skiing or snowboarding powder has become more and more popular over the years. This has resulted in a dramatic increase of skiers and snowboarders on the slopes, and thus an increase in the potential for injury or death. I speak from the experience of almost drowning in a tree well, which is a phenomenon that occurs when it snows a large amount and a giant air space is created around the trunk of a tree. The tree well space is large enough to swallow up a human, and if you fall into one it is extremely difficult to get out of alone. Knowing the dangers and how to avoid them is mandatory if you choose to play in the mountains – especially the Sierra Crest.
To make sure you know some of what you need to know, I have compiled a list of mountain-safety aspects that have helped to save my life. If you know of other precautions that should be applied when venturing into the mountains, please post in the comments below. I would love to hear your thoughts.
Ski with a partner
One of the most important ways to stay safe in the mountains is to have a partner. If you are skiing or riding alone (especially in deep snow), you have already made one check on the list of things not going in your favor. A partner offers so many positives, especially when that partner has experience and knows what she or he is doing. In the case that I shared above of almost drowning in a tree well, I actually wasn't skiing with someone. But I was racing with a boy I was trying to impress and happened to be passing him when I took the fall that resulted in me diving headfirst into a tree well. If my soon-to-be ski partner had not seen me fall, I would not have been able to dig my way out on my own and would have suffocated. Skiing with a partner can literally be a lifesaver.
Always wear a transceiver if you're skiing in deep snow
The second most important aspect to skiing powder in the mountains is to make sure you are wearing an avalanche transceiver — and, more importantly, you know how to use it. This is also where having a knowledgable, experienced partner is vital because a transceiver doesn't do much good for survival rates if you don't have someone to search for you immediately. It is important (and fun if made into a game) to practice handling your avalanche transceiver and finding one before using it in a situation of emergency. I enjoy playing hide-and-go-seek with friends by having one person hide the transceiver in the snow and the other find it. Once things are going smoothly, step up the ante and see who can find it the fastest.
Don't ski in areas above your ability
It's all well and good to want to improve your skiing or snowboarding skills, but when it comes to riding powder, take it easy. Learning the variety of ways that powder can throw you around before getting into tight or treed areas can make a day much better in the end. Also, take the time to learn avalanche awareness from people in the know. If you are going to be skiing on powder days, take, at minimum, a Level One Avalanche Course.
Wear a watch that has a compass and altimeter
Even if you are skiing at a ski resort, sometimes weather comes in and visibility crashes, making it hard to see and know where you are. To help keep your bearings straight, get yourself an altimeter watch that has a compass. I can speak firsthand about the importance of this lightweight device. It flipped a situation that could have resulted in an emergency overnighter to one where we found our way home without issue.
Never wear cotton
This may be old verbiage, but in my humble opinion, it's one that can not be stressed enough. If you are skiing or snowboarding in the mountains on a powdery day, give yourself the gift of warmth by wearing insulating layers that will wick away sweat and moisture. Because Lake Tahoe's mountains lie on the Sierra Crest, it is not uncommon for the weather to quickly shift from blue skies to burly winds and snow. Be prepared. Your fingers and toes will thank you for it.
After your safe day on the mountain, cap it off with a fun event that you can easily find in either our Daytime or Nightlife sections.
Photos from Tahoe.com and Shanie Matthews