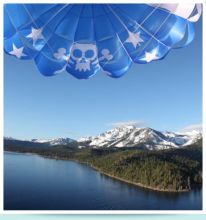 There is one thing that best brings reprieve from the hot weather of summer: a cold body of water! The Lake Tahoe area has its fair share of ways to get wet and take a break from the rising temperatures. Let's take a look at five of them. 
Parasailing
Imagine taking in the wonder of the Sierras, the turquoise hues of the water below you and the shimmer of the soaring sun above you as you sail through the air, pulled along by a jet boat that is cruising at exciting speeds. This can be a reality with the fun of a parasailing company on Lake Tahoe. Perfect for the entire family, parasailing is an entertaining way to partake in water activities in the basin, although those who are afraid of heights might enjoy passing the time from the spectator section of the boat. You'll find a list of companies in our Parasailing section.
Photos: Parasail Tahoe
Kayaking
Whether it is on the Truckee River or along the shores of Big Blue or Donner Lake, kayaking is one of the most pleasurable ways to enjoy the water in the Sierras. Guide companies aplenty are set up for any style of excursion you are looking for. Do you have a wedding party that would rather get up close and personal with sandy shores than experience the glitz of a nightclub? No worries: Tahoe Adventure Company is ready to accommodate. Interested in seeing the underwater world below you as you cruise by in your very own kayak? Well, lucky for you Clearly Tahoe has transparent boats just for that purpose. Excited to see and experience the serene beauty of Lake Tahoe during a full moon? Tahoe City Kayak is ready to show you the wonder of Lake Tahoe at sunset. Many more outfitters and kayaking options can be found in our Canoeing and Kayaking section.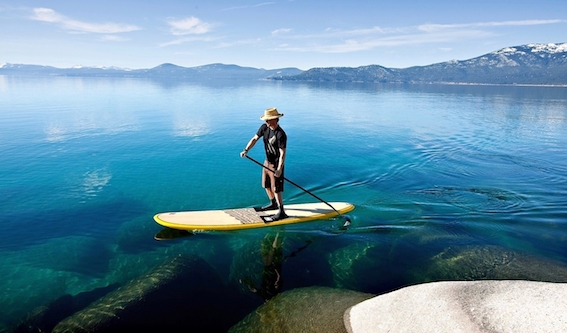 Standup Paddleboarding
With the emergence of paddleboarding on the watersports scene, residents and visitors have found a whole new way to appreciate Lake Tahoe's meditative aspects. From guided excursions that are perfect for all abilities to yoga classes that are taught on a board, paddleboarding is a way to truly enjoy this spectacular area. For those with good balance, paddleboarding the Truckee River is a great time. If heading out beyond Lake Tahoe or Donner Lake sounds like fun, paddleboarding is superb on the reservoirs around the basin, such as Boca and Stampede. No matter where you are staying, there is a way to connect with a paddleboard company that can help get you out on the water. Check our Standup Paddleboarding section for a range of options for trying this family-friendly sport.
Photo: Adrift Tahoe
Motor Boating
One of the most fun ways to enjoy Lake Tahoe is by getting out on the water in your own power boat. Getting up to speed, feeling the plane of the boat below you and the wind in your hair is enough to make anyone smile. Renting a power boat is simple whether you are staying on the north or south side of the lake. There are also businesses that will rent you a boat and a driver, making the outing that much more simple. If you are looking for an opportunity to have the boat for your entire vacation, there are companies that can facilitate that as well. Head to our Boating and Sailing or Boat Cruises sections to find more options around the lake.
River Rafting
This is an activity that should be taken advantage of while we have the water to make it happen. The last few summers offered no river rafting due to drought conditions. Lucky for all of us, the rain came over the past winter and brought with it the ability to once again enjoy the beauty of Lake Tahoe from a raft. The main river-rafting guide company, Truckee River Rafting Co., is set up for all ages and abilities. They have vans to help with shuttling and offer guided and non-guided excursions. More options can be found in our White Water Rafting section.
Interested in learning more about having fun in the sun in Lake Tahoe? Be sure to visit our Things to Do section, where you can see every single recreation option in the Lake Tahoe area and sort the activities by your interest.
Also visit our Daytime and Nightlife sections to learn more about events happening around the area this week and in the upcoming months.
Photo: Truckee River Rafting Co.