Happy 2019! With the new year upon us, it is time to start your resolutions off right. To help you be your healthiest, happiest self, Lake Tahoe has some wonderful activities. Continue reading to learn five exceptional ways you can support the glowing, healthy, vibrant person that you deserve to be.
New Year, New Healthier You Free Fitness Clinic
When it comes to creating a healthier lifestyle, the first vital aspect is getting active. Kahle Community Center is offering a free fitness clinic that will get you off on the right foot. Starting at 10:30 a.m. on Friday, January 4, the session will discuss workout techniques, goal setting, entertaining exercises and ways to stay encouraged. The clinic is for anyone ages 16 and older. Be sure to come dressed in active wear.
Community Yoga
If you enjoy the healing benefits of a fun, flowing yoga practice, join Nick every Sunday from 10 to 11 a.m. at Well Being Tahoe. Nick's classes emphasize the magic of conscious breathing while combining it with dynamic yoga sequences that promote deep inner peace. Cost is $10 for the class. Please pre-register if possible.
Prenatal Yoga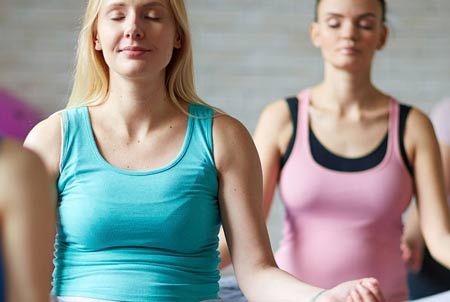 For any ladies out there who are bringing new life into the world, yoga is paramount in supporting your healthy body and healthy baby. Luckily, there is a yoga class every Saturday from 10 to 11 a.m. that helps reduce the discomfort that comes with carrying a child while at the same time creates community and gives you time for self-care. This is an exceptional way to prepare for the coming labor and to increase your capacity to utilize your breath when the time comes. The class is taught by a highly accredited prenatal yoga teacher who is also a labor and delivery nurse and childbirth educator. The cost is $15 for individual classes, $55 for five classes or $100 for 10 classes. The series begins Saturday, January 5.
Beginner Yoga in Truckee
Join one of the best yoga teachers in the Lake Tahoe area each and every Monday at the beautiful Rec Center in Truckee. Lauri Glenn has been a local yoga teacher for more than two decades, and her heartwarming classes inspire a happier daily life. Her dedication to the practice has developed a sincerity and kindness that envelopes each student and provides a comforting atmosphere that is perfect for those new to yoga. This is also a great class for more seasoned yogis who desire an opportunity to journey back to the basics with love. Classes are at 6 p.m.
Weigh to Wellbeing
As the most popular of New Year's resolutions, losing weight is an important endeavor that shouldn't be looked at as a short-term solution, but instead as a life change. That is exactly what this supportive group does at its weekly meetings. Happening at the Tahoe Forest Hospital every Tuesday from 11 a.m. to 12 p.m., the class discusses managing your weight by creating sustainable behavior change. A registered dietitian leads the discussions, and the atmosphere among the attendees makes goals easier to reach. Cost for the class is $5.
This is just a small selection of healthy activities to get involved in for 2019. Visit our Daytime and Nightlife sections to learn about other fun and engaging outings to get the heart pounding and blood pumping.
Photos courtesy of Tahoe.com