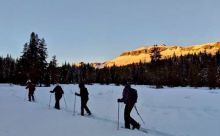 2020 has started off with a bang in Lake Tahoe.
The ski resorts are getting hit with big storms, making the skiing and snowboarding amazing. The holiday crowds have died down, and the community is glowing with the after-celebration buzz. The events calendar is filled with unique and exciting ways to get out and enjoy all that Lake Tahoe has to offer. This week I'm doing a little shout out for some of the outings that should be on your hit list. Check these out! Click the name of the event for links.
Photo: Tahoe Adventure Company
This event is unprecedented. Offering a way to let it all out in a supportive forum, Coalition Snow is setting the stage for a public weep fest. Complete with wine, snacks and hugs (oh, and cry pillows too), the gettogether is a way to come together and release all that has made you feel uncomfortable, intimated and/or fearful. Considered a happy hour/networking event/therapy session, this is also a great way to meet like-minded souls. This event happens once a month this winter (except for February): Thursday, January 16; Thursday, March 19; and Thursday, April 16. It runs from 6 to 8 p.m. at Coalition Snow, 10015 Palisades Drive, Suite A4 in Truckee.
If you have yet to discover Lake Tahoe while snowshoeing in our incredible forests and experiencing incredible views at sunset, then this is something that must be added to your bucket list. Tahoe Adventure Company offers a tranquil 2- to 3-mile outing that really brings to light the serenity of the North Tahoe/Truckee landscape. The Sunset Snowshoe Tour is a favorite activity not only for visitors, but also locals. The adventure includes a guide's interesting lessons about the flora and fauna as well as tasty hot drinks and snacks at the end of the excursion. The outing costs $70 and happens every Friday evening or by special request.
Happening on the first Friday and third Saturday of every month, this is a special occasion for children between the ages of 4 and 9. There will be games, dinner, arts and crafts and a movie as well as a bedtime story and other fun. It is a great way for kids to socialize while the parents have some one-on-one time out on the town. Cost is $20 for members and $25 for guests. The event runs from 5 to 9 p.m. It's held at Tahoe Donner's Northwoods Clubhouse, 11509 Northwoods Boulevard in Truckee.
This is going to be one of those events that creates hilarious memories that can be shared for years to come. The Snowshoe Cocktail Races held at Camp Richardson is a way to measure your balance, athleticism and snowshoeing capabilities. The course runs the length of Camp Richardson's sandy beach and requires participants to run with their feet bound in snowshoes and a cocktail tray their hands. Can you do it without falling on your face? There are also fantastic prizes to entice you to enter. Snowshoes are provided for contestants, and sign up starts at 5 p.m. on Saturday, January 18. This is a free race, and all ages are encouraged to participate. Camp Richardson Historic Resort & Marina is at 1900 Jameson Beach Road n South Lake Tahoe. 
Lake Tahoe AleWorX hosts a way to give back to the community each and every month in the form of a yearlong fundraising campaign that benefits Lake Tahoe Educational Foundation. In the form of 12 events (each held on the 20th of the month), the $20,000 in 2020 is a 100% donation of all profits situation. Each event will have a special theme that highlights a unique part of the local education system. In addition, there will be one event for each of the schools in the Lake Tahoe basin. This is a fantastic way to help our community thrive. Hope to see you there!
Please be sure to visit both our Daytime and Nightlife sections to learn about other fun events happening around the lake this week.
We'll see you in Tahoe!