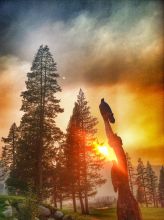 You wouldn't necessarily know it by the number of wildfires that have already occurred this summer in California, Oregon and Washington, but fire season for this area of the world is just getting underway. The scariest and most devastating wildfires tend to happen in September and October, according to Truckee Fire Chief Bill Seline. This is the time of year when we all need to be our most aware and diligent about what to do in the case of fire and the meaning of safe fire practices.
Knowing that this information is vital for all of our well-being, in this week's blog post I'm sharing crucial information for anyone living or visiting the Tahoe area. Please read on to learn five must-know aspects to fire season in Lake Tahoe.
1. Take the time to create a plan!
The scariest aspect of wildfires is the speed in which they ravage an area. There are many stories of people having literally a few minutes' warning to run for their lives. To help make certain all survive, do your family the favor of discussing what your evacuation procedure will be in the case of a fire and have a Plan B, just in case. Aspects of the plan can include: what route of exit is easiest from your house and property; where family members will meet up in the case of separation; designating a friend or relative who lives outside of the area as the point of contact in case of separation; knowing what items are important to take; having a garden hose ready to assist your escape; and knowing your way around your neighborhood. Let communication and brainstorming be your friends when creating your family's escape plan. 

2. Know where to get your information.
One of the most important aspects of staying wildfire safe is being aware of the conditions around you. There are multiple websites that give up-to-date, real-time information. A great site to keep an eye on is the Wildfire Storm Dashboard for Lake Tahoe. Other sources of current information include South Tahoe Now, Readyforwildfire.org as well as the United States Forest Service. The North Lake Tahoe Fire Plan is another great information source.
3. Know that you are in safe hands.
If an evacuation does come into effect, know that there are many trained personnel ready to keep you safe. If officials choose to evacuate the area that you are in, they will utilize different mechanisms to call the alarm. Nixle text to cell phones is one way in which people will be notified, along with local media sources such as 101.5 FM radio, reverse 911, Placer Alert in Placer County as well as Code Red in Nevada County. Signing up for these notifications is easy. Go to Nixle.com for those in Truckee or PlacerAlert.org or Code Red at MyNevadaCounty.com to be in this life-saving loop. 
4. Listen for the siren! 
Lake Tahoe fire officials have put into effect a new life-saving tool, the European HI LO siren. This evacuation tool has a unique sounding system that makes it an easily recognizable alarm. Officials will drive around neighborhoods sounding this alarm to notify people that it is time to evacuate. If you hear the alarm, put that evacuation plan your family has practiced into effect.
5. Remember the 6 Ps.
This little tidbit of advice from Chief Seline makes it simple to know what to pack for an evacuation:
People and Pets

Papers, phone numbers and important documents

Prescriptions, vitamins and eyeglasses

Pictures and irreplaceable memorabilia

Personal computer hard drive and disks

Plastic (credit cards, ATM cards) and cash
Photos courtesy of TRPA, Eldorado National Forest, ShanieMatthews.com