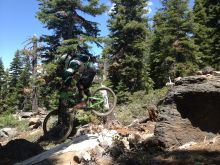 It is hard to believe that we are already more than half way through summer! With the heat coming on strong and the temperatures in the lower foothills that surround Lake Tahoe and the Sierra Mountains hitting the triple digits, now is the perfect time to enjoy the refreshing gifts that this beautiful area provides.
To help you take full advantage of your time in lovely Lake Tahoe, I'm offering you a local's view on five summertime must-dos. Cheers to you and your enjoyment!
Take a Hike
Lake Tahoe is richly enhanced with trails. From Donner Summit to the shores of Lake Tahoe, there are trails of varying lengths for every ability. A few excellent trails that are great for the little ones include those at Taylor Creek Visitor Center in South Lake Tahoe, which gives glimpses of aquatic life in their natural habitat, or Eagle Rock on the West Shore of Lake Tahoe, which is just steps from the sandy shoreline. If you're looking for longer excursions, Desolation Wilderness is filled with multi-night hiking opportunities as well as the spectacular circumnavigation of Lake Tahoe with the Tahoe Rim Trail. See our Running, Walking and Hiking section for many more exploration-on-foot ideas.

Go Mountain Biking
Another way to enjoy the area is by mountain bike. The area has an immense amount of single-track trails specifically made for finding excitement in the gravity-fed speed of two wheels on tacky dirt. To learn about all of the ways that one can enjoy this area on a mountain bike, it is best to involve one of the great mountain bike guide companies that enhance the south and north shores or to talk to the staff at any bike shop. See our Mountain Biking section.
Take It to the Rock
Rock climbing is another activity for which Lake Tahoe offers plentiful options. From basic scrambling to intense crack climbing, Lake Tahoe has you covered. There are sport climbing areas as well as multi-pitch zones that give thrill to those who feel better suspended by a rope. A few areas that deserve attention include Donner Summit (where there are many different small zones offering every ability of climber a chance to get on the rock), Big Chief and 90-foot Wall. For those who enjoy longer routes, check out the areas between Placerville and South Lake Tahoe, where you will find a climber's gear stop at Strawberry Station and multi-pitch routes at Lover's Leap. See our Climbing section.
Hop in the Saddle
Another fantastic way to enjoy Lake Tahoe is to experience it with a little help from a four-legged friend. Wandering about the mountains of Lake Tahoe upon horseback is truly magical. There are different guide services around the area that offer jaunts in the forest as well as the shores of the lake. Check out Camp Richardson, Zephyr Cove or the Alpine Meadows Stables or see our Horseback Riding section to learn more.
Cast a Line
With all the gloriously beautiful water that we have around the area, it is no surprise that we are also blessed in the fishing department. Whether you are into fly fishing or sport fishing, Lake Tahoe can give you what you are looking for. For fly fishermen, the Truckee River is exceptional and is known worldwide for its Trophy Trout (also be sure to check out the Little Truckee River, a small tributary that flows in the spring months). For sports fishing there are various companies that collectively have hundreds of years worth of experience. A few worthy of checking out include Tahoe Sport Fishing, Reel Deal Sportfishing, Eagle Point Sport Fishing and Hooked Up Sport Fishing. See our Fishing section.
This is just a small example of the excitement that awaits you in Lake Tahoe. To learn about other fun events, please visit our Daytime and Nightlife sections.
Photos by Shanie Matthews