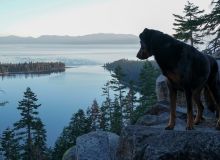 Winter and summer have their hold on being the most popular time for people to enjoy visiting majestically beautiful Lake Tahoe. This is, of course, with good reason. The winter is packed full of opportunities to enjoy the bliss that comes with Jack Frost nipping at your nose. The summer, on the other hand, is filled with glorious days perfect for enjoying the great outdoors and alfresco evenings. 
But there is one season that doesn't receive the accolades that it so deserves. Autumn is the season that many locals deem their favorite. Why? Because this is when the true sparkle of serenity shows its graceful self. Fall is when crowds diminish, leaves turn a golden hue and community gatherings last a little longer due to a lack of rushing that comes with both winter and summer. This precious time of the harvest moon is one that many yearn for before the ski resorts open and life's busy-ness begins again.
Interested to learn more about why this time of year is so special? Keep reading to learn five reasons why the fall is a fantastic time for visiting Lake Tahoe.
Photo: It doesn't matter if you have four legs or two, either way fall in Lake Tahoe is a time to be appreciated.
Accommodations Prices are Lower
If you are looking for discounts on lodging, autumn is the time to plan a trip to visit Big Blue. Across the entire basin, there are exciting deals for a place to lay one's head. From large homes on the lake to small boutique hotel rooms, from enchanting cabins perfect for a couple to a pet paradise in the form of a private villa, the options are endless. See a whole host of accommodations discounts and deals here.
It's the Only Time of Year to See Salmon Spawn
One of the greatest benefits of the fall season is the opportunity to see Kokanee salmon in their natural habitat. With the cooling temperatures, the salmon leave Lake Tahoe for smaller streams to spawn. There are more that 60 tributaries in Lake Tahoe, but there is one in particular, Taylor Creek, that offers a way to get up close and personal with the fish as they focus on their mission. Known to be the exit point for 95% of the salmon on their journey, the Taylor Creek Visitor Center is a prime place to see the fish in action. Offering windows looking into the underwater world as well as an educational trail to learn more about the habitat, the center is a fabulous place to take the entire family for a unique fall experience.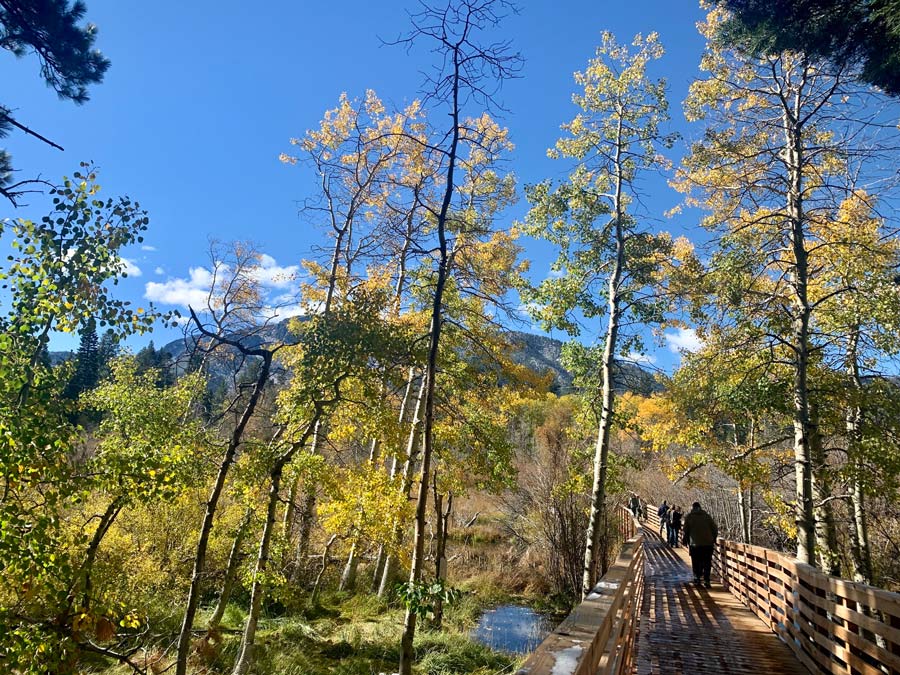 The self-guided observation trail at Taylor Creek Visitor Center is perfect for all ages and athletic abilities. Photo courtesy of Tahoe Creek Visitor Center
The Trails are Empty
As mentioned previously, the crowds tend to lessen considerably once autumn arrives. Not only does this help create opportunities like discounts, but it also equates to fewer people out enjoying the incredible trails that wind through the forests of the basin. Note: If temperatures are hitting the freezing point, avoid hikes that will take you into the high country, as you are more likely to encounter snow at those elevations. Also be sure to bring a backpack with an extra layer for warmth as well as food to keep things safe. And remember, the days are getting shorter
The Dirt is Amazing
Although Tahoe is known for being a hot spot for mountain biking, there is one challenge. Our dirt gets pretty loose as the summer season wears on. Thankfully, the rains and early touch of snowfall can help the trails repair themselves, leaving behind tacky dirt that is excellent for riding. A few prime trails to check out include the Flume Trail, situated outside of Incline Village, or the Emigrant Trail, located in Prosser, outside of Truckee.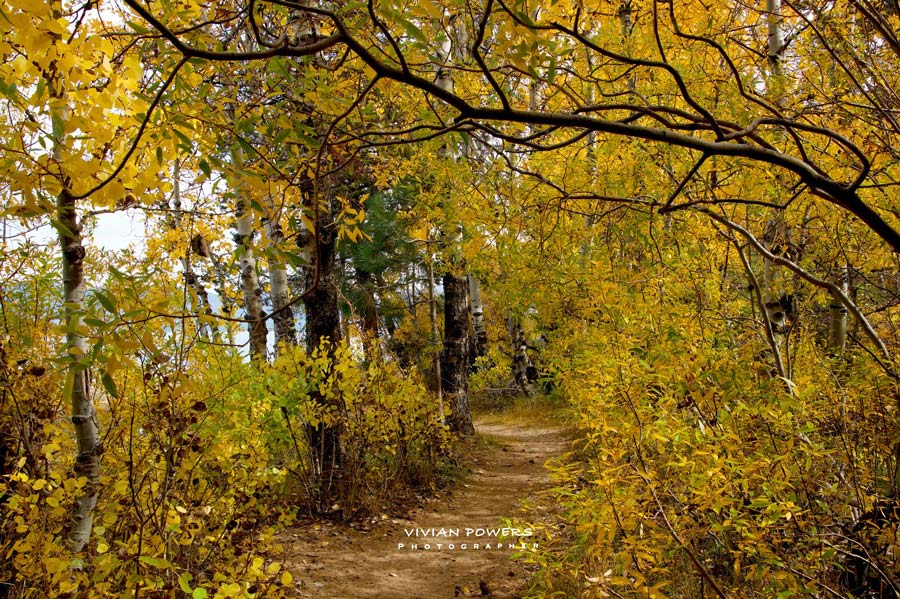 There is something magical about hiking in a forest void of people, especially when surrounded by gold. Photo by Vivian Powers
Mother Nature is Filled with Color
This might not be the East Coast, where the changing color of fall leaves is admired greatly. But Lake Tahoe has its fair share of autumn's rainbow in the form of the changing leaves coming from the Quaking Aspen. There are a variety of places to take in the aspens around Lake Tahoe. For example, Paige Meadows, outside of Tahoe City, is spectacular, as are Vikingsholm near Emerald Bay, Hope Valley outside of South Lake Tahoe and the walks around Fallen Leaf Lake, Ebbetts Pass, Spooner Lake or Marlette Lake.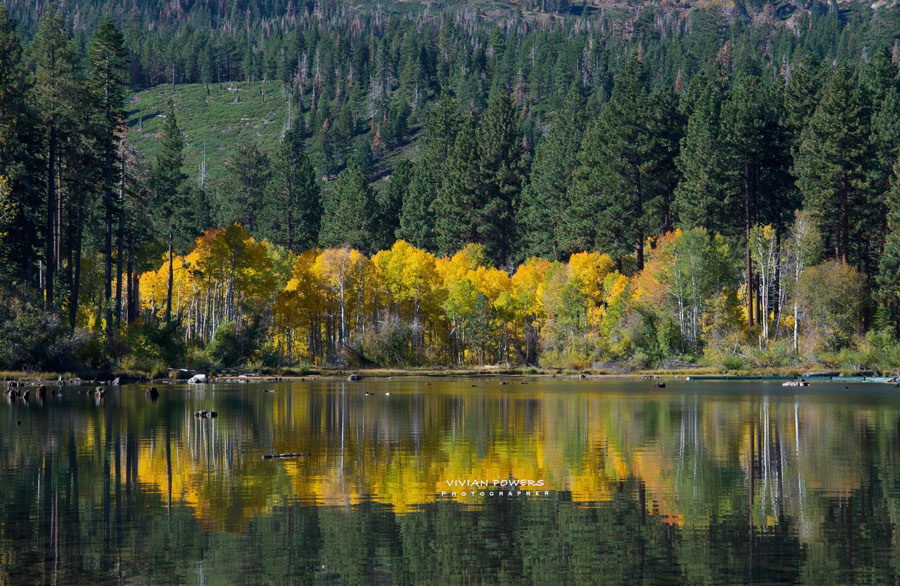 The colors of Fallen Leaf Lake. Photo by Vivian Powers
To take advantage of all that fall in Lake Tahoe offers, be sure to check out our Daytime and Nightlife pages to learn about entertaining events happening around the clock.