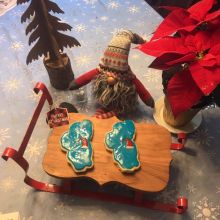 Lake Tahoe is blessed with an abundance of locally owned businesses. Finding a one-of-a-kind treasure or a delicious meal is as easy as stepping into one of the multitudes of small shops and restaurants around the lake. 
It is always fun to see new faces joining the world of brick and mortar business. As a lady who has started her own place of business, I know the heart and soul that goes into creating an entrepreneurial dream into a thriving reality. To show my support I thought I would give a shout out to four new local businesses that are highly worth checking out. If you decide to pay them a visit, let us know your thoughts in the comments below. We would love to know about your experience!
Adoration and gratitude for Lake Tahoe are what helped Erin Renee Hudak stumble upon her gift for giving love to Big Blue. When she was working at another job, a client was looking for a unique and special way to show thanks to guests at his vacation rental. Hudak's deep-rooted affection for baking was called upon, and the idea of baking a Tahoe Love Cookie was born. Before she knew it a new business was created. Hudak operates Tahoe Love Bakery from her home under a cottage business permit and is currently most easily found under her Facebook page. Her entry into the baking world has been filled with imaginative creation. Beyond lemon bars, brownies, cakes, cupcakes and cookies that she can design around any personal celebration, like a baby shower, birthdays, St. Patrick's Day and Easter, she also is gifted at cooking up fudge of any flavor. Her fudge flavors include peanut butter, chocolate bourbon pecan, cherry, cheesecake, blueberry lemonade and caramel coffee fudge. If there is a flavor you were hoping to see, but don't, not to worry. Hudak is creative in the kitchen. But she does have her favorites. If you ask her, the Chocolate Bourbon Pecan Pie is the winner hands down. It's one of the desserts that the business is founded on and one that made a dream become reality.
South Lake Tahoe is getting an upgrade with the new creation of Emanate Gallery. Born from the collaboration of three longtime locals, the gallery goes beyond art and offers a full-service custom frame shop and exclusive delivery services. The three owners have a special adoration for the beauty that comes from exceptional photography and then, taking it one step further, the way in which it is presented. The gallery is for the trio a work of passion. It brings together all that is special for them individually and as Lake Tahoe locals. The future looks bright as well. In the upcoming calendar year look for art classes, photography tours and gallery educational seminars on subjects like decorating your home with art, what frames work best with which art and working with a feature artist in real time. The gallery is also excited to be working with commercial and residential designers on creating that perfect space that you thought you could only dream about. One other aspect that is rare: Emanate will not only frame a piece of art for you (even if you bought it elsewhere), but also deliver it to your home and custom install it in the place of your choosing (including the Bay Area, Southern California and Northern Nevada).
Lake Tahoe literally has a little slice of Italian heaven. With the opening of Gastromaniac Homemade Pasta & Pizza, guests are given the delicious opportunity to dive into handmade Italian specialties direct from Italy. The sauces, potato gnocchi and pasta are all handmade in the restaurant, and many of the ingredients are flown in from the Mother Country. The menu is packed full of Italian pizzas as well as pastas, Italian street foods, meat and cheeseboards as well as wine and beer that pairs nicely with the food. Check out Gastromaniac on Sundays for their Giro Pizza Night for all-you-can-eat pizza and Thursdays for discounts on their incredibly tasty potato gnocchi dishes. 
Bertie's Hot Chicken, a new restaurant in Incline Village, started with owner Rick Boyd's upbringing in which homemade chicken recipes were made with loving care. Boyd brought his native Texan roots and family recipes to Lake Tahoe, giving us incredibly tasty fried chicken, cooked with the spicy love that only the Deep South can create. With Boyd's passion for fried chicken and spicy food, this is a dining opportunity that stands alone in Lake Tahoe. Add to it the supportive environment that offers staff a competitive wage, while at the same time using sustainable, fresh ingredients, and it's easy for customers to know they are not only getting a fantastic meal, but also supporting a local business doing good.
Please be sure to visit our Daytime and Nightlife sections to learn about fun events happening in Lake Tahoe.
Photos: Tahoe Love Bakery, Emanate Gallery, Gastromaniac Homemade Pasta & Pizza and Bertie's Hot Chicken