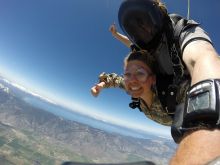 When visiting Lake Tahoe in the autumn, it seems like life has taken a step into the slow lane. People are moving at a less rushed pace. The traffic is nonexistent. And the number of events happening around the basin diminishes by quite a bit.
But that doesn't mean there isn't a whole spectrum of fun to be had during the shoulder season between summer and winter. Continue reading to learn about five of my all-time favorite things to do in Lake Tahoe in the fall.
Please be sure to visit our Daytime and Nightlife sections to learn about other fun things to do around Lake Tahoe.
Photos by Shanie Matthews, David Walley's Resort Hot Spring & Spa, Skydive Lake Tahoe