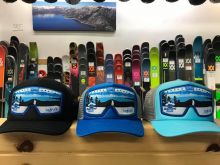 Lake Tahoe is beautiful in so many ways. From the stunning scenery to the lovely locals, there are many things to be grateful for. One of the wonderful aspects of the area is the wealth of businesses run by caring and giving locals. To give a few of these hardworking business owners the appreciation they deserve, I'm calling out a few of my favorite locally run businesses. 
Offering the best in wines, beers, gifts, gourmet foods, take-out deli items and yummy pastries, The Cork & More is a South Lake Tahoe treat. Owners/operators Karla and Jeff Brennan got married on the South Shore in 2006. They found a deep adoration for the area, and after first buying a vacation home, they quickly realized that they wanted to call Lake Tahoe their true home. They left their San Francisco roots and created a new foundation that included acquiring existing gourmet boutique The Cork & More. In continuing the store's original motto of delicious excellence in products and customer service, the Brennans kept the employee circle complete and the vibe the same, with a few extra touches of sparkle. With this new shift, the Brennan family would love to invite you to come by, share your thoughts and ideas and enjoy things just a little more. You'll find it at 1032 Tahoe Boulevard in South Lake Tahoe.
This Incline Village boutique is all about local art entrepreneurs. Handmade At The Lake is filled with one-of-a-kind items made by Tahoe artisans. You'll find quilts, pottery, gourds, jewelry, beaded silverware and table runners as well as abstract art that showcases the beauty of Lake Tahoe. Every item sold in the store was created in the Lake Tahoe basin. Within this little shop is another fantastic treasure, Tahoe Quilts, which provides whimsical wall art for your home, bringing to life mountains, flowers, fields and landscapes in a unique and beautiful way. These special and original forms of art would be an adored aspect to any home.
This family establishment had its beginnings in Boston way back in 1962. Today the handmade deliciousness has come to the shores of Lake Tahoe, feeding many a belly with fantastic Italian feasts. The atmosphere is welcoming, while at the same time enchanting with its sand wall and large tank of exotic fish. The menu is filled with favorites like their stuffed mushrooms, antipasto, grilled eggplant and calamari, but my favorite is their lasagna. Find Primo's at 2180 Lake Tahoe Boulevard in South Lake Tahoe.
With its beginnings back in 1974, Village Ski Loft is all about community. With local ownership and longtime sustainable employment for Tahoe athletes, Village Ski Loft in Incline Village is that type of neighborhood business that makes locals proud to call Lake Tahoe home. The shop is filled with all sorts of fun, and the crew is happy to chat with you about the best hike, bike or ski session to fit your level of fitness and expertise. Calling Lake Tahoe home for many years, Village Ski Loft is a place where you can feel comfortable knowing you are getting the best that Tahoe can offer. 
Local chef Eduardo Diaz de Leon created this quaint and accessible market, and his passion for food is evident among the delicious handmade specialty items. Each delectable bite formed in the Truckee Food Shop is sprinkled with a little love by Eduardo himself. His passion for food came from watching his grandmother create masterpieces of taste in her tiny kitchen in Guanajuato, Mexico. Truckee Food Shop is a place for delicious food and a place where cultures meet to create new friendships.
Please be sure to visit our Daytime and Nightlife sections to learn about the fun events to help fill your Tahoe days with joy.
Photos courtesy of The Cork & More, Handmade At The Lake, Primo's Italian Bistro, The Village Ski Loft and Truckee Food Shop.