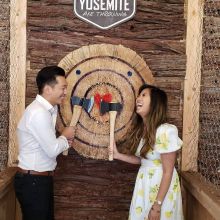 Whether we are being inundated with snow – as has been the case for the last month – or it's summertime and the weather is ideal, it's important to have ways that the entire family can enjoy time together.
From outdoor adventure to indoor excitement, Lake Tahoe is rich in ways that families can enjoy special bonding moments.
Keep reading to learn about five unique and fun ways that you and your loved ones can spend quality time together despite age or athletic ability.
Photo: Good times is the name of the game at Yosemite Axe Throwing. 
What better way to bond with your tribe than by taking to the skies while piloting a hang glider? This experience is perfect for smaller groups. Each person is paired with a FAA-certified instructor while flying a powered hang glider. Also known as a Weigh-Shift Controlled Trike, these light aircraft offer a serene and mesmerizing way to see an exclusive vantage point of Lake Tahoe. Powered by a Rotax aircraft engine, you can rest assured that the flight is extremely safe, while at the same time gives an opportunity to see this area as few get to do. This is an especially wonderful activity for when the weather is cold as each glider is outfitted with modern technology heated clothing, making the time in the air warm and cozy. Flights range from 30, 60 to 90 minutes and can be counted for hours toward a pilot's license.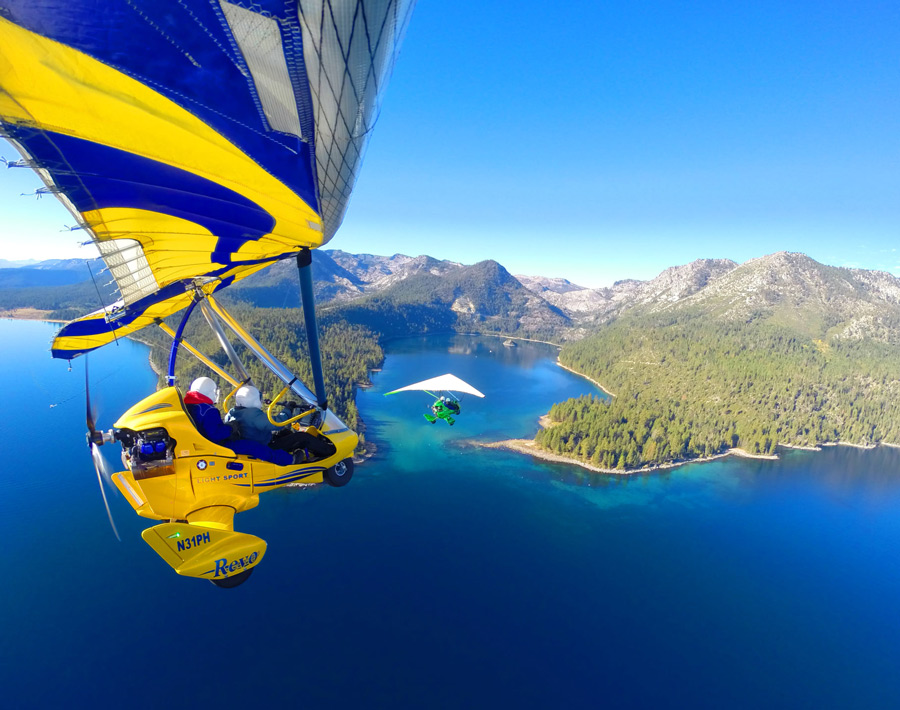 Enjoying the views of Lake Tahoe from an electric powered hang glider is a once-in-a-lifetime experience.
An activity that lets you get any pent-up aggression out in a fun and entertaining manner, Yosemite Axe Throwing is your opportunity to see how you measure up on hitting the bullseye. Set up with 10 throwing lanes, Yosemite Axe Throwing is housed in a stunning facility that sits on the shores of Lake Tahoe. As the only axe throwing company in the world that uses 100% deceased trees for targets, their timber is salvaged from loss due to drought, wildfire or bark beetle. Created by a true lumberjack, the setting is like no other. With each log and board hand chosen, the experience replicates the realness of what being a lumberjack is all about, with lots of laughter and fun included.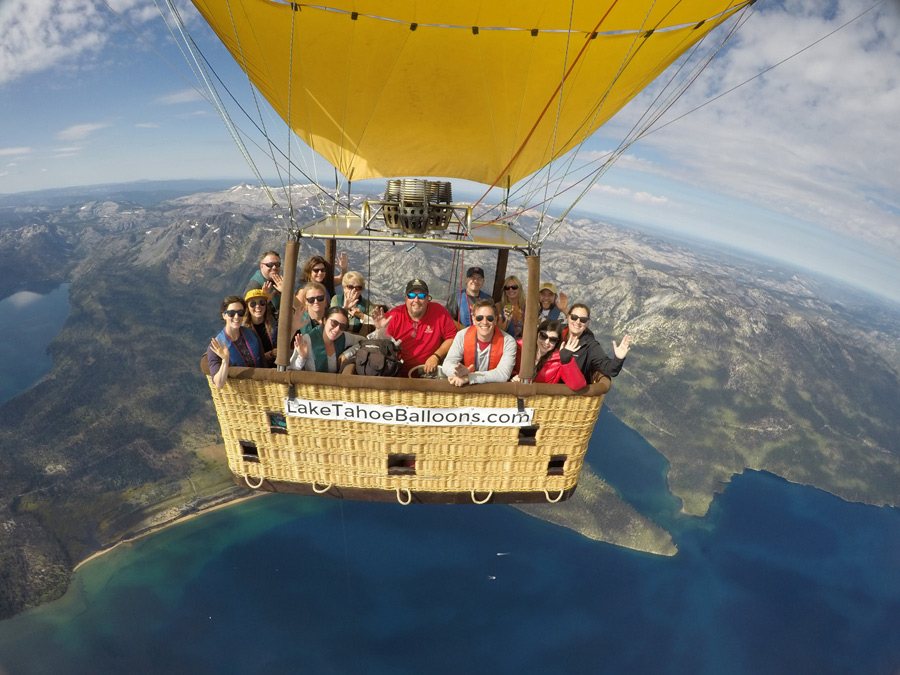 A hot air balloon ride with Lake Tahoe Balloons provides adventure to the entire family.
Maybe one of the ultimate ways to see Lake Tahoe is by riding her breezes in a hot air balloon. Thanks to Lake Tahoe Balloons, this experience has been a favored jewel for more than two decades, providing smiles to families for generations. Their spotless safety record and incredible level of expertise in combination with the stunning views that Lake Tahoe provides creates an experience that needs to be on every person's hit list. Known for celebrating special occasions, Lake Tahoe Balloons is gifted at making a family outing one that becomes cherished later. If novelty is something that floats your boat, Lake Tahoe Balloons is the only hot air balloon company in the area and the only hot air balloon business in the world that launches and lands from the deck of a watercraft. 
For all who enjoy Lake Tahoe, it's important to take the time to experience her by boat. A great way to do that is with Lake Tahoe Sightseeing Cruises. Their boats make for an exceptional time of dining, dancing and enjoying the lovely serenity of Big Blue. They offer either a lunch or dinner cruise as well as their famous Historic Glenbrook Breakfast Cruise. Their Tahoe Queen Dinner & Dance Cruise is for the family that enjoys tapping their toes while experiencing their adventure. They have two vessels to choose from, the MS Dixie II that offers a little bit more of an old Tahoe feel and the modern Bleu Wave that gives a feeling of luxury to the experience. Lake Tahoe Sightseeing Cruises is able to pair lodging with their cruises if needed.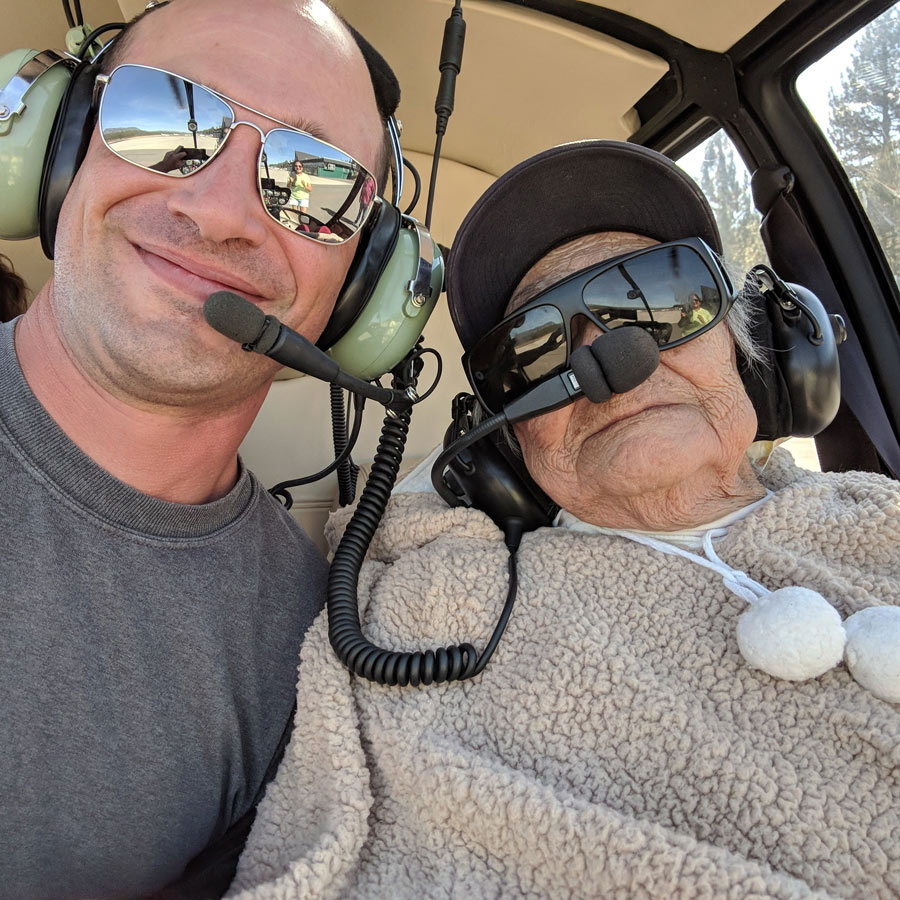 Young or old, Tahoe Helicopters lifts people's spirits.
Another beautiful way to enjoy the views of Lake Tahoe while spending time with those you care about is by helicopter. Tahoe Helicopters is a highly reputable helicopter tour company that not only provides spectacular adventure to those in Lake Tahoe, but also provides flight training and aerial photography as well. The bubble windows of the Robinson R44 Raven II allow for ample viewing by all passengers as well as room to check out the surroundings with ease. The flights showcase the peaks, wilderness and lakes of the region while also offering tour tidbits not found elsewhere. The flights run daily and year-round, leaving from the Lake Tahoe Airport. Walk-ins are welcome, though it is smart to call ahead to check availability.
After enjoying a family adventure, try including one of the enjoyable events happening around Tahoe region. Learn more at either our Daytime or Nightlife pages.
Photos from Tahoe.com