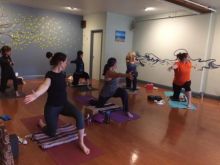 It's amazing that Thanksgiving is right around the corner. Before you know it, the Christmas season will be upon us. 
The holidays are a time of year that we celebrate and appreciate, but they also can take a toll on our bodies through extra stress (did you find that perfect gift?) and added calories (just one more cookie). Luckily for all of us in Tahoe, health remains paramount, whether we are in the midst of bikini season or holiday cheer. In fact, there are a variety of ways to engage your healthiest, happiest self around the basin.
Keep reading to learn four of my top choices for fantastic ways to engage that inner sparkle as we move into the season of gratitude.
Led by powerful leaders in discovering true health, this event has the potential to transform lives. It will highlight the historical influence of sound and music on cultures and spiritual traditions as the group dives deep into the inner and outer listening created through mantra and movement. This workshop will lead you into a place of healing and personal awakening through the profound power of sound. It runs from 2 to 5 p.m. on Saturday, November 16, at the Wanderlust Yoga Studio in Squaw Valley. Tickets are $80.
Lake Tahoe Yoga has a stupendous series of yoga classes that inspire well-being through the practice of Ayurvedic principles. On Mondays and Fridays from 10:45 to 11:45 a.m. they have their Tapas class, which is meant to evoke discipline, passion and the fire within. It is a heated practice, with the room set at 80 degrees, helping to allow you to go deeper into postures and release toxins. On Tuesdays and Thursdays from 10:45 to 11:45 a.m., they offer a Rajasic Yoga class, which is based on activating the element of nature that lies within duality through active movement requiring constant focus, allowing for deepening of grace and intention. On Tuesdays from 12 to 1:15 p.m. they offer a more restorative approach with their Pitta Class. This class focuses on restoration through calming the inner fires and quieting the thoughts through relaxing holds and deep breathing. To finish the offering of goodness, on Tuesdays and Thursdays from 1:15 to 1:45 p.m. they offer Yoga Nidra, a scientifically proven way to enhance life. An ancient practice that has been used for thousands of years, it leaves you feeling renewed and refreshed. Drop-in price for classes is $17. There are memberships available as well. 
Northstar's upcoming weekend extravaganza offers a festive way to start the holidays off with ease and enjoyment. From outdoor adventures and face painting to ice skating and live music, there are a ton of different ways you can show yourself (and those you care about) a little love. Most of the activities are free and family-friendly. The event begins November 22 and runs until November 24.
Photo: Northstar California Resort
One way to help with our stress load is to take care of all of our gift-giving early. Valhalla's Holiday Faire celebration is a great way to enjoy time with the people in our friendly community while finding treasures along the way. There will be 30 local vendors, opportunities to take photos with Santa and Mrs. Claus and an opportunity to experience the angelic sounds of the South Lake Tahoe Children's Choir. The festivities run from November 22 to 24. Hours of operation are from 4 to 8:30 p.m. on the first day and 10 a.m. to 4 p.m. thereafter. 
Please be sure to check out other fun adventures in both our Daytime and Nightlife sections.
Other photos courtesy of Tahoe.com.