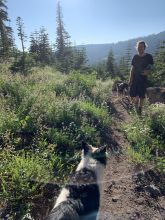 Back in May I wrote a post about our beautiful wildflowers. It's natural to think that a wildflower post would connect with spring, but why another article on wildflowers now, you ask? Because the wildflowers are in full force in the upper country right now!
Caused by the large snowpack from last winter, the upper elevation mountainsides are blanketed with fantastic flora arrangements.
If you have the time to get out in the mountains in the next week, you are in for a treat. The colors are stupendous. The smells are fantastic. And the energy is so loving.
To help give detail to your experience, here is a collection of flowers that deserve our admiration.
Columbian Monkshood
Shaped just like miniature hoods of little monks, Columbian Monkshood is an adorable flower loved that's treasured by bumblebees. Varying in color from light blue to dark purple (and sometimes yellow or white), Aconitum columbium loves to grow in shaded lush forests. The flower is created out of five sepals and five inner petals. Centered within these arching tiny petals is a bundle of mini green/gold stamens. The petals are perched upon a slender stalk that has light hairs and a couple of small leaves that are formed by three-segment leaves at the top. The bottom of the plant is enhanced by larger leaves in a three or five-lobed version. Columbian Monkshood can grow up to 6 feet in height when living in its happiest conditions. Be aware that this beautiful flower is poisonous to both humans and animals.
Horsemint Giant Hyssop
If you enjoy the splendor of aromas coming from wild flora, then you will be delighted with Horsemint Giant Hyssop. Agastache urticifolia is a happy mint plant that enjoys growing to 3 feet in height if thriving. The floral expression comes in a cluster of teensy light purple flowers that create a dense cluster up to 6 inches in length that is mounted upon the stem tip. The flowers have short, hairy, glandular petals flowing out into long lobes that open up into two lips, with the lower being larger than the upper. The leaves of horsemint are the delicious aspect that carries its lovely aroma. Running your hand up the stem leaves your hands covered with a wonderful smell. The leaves are relatively thick, mainly hairless and toothed along the sides.
Crimson Columbine
A stunning flower that truly gives the forest a touch of class, Aquilegia formosa is a distinct singular flower that bursts open with red and yellow thin petals. Sometimes more than a dozen blooms come from one plant. The single blooms hang down in a pendant fashion from the slender stem tip, consisting of five elegantly lance-shaped sepals surrounding five super-thin petals that are mostly red but end with yellow. The back end of the flower is closed and creates a unique spur-like shape. Within the red cone are greenish-yellow stamens that erupt from inside the flower. A favorite source for hummingbirds, Crimson Columbine brings joy to moist, wooded forests.
Indian Paintbrush
One of my favorite Tahoe wildflowers, Castilleja miniata is a spectacular deep-red flower specimen in shades that range from orange to salmon pink. This flower is a bit of a trickster as the top showy part of the plant that looks like flowers are, in fact, modified leaves called bracts. Theses bracts are separated into two or three divisions that include two narrow, semi-tubular spurs and larger, wider aspect above. As the bract moves back toward the stem, it becomes greener in color. The flowers are tiny green tubes at the top of the stem. As the plant flows to the ground the leaves become wider and have pointed tips and three prominent lengthwise veins.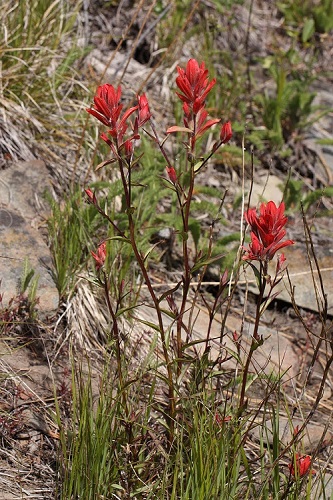 Click here for hiking, walking and biking trails in the Tahoe area. And be sure to visit our Daytime and Nightlife sections to learn about the fun and interesting events to enjoy while visiting Lake Tahoe.
Photos by Shanie Matthews, except Indian Paintbrush (at left), which is from Wikipedia.