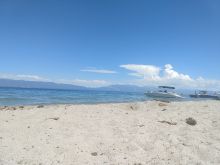 Lake Tahoe and fishing obviously go hand in hand. But lucky for all of us who enjoy the serenity and joy that comes from casting a line, Lake Tahoe's fishing playground goes beyond her majestic blue.  
Read on to learn about four fantastic fishing spots in the Lake Tahoe basin. Here you will likely catch a fish and a connection with Mother Nature not found elsewhere.
Reservoirs
Lake Tahoe is blessed with two large reservoirs: Stampede and Boca. Located just outside of Truckee, both are great recreational areas not just for fishing, but also for other water activities like water-skiing, paddleboarding and kayaking. Both are located just off of Interstate 80, making access simple. Not to mention, the two reservoirs are close to each other, so spending time at both on the same day is easy to do. In addition, the reservoirs offer campgrounds. The reservoirs are stocked with brown, rainbow and brook trout, regularly showing to be in the 12- to 14-inch slot size. Utilizing the knowledge of locals, fishing from the shore gives a great return utilizing bait, lures and flies. There are special regulations for some areas of Stampede in regards to bait, and only two fish may be harvested per person. All other fish caught are to be released.
Caples Lake
Located on the south side of Lake Tahoe in the Mokelumne Wilderness off Highway 88, this stunning mountain lake is framed by towering peaks and lush forests. Known to be fully stocked with mackinaw as well as brown, rainbow and brook trout, this little sanctuary has a reputation for reeling in memorable fish. With its steep underwater shoreline, access to plentiful fish is only a few feet from shore. The area near the outflow dam is the most popular. To make things easy, Caples Lake is large enough for launching a boat, or you may rent a boat or kayak at Caples Resort. If you want to truly enjoy the area, check out the incredible hiking trails that access some of the most beautiful mountain lakes in the world.
Upper Truckee River
You can't really talk about fishing in Lake Tahoe without talking about the Truckee River. The river offers a huge swath of fishing opportunities, so it's best to split it up into two manageable parts (see Lower Truckee River below). The Upper Truckee, beginning at Tahoe City's Fanny Bridge, running along Highway 89 and flowing down toward Truckee, is known more for floating on inner tubes and small inflatable boats. Nevertheless, this segment is one of the most famous areas for catching good-size rainbow, brown and brook trout. Fantastic for both experienced and novice anglers, this section offers everything from deep pools to nice runs, giving options for using flies, lures and bait. Another nice aspect to this section of the Truckee River is that it opens for fishing on the third Saturday of April versus Lake Tahoe's tributaries opening date of July 1. A nice bonus to fishing on the Upper Truckee is that it is flanked with a lovely bike path that runs into Tahoe City and then along West Shore or up to Dollar Hill. Please practice catch and release to help protect the future of the fish.
Lower Truckee River
The lower aspect of the Truckee River is located alongside Interstate 80 as it travels its way to Reno. This segment of river, with its intensely deep pools that flourish with fish, is a little slower, giving fantastic sections to throw out a line. It is important to note that accessing this section of river is done via a steep single-track trail that requires a little extra time and physical exertion. There is less parking available here than along the Upper Truckee, but there are pullouts accessed from the eastbound lanes situated near Farad, Floriston and Mystic Road.
Please be sure to visit our Daytime and Nightlife event sections to learn about fun activities to pair with your day of fishing.
Photos courtesy of Tahoe.com.